CRISPR Cas9 pCAS-Guide Genome Engineering System: Vector-based
• RNA-guided instead of protein guided as with TALENs
• pCAS-Guide all-in-one vector expressing Cas9 and for target sequence cloning
• Custom vector construction services available
• Free guide-RNA design tool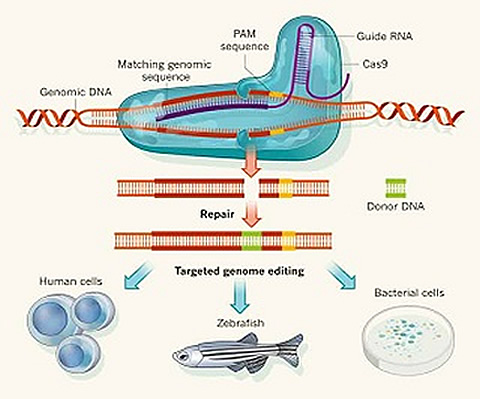 The latest tool in genome editing CRISPR/Cas9 allows for specific genome disruption and replacement in a flexible and simple manner resulting in high specificity and low cell toxicity. The OriGene pCAS-guide Cas9 genome editing system works by co- expression of a Cas9 protein with a guide RNA expressed from the human U6 polymerase III promoter. With the protospacer-adjacent motif (PAM - the sequence NGG) present at the 3´ end, Cas9 will unwind the DNA duplex and cleave both strands upon recognition of a target sequence by the guide RNA.
A rescue donor vector with a functional cassette (custom synthesis is available, see below) can then be inserted into the unwound DNA. The repaired genome will now express your desired sequence with or without tags.
Cas9 Genome Editing Experimental Design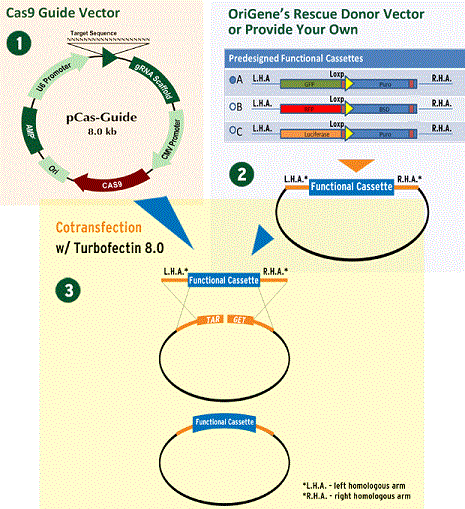 You can purchase the OriGene pCAS-Guide Cloning Kit which includes linearized pCAS-Guide Cloning Vector, Annealing Buffer, and gRNA Sequencing Primer, the pCAS-Guide Vector Supercoil Plasmid DNA incl. gRNA Sequencing Primer, negative scrambled RNA controls, as well as the Annealing Buffer and gRNA Sequencing Primer separately.
The CAS-Guide Vector is also available in versions co-expressing GFP (for tracking/sorting of transfected cells) or CD4 (for enriching transfected cells), and as a lentiviral vector.
A CAS-Guide-Nickase Vector for for gRNA cloning and expression of the Cas9 D10A Nickase mutant is also available for researchers, who prefer the paired gRNA approach which offers enhanced specificity.
T7 In Vitro Transcription Vectors to produce gRNA, Cas9 mRNA, and Cas9 D10A mRNA are also available.
We are also offering a free gRNA designing tool (see below), and the custom synthesis of pCAS-guide RNA constructs and Rescue Donor Vectors (you can select from the following premade functional cassettes:
• GFP-LoxP-PGK-Puro-LoxP
• RFP-LoxP-PGK-BSD-LoxP
• Luc-LoxP-PGK-Puro-LoxP
Please contact us for a quote.
---
Related Links
Contact us for free gRNA Designing Tool
Contact us for a pCAS-Guide gRNA Synthesis Service
Contact us for a rescue donor construction service
pCAS-Guide System Validation Example
SBI Cas9 SmartNuclease System using H1 Promoter for gRNA
Original Nature Review Article
Science Article: RNA-Guided Human Genome Engineering
Science Article: Multiplex Genome Engineering Using CRISPR

| Description | Cat# | Size | Price | | |
| --- | --- | --- | --- | --- | --- |
| pCAS-Guide CRISPR Cas9 Cloning Vector (Supercoil Plasmid DNA), includes CF3 Sequencing Primer | GE100002-OR | 10 ug | 528 € | DETAILS | Add to Cart |
| pCAS-Scramble Negative Control: pCAS-Guide CRISPR Cas9 Vector with a scrambled sequence | GE100003-OR | 10 ug | 429 € | DETAILS | Add to Cart |
| Oligo Annealing Buffer for pCAS-Guide CRISPR Cas9 Genome Engineering System | GE100007-OR | 0,2 ml | 88 € | DETAILS | Add to Cart |
| CF3 Sequencing Primer to sequence the targeting gRNA cloned into pCAS-Guide CRISPR Cas9 Cloning Vector | GE100008-OR | 100 pmoles | 66 € | DETAILS | Add to Cart |
| pCAS-Guide-EF1a-GFP CRISPR Cas9 Cloning Vector (Supercoil Plasmid DNA), includes CF3 Sequencing Primer | GE100018-OR | 10 ug | 528 € | DETAILS | Add to Cart |
| pCAS-Scramble-EF1a-GFP Negative Control: pCAS-Guide-EF1a-GFP CRISPR Cas9 Vector with a scrambled sequence | GE100021-OR | 10 ug | 429 € | DETAILS | Add to Cart |
| pCAS-Guide-EF1a-CD4 CRISPR Cas9 Cloning Vector (Supercoil Plasmid DNA), includes CF3 Sequencing Primer | GE100022-OR | 10 ug | 539 € | DETAILS | Add to Cart |
| pLenti CAS-Guide CRISPR Cas9 Cloning Vector (Supercoil Plasmid DNA), includes CF3 Sequencing Primer | GE100010-OR | 10 ug | 594 € | DETAILS | Add to Cart |
| pCAS-Guide CRISPR Cas9 D10A Nickase Cloning Vector (Supercoil Plasmid DNA) | GE100019-OR | 10 ug | 539 € | DETAILS | Add to Cart |
| pT7-Guide Vector (Supercoil Plasmid DNA) for Target Sequence Cloning (IVT to produce gRNA) | GE100025-OR | 10 ug | 429 € | DETAILS | Add to Cart |
| pT7-Cas9 Vector (Supercoil Plasmid DNA) for IVT to produce Cas9 mRNA | GE100014-OR | 10 ug | 429 € | DETAILS | Add to Cart |
| pT7-Cas9-Nickase Vector (Supercoil Plasmid DNA) for IVT to produce Cas9 D10A Nickase mRNA | GE100020-OR | 10 ug | 429 € | DETAILS | Add to Cart |
| pCMV6_Entry-Cre Cre Recombinase Mammalian Expression Vector | GE100017-OR | 10 ug | 440 € | DETAILS | Add to Cart |
| CRISPR Cas9 Starter Kit: HSP60 (HA-tagged) Target and Donor DNAs and pCAS-Scramble Negative Control | GE100015-OR | 1 set | 528 € | DETAILS | Add to Cart |