CRISPR Cas9 Lentiviral Guide RNA Custom Constructs and Libraries
The CRISPR-Cas9 system can be used for knocking out gene expression
in vivo
or
in vitro
by using a combination of an sgRNA (single guide RNA) along with Cas9 (dCas9) nuclease. Achieve permanent 100% knockout in your cell line by using Cellecta´s lentiviral-based CRISPR constructs. Expression of the sgRNA and Cas9 are stable and can be used in dividing or non-dividing cells or whole model organisms. Let our Partner Cellecta design and clone the sgRNA for you, or create an sgRNA library for your system. Cellecta´s
HEAT sgRNA design
makes it possible to substantially improve the quality of sgRNA libraries and screens:
HEAT sgRNA Design!
Cellecta are offering a Single-Vector as well as a Two-Vector CRISPR-Cas9 System.
Single Vector CRISPR-Cas9 System: Stable Expression of Cas9 and sgRNA All-in-One-Vector
• Co-transduction not necessary since sgRNA and Cas9 nuclease are expressed in one vector
• Lentiviral vectors integrate into the host cell genome and are passed onto daughter cells
• Cells can be treated, grown for several passages, frozen and thawed - the lentiviral construct remains in the host cells
• Vector contains antibiotic selection to ensure stability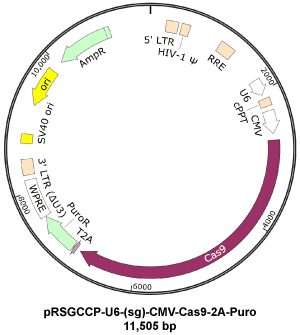 Fig.1.
Popular one-in-all sgRNA cloning vectors from Cellecta.
Browse
Vector Options
for available vectors from Cellecta, e.g. with EF1 or SV40 promoter. Please inquire, when you do not find the promoter or marker combination of your choice.
Two Vector CRISPR-Cas9 System
The Two Vector CRISPR-Cas9 system is used to perform functional knockout screens in vivo or in vitro by expressing sgRNA (single guide RNA) and Cas9 nuclease from different lentiviral vectors.
• Pre-transduce with Cas9 lentivirus to decrease noise in your knockout screen
• Make high-titer sgRNA lentivirus for efficient transduction
• Vectors contain different antibiotic resistance genes to ensure stability and easy selection
• Tet-inducible and constitutive U6 expression available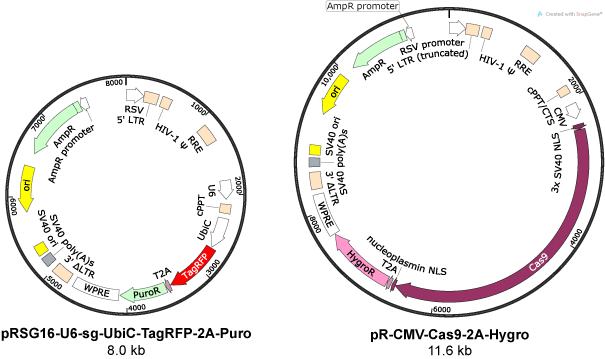 The sgRNA vector is also available with GFP instead of RFP as well as with an inducible U6 promoter and the CMV promoter controlling the expression of TetRep, RFP or GFP, and Puro.
Vector Names:
pRSG17-U6-(sg)-UbiC-TagGFP2-2A-Puro
pRSGT16-U6Tet-(sg)-CMV-TetRep-2A-tagRFP-2A-Puro
pRSGT17-U6Tet-(sg)-CMV-TetRep-2A-tagGFP2-2A-Puro
The Cas9 Expression Vector is also available with blasticidin instead of hygromycin resistance.
Permanently Knock Out Your Targets with Custom Lentiviral sgRNA Constructs
• You provide the RefSeq number or Gene ID
• Any number of sgRNA constructs targeting the transcript are designed, synthesized, cloned into the vector of your choice and provided.
• Optionally, the lentiviral packaging of your custom constructs is also available as a service.
All Cellecta gRNA cloning vectors are available empty, either as supercoiled plasmid DNA, as linearized DNA / ready-to-clone your own gRNA, or packaged in lentiviral particles as negative controls in your experiment. See link below.
The Cas9 expression construct
pR-CMV-Cas9-2A-Hygro
for the Two-Vector System is available as plasmid DNA or as ready-to-transduce lentiviral particles.
Example Data: Knock Out of copGFP Gene in HEK293 Cells
Several sgRNAs targeting the copGFP gene were designed and individually transduced into HEK293 cells stably expressing copGFP. After 9 days, cells were imaged for GFP fluorescence. For each sgRNA tested, GFP expression was abolished in at least 70% of transduced cells.
After 9 or 14 days, cells were analyzed by FACS. GFP expression was abolished in at least 70% of the analyzed cells after day 9 and at least 90% after day 14.
Empty cloning vectors, CopGFP non-targeting controls, as well as several lethal sgRNA controls are available in all Cellecta vectors, either as plasmid DNA, or packaged in lentiviral particles. See the link
Cellecta CRISPR Vectors and Controls
below.
Custom Knock-out Cell Lines made with CRISPR Constructs
You tell us the RefSeq or other target gene identifier and the cell line-of-interest. Our partner Cellecta does the rest.
• Two clonal lines with knockout verified by genomic sequencing are returned
• Functional assays also possible
Custom Pooled Lentiviral sgRNA Libraries
• You provide the RefSeq numbers or Gene IDs
• Cellecta designs sgRNA constructs to target the transcripts
• Oligos are synthesized on Agilent arrays and cloned into lentiviral vectors
• Maintain representation of the library constructs with high-titer virus
Our partner Cellecta has the expertise and capability to generate high quality complex heterogeneous libraries consisting of virtually any defined sequences. This capability combined with their proprietary vectors and lentiviral expertise provides Cellecta with the ideal platform to create excellent quality, highly representative pooled targeted or genome-wide lentiviral sgRNA libraries for CRISPR Cas9 knockout screens.
Cellecta provides custom-designed sgRNA libraries targeting any set of genes in which you are interested.
Available Library Sizes
Since Agilent array-based synthesis for library inserts is utilized, the oligonucleotide pool sizes are somewhat fixed and typical library sizes are 100-3500, 3501-7000, 7001-15000, 15001-30000, 30001-60000, or 60001-120000 sgRNAs.
Vector Choice
Library Construction is offered in all Cellecta vectors, but it is highly recommended to apply Cellecta´s Dual Vector CRISPR System:
After introducing the Cas9 expression construct into a small population of cells, these can be selected strongly to express high levels of the nuclease so that, when the pooled sgRNA are introduced, gene knockout occurs more quickly and consistently.
Optionally, the lentiviral packaging of your custom library is also available as a service.
New: Custom and Premade sgRNA Libraries with expressed barcodes for CRISPR-Seq / Perturb-Seq.
---
Related Links
Functional CAS9 Activity Kit
Cellecta CRISPR Vectors and Controls
Premade CRISPR Libraries
Cellecta Next-Gen Sequencing Services for Library Screens
CRISPR Knockout Kits and Target Gene Sets
PromoterTest Assay Kit

---
PDF-Downloads
- Will open in new browser window
Brochure: Cellecta Pooled Lentiviral RNAi & CRISPR Libraries

| Description | Cat# | Size | Price | | |
| --- | --- | --- | --- | --- | --- |
| Custom Lentiviral Dual sgRNA Expression Construct, plasmid only | CVCR2C-PX-CT | 25 ug | 1082 € | DETAILS | Add to Cart |
| Custom Lentiviral sgRNA Expression Construct, plasmid only | CVCRC-PX-CT | 25 ug | please inquire € | DETAILS | Add to Cart |
| Custom Lentiviral sgRNA Expression Construct, plasmid and lentiviral particles (2 vector system) | CVCRC-CLVP-V-GVO-CT | 25 ug and 5-10 x 10^6 ifu (filtered supernatant) | 935 € | DETAILS | Add to Cart |
| Single Construct Lentiviral Packaging Service (non-Cas9 construct) | CLVP-V-GVO-CT | 1 each | please inquire € | DETAILS | Add to Cart |
| Custom Lentiviral sgRNA Expression Construct, plasmid and lentiviral particles (1 vector system) | CVCRC-CLVP-VC-GVO-CT | 25 ug and 5-10 x 10^5 ifu (filtered supernatant) | 935 € | DETAILS | Add to Cart |
| Single Construct Lentiviral Packaging Service (Cas9 construct) | CLVP-VC-GVO-CT | 1 each | please inquire € | DETAILS | Add to Cart |
| Custom 1k Lentiviral sgRNA Library Design, Synthesis, and Construction | CPLVSGL-1K-P-CT | 500 ug | 12010 € | DETAILS | Add to Cart |
| Custom 3k Lentiviral sgRNA Library Design, Synthesis, and Construction | CPLVSGL-3K-P-CT | 500 ug | 15993 € | DETAILS | Add to Cart |
| Custom 7k Lentiviral sgRNA Library Design, Synthesis, and Construction | CPLVSGL-7K-P-CT | 500 ug | 20594 € | DETAILS | Add to Cart |
| Custom 15k Lentiviral sgRNA Library Design, Synthesis, and Construction | CPLVSGL-15K-P-CT | 500 ug | 28599 € | DETAILS | Add to Cart |
| Custom 30k Lentiviral sgRNA Library Design, Synthesis, and Construction | CPLVSGL-30K-P-CT | 500 ug | 37176 € | DETAILS | Add to Cart |
| Custom 60k Lentiviral sgRNA Library Design, Synthesis, and Construction | CPLVSGL-60-P-CT | 500 ug | 46324 € | DETAILS | Add to Cart |
| Custom 120k Lentiviral sgRNA Library Design, Synthesis, and Construction | CPLVSGL-120K-P-CT | 500 ug | 55473 € | DETAILS | Add to Cart |
| Cas9 Expression Construct pR-CMV-Cas9-2A-Blast, packaged lentiviral particles | SVC9B-VS-GVO-CT | 1 x 10e6 TU | 900 € | DETAILS | Add to Cart |
| Cas9 Expression Construct Vector pR-CMV-Cas9-2A-Blast, Plasmid DNA | SVC9B-PS-CT | 25 ug | 675 € | DETAILS | Add to Cart |
| Cas9 Expression Construct pR-CMV-Cas9-2A-GFP, packaged lentiviral particles | SVC9G-VS-GVO-CT | 1 x 10e6 TU | 900 € | DETAILS | Add to Cart |
| Cas9 Expression Construct Vector pR-CMV-Cas9-2A-GFP, Plasmid DNA | SVC9G-PS-CT | 25 ug | 675 € | DETAILS | Add to Cart |
| Cas9 Expression Construct pR-CMV-Cas9-2A-Hygro, packaged lentiviral particles | SVC9-VS-GVO-CT | 1 x 10e6 TU | 900 € | DETAILS | Add to Cart |
| Cas9 Expression Construct Vector pR-CMV-Cas9-2A-Hygro, Plasmid DNA | SVC9-PS-CT | 25 ug | 675 € | DETAILS | Add to Cart |
| Cas9 Expression Construct pR-CMV-Cas9-2A-Puro, packaged lentiviral particles | SVC9P-VS-GVO-CT | 1 x 10e6 TU | 900 € | DETAILS | Add to Cart |
| Cas9 Expression Construct Vector pR-CMV-Cas9-2A-Puro, Plasmid DNA | SVC9P-PS-CT | 25 ug | 675 € | DETAILS | Add to Cart |
| Cas9 Expression Construct pR-CMV-Cas9-2A-Neo, packaged lentiviral particles | SVC9N-VS-GVO-CT | 1 x 10e6 TU | 900 € | DETAILS | Add to Cart |
| Cas9 Expression Construct Vector pR-CMV-Cas9-2A-Neo, Plasmid DNA | SVC9N-PS-CT | 25 ug | 675 € | DETAILS | Add to Cart |
| Cas9 Expression Construct Vector pRCE2B-EFS-Cas9-2A-Blast, packaged lentiviral particles | SVC9E2B-VS-GVO-CT | 1 x 10^6 TU | 900 € | DETAILS | Add to Cart |
| Cas9 Expression Construct Vector pRCE2B-EFS-Cas9-2A-Blast, Plasmid DNA | SVC9E2B-PS-CT | 25 ug | 675 € | DETAILS | Add to Cart |
| Cas9 Expression Construct Vector pRCRB-RSV-Cas9-2A-Blast, packaged lentiviral particles | SVC9RB-VS-GVO-CT | 1 x 10^6 TU | 900 € | DETAILS | Add to Cart |
| Cas9 Expression Construct Vector pRCRB-RSV-Cas9-2A-Blast, Plasmid DNA | SVC9RB-PS-CT | 25 ug | 675 € | DETAILS | Add to Cart |
| Cas9 Expression Construct Vector pRCSFB-SFFV-Cas9-2A-Blast, packaged lentiviral particles | SVC9SFB-VS-GVO-CT | 1 x 10^6 TU | 900 € | DETAILS | Add to Cart |
| Cas9 Expression Construct Vector pRCSFB-SFFV-Cas9-2A-Blast, Plasmid DNA | SVC9SFB-PS-CT | 25 ug | 675 € | DETAILS | Add to Cart |
| Stable Cas9 Expression Cell Pool Construction (non-clonal population) | CSCL-C9-P-GVO-CT | 1 x 10e6 cells | 9025 € | DETAILS | Add to Cart |
| Lentiviral Library Packaging Service, Large Scale | CLVP-LGLIB-GVO-CT | 1 x 10^9 ifu | please inquire € | DETAILS | Add to Cart |