Cas9 Protein with Nuclear Localization Signal
Transfection-ready Cas9 Protein: Rapid & Safe Cas9 Delivery
With transfection-ready Cas9 protein—the newest addition to SBI´s genome editing products—you can get more efficient genome editing with fewer off-target events. Simply pre-incubate Cas9 protein with gRNA and then transfect or electroporate into your cells or model system.
• Highly efficient Cas9 Protein
• Simplify delivery to cells and embryos
• Reduce off-target events
• Reduce the potential for immune response
• Perform multiplex, high-throughput studies
• Disease model generation of organisms and cell lines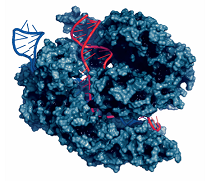 Taking the power of CRISPR/Cas9 technology to the next level, transfectable/electroporatable Cas9 protein delivers more efficient genome editing while reducing off-target events (1–3). By removing plasmid delivery of Cas9 from the process, both off-target events from random plasmid integration and the potential for an immune response from bacterial plasmid sequences are avoided (1,2). In addition, the more transient nature of Cas9 protein compared to plasmid/mRNA delivery further reduces off-target activity without decreasing on-target efficiency (1,2).
The end result is better - safer Cas9 activity for applications where off-target events need to be minimized, such as:
• Genome engineering in embryos
• Disease model generation of organisms and cell lines
• In vitro transfection of cells
• In vitro cleavage assays for functional gRNA Screens
References
1. Ramakrishna, S. et al. Gene disruption by cell-penetrating peptide-mediated delivery of Cas9 protein and guide RNA. Genome Res. 24, 1020–1027 (2014).
2. Wang, L. et al. Large genomic fragment deletion and functional gene cassette knock-in via Cas9 protein mediated genome editing in one-cell rodent embryos. Sci. Rep. 5, 17517 (2015).
3. Chen, S., Lee, B., Lee, A. Y.-F., Modzelewski, A. J. & He, L. Highly Efficient Mouse Genome Editing by CRISPR Ribonucleoprotein Electroporation of Zygotes. J. Biol. Chem. (2016). doi:10.1074/jbc.M116.733154
Get the Full System
Streamline genome editing with transfectable/electroporatable Cas9 protein—
Get Cas9 protein bundled with the T7 gRNA Cloning and Production Kit
---
Related Links
T7 gRNA Cloning and Production Kit
More Recombinant Cas9 Nucleases and Nickases

| Description | Cat# | Size | Price | | |
| --- | --- | --- | --- | --- | --- |
| Purified Cas9 Protein (NLS-Cas9-NLS) | CAS410A-1-SBI | 50 ug | 204 € | DETAILS | Add to Cart |
| EGFP-labeled Cas9 Protein (NLS-Cas9-EGFP) | CAS420A-1-SBI | 50 ug | 263 € | DETAILS | Add to Cart |
| Cas9 Protein and T7 gRNA SmartNuclease Synthesis Kit | CAS410A-KIT-SBI | 1 kit (10 rxn) | 943 € | DETAILS | Add to Cart |
| Cas9-EGFP Protein and T7 gRNA SmartNuclease Synthesis Kit | CAS420A-KIT-SBI | 1 kit (10 rxn) | 979 € | DETAILS | Add to Cart |