Mouse shRNA Libraries (Lentiviral) (DECIPHER Open Source RNAi Screening Project)
About the DECIPHER Project
The DECIPHER RNAi screening platform was an open source project created by our Partner Cellecta to provide tools for researchers to perform and analyze comprehensive shRNA knockdown screens and to develop a standardized, yet versatile platform for collecting and comparing results from different studies and labs. The DECIPHER RNAi screening platform aided and continues to aid researchers interested in functional annotation of signaling networks, interpretation of viability screening and expression profiling results, and collaboration with other DECIPHER Project members. Development of the DECIPHER libraries was funded in part by several NIH grants (CA098374, NCRR RR024095, NHGRI HG003355, NCI CA134062, NCI CA141848) and distributed in plasmid form to academic and non-profit researchers under MTA at no charge.
Although Cellecta is no longer offering the DECIPHER pooled lentiviral shRNA libraries under MTA, they can be purchased at a discounted rate by academic insitutions as well as commercial entities.
Cellecta DECIPHER Pooled shRNA Libraries
• Optimized shRNAs combining validated shRNA sequences and a predictive algorithm that produces more than 65% of shRNAs that generate greater than 70% knockdown
• 18-nt bar code compatible with the Illumina HT Sequencing platform to facilitate positive identification of shRNAs
• HT sequencing QC that ensures presence and distribution of shRNAs for representation screening
• Lentiviral vectors for efficient delivery of high complexity, pooled shRNA libraries into a wide range of cell types
• Red fluorescence marker for sorting of transduced cells and puro selection marker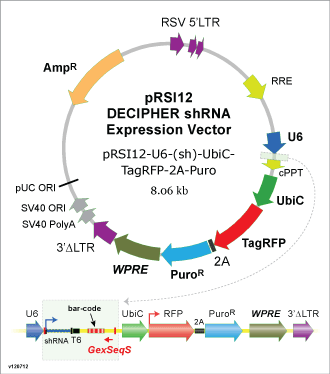 Cloning Vector and Individual Control Constructs
The DECIPHER cloning vector and negative & positive shRNA control constructs in the DECIPHER vector backbone are available for purchase, see link below.
Custom Cloning of DECIPHER shRNA Hits
Individual shRNA hits from DECIPHER screenings can be custom cloned either in the standard DECIPHER vector or in a modified vector as selected by you - see link below.
Next Generation Sequencing Services for DECIPHER Screens
For laboratories needing support for NGS of shRNA-specific barcodes, we can provide HT Sequencing and Barcode Enumeration of samples. You provide BioCat with frozen cell pellets after screening, Cellecta does the rest. See link below.
---
Related Links
User Manual
DECIPHER Cloning Vector and Control Constructs
Custom shRNA Clones
Next Generation Sequencing Services for DECIPHER Screens
Contact us for Cellecta Custom shRNA library services

---
PDF-Downloads
- Will open in new browser window
Advanced RNAi Screening with Cellecta Pooled shRNA Libraries
Overview: Cellecta Custom Services

| Description | Cat# | Size | Price | | |
| --- | --- | --- | --- | --- | --- |
| DECIPHER shRNA Library Mouse Module 1 ( 27500 pooled shRNAs targeting 4625 Signaling Pathway Genes) for Academic Institutions | DMPAC-M1V2-PA-CT | Plasmid library (200 ug) | 736 € | DETAILS | Add to Cart |
| DECIPHER shRNA Library Mouse Module 1 ( 27500 pooled shRNAs targeting 4625 Signaling Pathway Genes) for Commercial Entities | DMPAC-M1V2-PC-CT | Plasmid library (200 ug) | 3946 € | DETAILS | Add to Cart |
| DECIPHER shRNA Library Mouse Module 1 ( 27500 pooled shRNAs targeting 4625 Signaling Pathway Genes), packaged lentiviral particles (small scale) | DMPAC-M1V2-V8-GVO-CT | 2 x 10e8 TU | 6744 € | DETAILS | Add to Cart |
| DECIPHER shRNA Library Mouse Module 1 ( 27500 pooled shRNAs targeting 4625 Signaling Pathway Genes), packaged lentiviral particles (large scale) | DMPAC-M1V2-V9-GVO-CT | 1 x 10e9 TU | 16340 € | DETAILS | Add to Cart |
| DECIPHER shRNA Library Mouse Module 2 ( 27500 pooled shRNAs targeting 4520 Disease Associated Genes) for Academic Institutions | DMDAC-M2V2-PA-CT | Plasmid library (200 ug) | 736 € | DETAILS | Add to Cart |
| DECIPHER shRNA Library Mouse Module 2 ( 27500 pooled shRNAs targeting 4520 Disease Associated Genes) for Commercial Entities | DMDAC-M2V2-PC-CT | Plasmid library (200 ug) | 3946 € | DETAILS | Add to Cart |
| DECIPHER shRNA Library Mouse Module 2 ( 27500 pooled shRNAs targeting 4520 Disease Associated Genes), packaged lentiviral particles (small scale) | DMDAC-M2V2-V8-GVO-CT | 2 x 10e8 TU | 6744 € | DETAILS | Add to Cart |
| DECIPHER shRNA Library Mouse Module 2 ( 27500 pooled shRNAs targeting 4520 Disease Associated Genes), packaged lentiviral particles (large scale) | DMDAC-M2V2-V9-GVO-CT | 1 x 10e9 TU | 16340 € | DETAILS | Add to Cart |