Human shRNA Libraries (Lentiviral) (Pooled/Optimized for NGS)
Pooled Lentiviral Human Genome-Wide shRNA Library
In addition to fully custom pooled shRNA expression libraries (see link below), our partner Cellecta offers the Human Genome-Wide shRNA Library targeting nearly all human protein-encoding genes. This shRNA library is the most current pooled lentiviral shRNA library available on the market. It covers all genes in the human genome, and each gene is targeted by 8 hairpins. The incorporated clonal barcodes enable you to track growth, differentiation, or migration of specific cells containing a specific shRNA throughout your experiment.
Overview of
Pooled shRNA, CRISPR, and barcode-only Libraries
developed by Cellecta.
For Genome-Wide Coverage in Human
• 3 Modules, each covering approximately 6,500 genes
• Each gene is targeted by 8 hairpins for a total of 55,000 hairpins per module
• Specially-designed, optimized barcodes for HT sequencing
• Modules are made with non-overlapping barcodes so that they can be combined to form a complete genome-wide shRNA library
• Targets all (19,276) protein encoding genes (Download gene list when checking out the product details)
• Lentiviral vector for efficient delivery of high complexity, pooled shRNA libraries into a wide range of cell types
• Red fluorescence marker for sorting transduced cells and puro selection marker
Library Modules for Intelligent Loss-of-Function Screening
• Human Module 1 targets signal transduction genes
• Members of major signal transduction pathways
• Top-ranking genes from the Cancer Genome Atlas
• Approved drug targets
• Many disease-associated genes
• Human Module 2 targets disease-associated genes and known drug targets
• Human Module 3 targets cell surface markers, extracellular matrix genes, and DNA binding genes
When purchasing multiple modules in one order, we can grant special pricing; please ask for a quotation.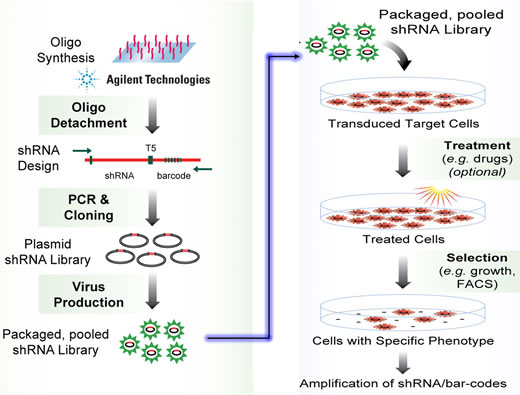 Outline of primary shRNA library screen with pooled Cellecta lentiviral libraries
The libraries are constructed in Cellecta's
pRSI16-U6-(sh)-13kCB18-HTS6-UbiC-TagRFP-2A-Puro lentiviral vector
which expresses shRNA under a wild-type U6 promoter and TagRFP (Evrogen) and Puro resistance gene under a human ubiquitin C promoter.
Specially-designed, optimized barcodes facilitate HT sequencing data analysis and identification of functional shRNAs. Using the Illumina HiSeq HT Sequencing platform, barcodes are identified and converted to lists of genes/shRNA with enumerated barcode data. Amplification of shRNA hairpins is not required, as only the barcode sequence is required for identification. This enables unbiased amplification and unambiguous identification of each shRNA species.
The vector also contains 13,000 18-nt clonal barcodes. Screening with clonal barcodes provides two additional metrics:
• The number of clones in the tumor with a specific shRNA
• The size each clonal population expressing a specific shRNA
---
Related Links
Gene Lists Human Genome Wide Library, Modules 1,2,3
Contact us for a quotation for ordering multiple modules
Cellecta Lentiviral shRNA Vectors and Control Constructs
Cellecta Next Generation Sequencing Services

---
PDF-Downloads
- Will open in new browser window
Brochure: Cellecta Pooled Lentiviral RNAi & CRISPR Libraries

| Description | Cat# | Size | Price | | |
| --- | --- | --- | --- | --- | --- |
| hGW Module 1 (Human Genome-wide shRNA Library, Module 1)( 55000 pooled shRNAs targeting 6314 Signal Transduction Pathways Associated Genes) for Academic Institutions | HGW-M1-P2-CT | Plasmid library (200 ug) | 2132 € | DETAILS | Add to Cart |
| hGW Module 1 (Human Genome-wide shRNA Library, Module 1)( 55000 pooled shRNAs targeting 6314 Signal Transduction Pathways Associated Genes) for Commercial Entities | HGW-M1-P2-C-CT | Plasmid library (200 ug) | 8375 € | DETAILS | Add to Cart |
| hGW Module 1 (Human Genome-wide shRNA Library, Module 1) (55000 pooled shRNAs targeting 6314 Signal Transduction Pathways Associated Genes), packaged lentiviral particles (small scale) for Academic Institutions | HGW-M1-V8-GVO-CT | 2 x 10e8 TU | 7967 € | DETAILS | Add to Cart |
| hGW Module 1 (Human Genome-wide shRNA Library, Module 1) (55000 pooled shRNAs targeting 6314 Signal Transduction Pathways Associated Genes), packaged lentiviral particles (small scale) for Commercial Entities | HGW-M1-V8-C-GVO-CT | 2 x 10e8 TU | 9598 € | DETAILS | Add to Cart |
| hGW Module 1 (Human Genome-wide shRNA Library, Module 1) (55000 pooled shRNAs targeting 6314 Signal Transduction Pathways Associated Genes), packaged lentiviral particles (large scale) for Academic Institutions | HGW-M1-V9-GVO-CT | 1 x 10e9 TU | 19929 € | DETAILS | Add to Cart |
| hGW Module 1 (Human Genome-wide shRNA Library, Module 1) (55000 pooled shRNAs targeting 6314 Signal Transduction Pathways Associated Genes), packaged lentiviral particles (large scale) for Commercial Entities | HGW-M1-V9-C-GVO-CT | 1 x 10e9 TU | 19929 € | DETAILS | Add to Cart |
| hGW Module 2 (Human Genome-wide shRNA Library, Module 2)( 55000 pooled shRNAs targeting 6316 Disease Associated Genes) for Academic Institutions | HGW-M2-P2-CT | Plasmid library (200 ug) | 2132 € | DETAILS | Add to Cart |
| hGW Module 2 (Human Genome-wide shRNA Library, Module 2)( 55000 pooled shRNAs targeting 6316 Disease Associated Genes) for Commercial Entities | HGW-M2-P2-C-CT | Plasmid library (200 ug) | 8375 € | DETAILS | Add to Cart |
| hGW Module 2 (Human Genome-wide shRNA Library, Module 2) (55000 pooled shRNAs targeting 6316 Disease Associated Genes), packaged lentiviral particles (small scale) for Academic Institutions | HGW-M2-V8-GVO-CT | 2 x 10e8 TU | 7967 € | DETAILS | Add to Cart |
| hGW Module 2 (Human Genome-wide shRNA Library, Module 2) (55000 pooled shRNAs targeting 6316 Disease Associated Genes), packaged lentiviral particles (small scale) for Commercial Entities | HGW-M2-V8-C-GVO-CT | 2 x 10e8 TU | 9598 € | DETAILS | Add to Cart |
| hGW Module 2 (Human Genome-wide shRNA Library, Module 2) (55000 pooled shRNAs targeting 6316 Disease Associated Genes), packaged lentiviral particles (large scale) for Academic Institutions | HGW-M2-V9-GVO-CT | 1 x 10e9 TU | 19929 € | DETAILS | Add to Cart |
| hGW Module 2 (Human Genome-wide shRNA Library, Module 2) (55000 pooled shRNAs targeting 6316 Disease Associated Genes), packaged lentiviral particles (large scale) for Commercial Entities | HGW-M2-V9-C-GVO-CT | 1 x 10e9 TU | 19929 € | DETAILS | Add to Cart |
| hGW Module 3 (Human Genome-wide shRNA Library, Module 3)( 55000 pooled shRNAs targeting 6633 Cell Surface and DNA Binding Associated Genes) for Academic Institutions | HGW-M3-P2-CT | Plasmid library (200 ug) | 2132 € | DETAILS | Add to Cart |
| hGW Module 3 (Human Genome-wide shRNA Library, Module 3)( 55000 pooled shRNAs targeting 6633 Cell Surface and DNA Binding Associated Genes) for Commercial Entities | HGW-M3-P2-C-CT | Plasmid library (200 ug) | 8375 € | DETAILS | Add to Cart |
| hGW Module 3 (Human Genome-wide shRNA Library, Module 3) (55000 pooled shRNAs targeting 6633 Cell Surface and DNA Binding Associated Genes), packaged lentiviral particles (small scale) for Academic Institutions | HGW-M3-V8-GVO-CT | 2 x 10e8 TU | 7967 € | DETAILS | Add to Cart |
| hGW Module 3 (Human Genome-wide shRNA Library, Module 3) (55000 pooled shRNAs targeting 6633 Cell Surface and DNA Binding Associated Genes), packaged lentiviral particles (small scale) for Commercial Entities | HGW-M3-V8-C-GVO-CT | 2 x 10e8 TU | 9598 € | DETAILS | Add to Cart |
| hGW Module 3 (Human Genome-wide shRNA Library, Module 3) (55000 pooled shRNAs targeting 6633 Cell Surface and DNA Binding Associated Genes), packaged lentiviral particles (large scale) for Academic Institutions | HGW-M3-V9-GVO-CT | 1 x 10e9 TU | 19929 € | DETAILS | Add to Cart |
| hGW Module 3 (Human Genome-wide shRNA Library, Module 3) (55000 pooled shRNAs targeting 6633 Cell Surface and DNA Binding Associated Genes), packaged lentiviral particles (large scale) for Commercial Entities | HGW-M3-V9-C-GVO-CT | 1 x 10e9 TU | 19929 € | DETAILS | Add to Cart |
| hGW 165k Human Genome-wide shRNA Library, complete - Modules 1,2,3 (165000 pooled shRNAs targeting 19263 Genes) for Academic Institutions | HGW-P2-CT | Plasmid library (600 ug) | 3927 € | DETAILS | Add to Cart |
| hGW 165k Human Genome-wide shRNA Library, complete - Modules 1,2,3 (165000 pooled shRNAs targeting 19263 Genes) for Commercial Entities | HGW-P2-C-CT | Plasmid library (600 ug) | 10006 € | DETAILS | Add to Cart |
| hGW 165K Pool (Complete Human Genome-wide shRNA Library, Modules 1,2,3 Pooled) (virus) for Academic Institutions | HGW-V8-GVO-CT | 2 x 10e8 TU | 7824 € | DETAILS | Add to Cart |
| hGW 165K Pool (Complete Human Genome-wide shRNA Library, Modules 1,2,3 Pooled) (virus) for Commercial Entities | HGW-V8-C-GVO-CT | 2 x 10^8 TU | 13404 € | DETAILS | Add to Cart |
| hGW 165K Pool (Complete Human Genome-wide shRNA Library, Modules 1,2,3 Pooled) (virus) for Academic Institutions | HGW-V9-GVO-CT | 1 x 10e9 TU | 16739 € | DETAILS | Add to Cart |
| hGW 165K Pool (Complete Human Genome-wide shRNA Library, Modules 1,2,3 Pooled) (virus) for Commercial Entities | HGW-V9-C-GVO-CT | 1 x 10^9 TU | 38417 € | DETAILS | Add to Cart |