Cloned siRNA (Lentiviral Vector)
iLenti™ siRNA
ABM's iLenti expression system is a HIV lentiviral vector-based siRNA expression system - you can order premade siRNA expression vectors from the list below or you can order customized siRNA expression vectors for any gene of your choice, just provide us with the target gene sequence(s) or accession number(s), and ABM & BioCat do the rest.
• RNAi in lentiviral vectors, which can be used for transfection or viral infection
• Lentiviral vectors offer the highest, stable gene transduction efficiency
• Unlike other lentiviral expression systems, ABM iLenti™ vectors are very stable, having the ability to grow in regular competent cells
• iLenti™ uses 27-29 bp oligos, which are more efficient than traditional 21mers
• iLenti™ uses convergent promoters (H1 and U6) to avoid hairpin loop structures, making sequencing and plasmid growth much easier
• iLenti™ is very economical, as ~35 instead of 70bp oligos are used for the expression of double stranded siRNA in vivo
• Two vector backbones, with or without fluorescent marker, are available - see maps below
• The piLenti-RNAi-GFP Vector has an EGFP reporter gene incorporated under the CMV promoter, which allows simultaneous tracking of expressed siRNAs in vivo and sorting of successfully transduced cells by FACS
• Custom iLenti™ siRNA constructs are available at the same price as premade constructs
• Buy four premade or custom constructs at a package price of 440 Euro only
• Empty vector and scrambled sequence negative controls available separately
• Optimized third generation packaging plasmid mix, cell line, and transfection reagent for producing high titer lentivirus available - see links below
• Lentiviral packaging service available - see link below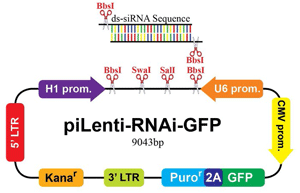 Map of piLenti-RNAi-GFP Vector.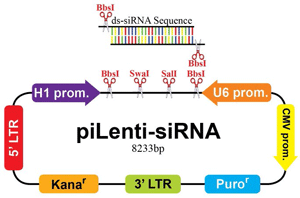 Map of piLenti-siRNA Vector.
---
Related Links
Provide target gene info and get a quote for Custom iLenti
High Titer Lenti Packaging Mix
Lentiviral Packaging Service
Scrambled Sequence Negative Control in iLentiGFP™
iLentiGFP™ siRNA Cloning Vector
Scrambled Sequence Negative Control in iLenti™
iLenti™ siRNA Cloning Vector
Producer Cell Line for Pseudoviral Lenti Particles
Lentifectin Transfection Reagent

---
PDF-Downloads
- Will open in new browser window
| Description | Cat# | Size | Price | | |
| --- | --- | --- | --- | --- | --- |
| 4 iLenti-GFP Lentivector based premade or custom siRNA constructs | C044-G-ABM | 4 x 500 ng | 377 € | DETAILS | Add to Cart |
| 4 iLenti Lentivector based premade or custom siRNA constructs | C044-ABM | 4 x 500 ng | 377 € | DETAILS | Add to Cart |
| iLenti-EGFP Lentivector based custom siRNA construct | C043-G-ABM | 500 ng | 129 € | DETAILS | Add to Cart |
| iLenti Lentivector based custom siRNA construct | C043-ABM | 500 ng | 129 € | DETAILS | Add to Cart |