Cloned shRNA, custom service (Lentiviral Vector)
Custom shRNA Knockdown Constructs and Libraries
Our partner Cellecta provides complete services for custom constructs expressing shRNA targeted to any transcript.
• Choose constitutive or inducible version of H1 or U6 shRNA promoters
• Select GFP, RFP, PuroR, BleoR, NeoR, or Hygro-HK markers
• Obtain constructs as plasmid or packaged lentiviral particles
To make any shRNA construct, we only need to know the RefSeq number. Any number of shRNA constructs that target the transcript can be designed and cloned. Cellecta´s proprietary shRNA design delivers approximately 70% shRNAs that generate >70% transcript knockdown in standard cell lines as measured by qRT-PCR, see figure below.

Choose the Vector
You can order the shRNA cloning in the standard DECIPHER vector or in a modified version, as shown below.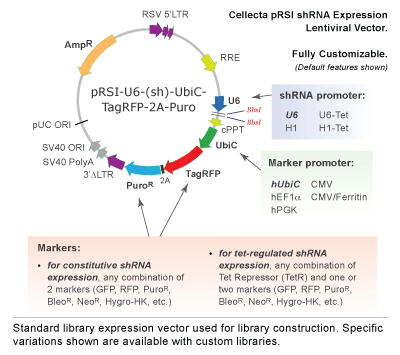 Browse
Vector Options
for vector information for standard cloning vectors, including shRNA cassettes and primer maps, sequences, GenBank files, and vector maps.
Empty cloning vectors as well as negative and positive control constructs in any vector of your choice are also available as Plasmid DNA or lentiviral particles.
The following service levels are available:
Targeted shRNA Constructs
Any number of shRNA constructs targeting a specific human or mouse gene will be provided. These are constructed based on design parameters Cellecta uses in creating their libraries. Overall, about 70% of Cellecta constructs knock down the target by more than 70% based on qRT‑PCR, so it is likely that at least 3-5 constructs will be effective. However, we do not guarantee this level for any specific target, and the percentage of highly effective shRNAs will vary from target to target. Also, depending on the characteristics of your target gene, the level of transcript knockdown may not accurately correspond to a phenotypic effect. In other words, you may see a phenotype with just a small percent knockdown or require a much higher knockdown before a phenotype manifests. With this service, you receive several of Cellecta´s best-designed constructs to test and characterize to see which best matches your experimental needs.
You can order plasmid DNA only, or optionally the packaged lentiviral particles in addition.
When ordering multiple services, volume discounts are available. Please
contact us
for a quotation.
Custom Knockdown Cell Lines
Cellecta can construct validated knockdown cell lines in virtually any type of cell, including cells that are difficult to grow and primary cells.
• Virtually any transcript can be knocked down in almost any mammalian cell line
• Cells are confirmed for knockdown of the target gene transcript by more than 70%
• Knockdown can be tetracycline-inducible or constitutive
Cells expressing shRNA to knock out virtually any gene can be provided by simply choosing the target gene, cell line, markers, and promoter (H1 or U6, tet-regulatable or constitutive). Cellecta will create and validate a stable knockdown cell line.
Cellecta designs multiple shRNA per gene, generates individual cell lines, measures knockdown activity by qRT-PCR, and expands the most promising candidates. Optionally, a monoclonal isolate can also be provided.
To initiate the service, we just need to know the RefSeq number for the gene and which cell line you would like us to use to construct the knockdown cells. Once expression of the target has been verified in the cell lines, we will generate multiple shRNA constructs to test. The service takes approximately 2 months, plus an additional month if clonal selection is also desired.
Custom Pooled Lentiviral shRNA Expression Libraries
Our partner Cellecta has the expertise and capability to generate high quality complex heterogeneous libraries consisting of virtually any defined sequences. This capability combined with their proprietary vectors and lentiviral expertise provides Cellecta with the ideal platform to create excellent quality, highly representative pooled genome-wide and targeted lentiviral shRNA libraries for RNAi screens.
• A higher percentage of functional shRNAs, designed using validated shRNA sequences and optimized shRNA structures
• Flexible array-based oligonucleotide synthesis enables rapid creation of complex libraries expressing any set of shRNAs to any targets
• Optimized shRNA expression vectors with various markers, selections, and both inducible and constitutive promoters
• Lentiviral-based system ensures efficient delivery of high complexity, pooled shRNA libraries into a wide range of cell types
Cellecta's shRNA expression libraries are made by cloning pools of oligonucleotides produced using Agilent´s array-based oligonucleotide synthesis. With Agilent´s synthesis platform, each oligonucleotide is synthesized in situ on its own "spot" on the solid support of a glass array so large numbers of uniquely specified oligonucleotides can be synthesized simultaneously at very high efficiencies and relatively even representation. Cellecta uses this platform to produce defined heterogeneous pools of oligonucleotide inserts with each oligonucleotide coding for a short-hairpin inhibitory RNA sequence (shRNA), a corresponding unique bar-code to identify the shRNA sequence by HT sequencing, and primer sites for amplification and preparation of the bar-codes for HT sequencing.
Using in-house developed protocols, Cellecta clones the shRNA pools into any of their optimized shRNA library expression vectors to create a heterogeneous library expressing many thousands of shRNAs targeting thousands of genes. Since each shRNA insert in Cellecta´s libraries includes a unique bar-code identifier that enables it to be identified and counted by HT sequencing, Cellecta can precisely quantify the representation of each shRNA sequencing in the library. This ability to count each shRNA allows us to definitively state that over 99% of the shRNAs cloned in the library are at levels sufficient to assay in a cell-based screen and design screening procedures for comprehensive non-biased analysis.
This quantification of shRNA sequences in a heterogeneous pool is also what enables precise measurements of differences between of individual shRNA species in the control and treated populations so small differences are accurately and reliably detected. Cellecta libraries are the only commercially available libraries designed with HT sequenceable bar-codes.
For broad genome-wide coverage, Cellecta usually designs libraries so there are at least 5-6 shRNAs targeting a specific transcript. Cellecta´s approach to design shRNA draws on in-house shRNA design and structural studies. They have optimized the shRNA structure (e.g., length, loop size, mismatches, etc.) so that it produces highly effective target knockdown and is amplified and maintained effectively in a pooled library. Simple stem-loop structures are difficult to maintain in heterogeneous pools and result in significant skewing of the library representation. Cellecta have also done a lot of work to optimize our sequence targeting design to achieve a high level of knockdown. On average, more than 65% of the shRNAs knock down transcript levels by greater than 70%.
Cellecta provides custom-designed genome-scale shRNA libraries targeting any set of genes in which you are interested. Since Agilent array-based synthesis for library inserts is utilized, the oligonucleotide pool sizes are somewhat fixed and typical library sizes are 100-3500, 3501-7000, 7001-15000, 15001-30000, 30001-60000, or 60001-120000 shRNAs.
Optionally, the lentiviral packaging of your custom library is also available as a service.
---
Related Links
Cellecta Lentiviral shRNA Vectors and Control Constructs
Let us know the RefSeq number(s) of your target gene (s)
Custom Knockdown Cell Line Engineering
Cellecta Next Generation Sequencing Services
Premade Cellecta Human shRNA Libraries
DECIPHER Open Source Mouse shRNA Libraries
shRNA-mir Target Gene Sets
shRNA-mir Pooled Libraries

---
PDF-Downloads
- Will open in new browser window
Brochure: Cellecta Pooled Lentiviral RNAi & CRISPR Libraries

| Description | Cat# | Size | Price | | |
| --- | --- | --- | --- | --- | --- |
| Custom Lentiviral shRNA Expression Construct, plasmid only | CVSHC-PX-CT | 25 ug | please inquire € | DETAILS | Add to Cart |
| Custom Lentiviral shRNA Expression Construct, plasmid and lentiviral particles | CVSHC-CLVP-V-GVO-CT | 25 ug and 5-10 x 10^6 ifu (filtered supernatant) | 935 € | DETAILS | Add to Cart |
| Custom 1k Lentiviral shRNA Library Design, Synthesis, and Construction | CPLVSHL-1K-P-CT | 500 ug | 12010 € | DETAILS | Add to Cart |
| Custom 3k Lentiviral shRNA Library Design, Synthesis, and Construction | CPLVSHL-3K-P-CT | 500 ug | 15993 € | DETAILS | Add to Cart |
| Custom 7k Lentiviral shRNA Library Design, Synthesis, and Construction | CPLVSHL-7K-P-CT | 500 ug | 20594 € | DETAILS | Add to Cart |
| Custom 15k Lentiviral shRNA Library Design, Synthesis, and Construction | CPLVSHL-15K-P-CT | 500 ug | 28599 € | DETAILS | Add to Cart |
| Custom 30k Lentiviral shRNA Library Design, Synthesis, and Construction | CPLVSHL-30K-P-CT | 500 ug | 37176 € | DETAILS | Add to Cart |
| Custom 60k Lentiviral shRNA Library Design, Synthesis, and Construction | CPLVSHL-60K-P-CT | 500 ug | 46324 € | DETAILS | Add to Cart |
| Custom 120k Lentiviral shRNA Library Design, Synthesis, and Construction | CPLVSHL-120K-P-CT | 500 ug | 55473 € | DETAILS | Add to Cart |
| Lentiviral Library Packaging Service, 10^8 TU | CLVP-1E8-GVO-CT | 10^8 ifu | 4935 € | DETAILS | Add to Cart |
| Lentiviral Library Packaging Service, Standard Size | CLVP-2E8-GVO-CT | 2 x 10^8 ifu | 5997 € | DETAILS | Add to Cart |
| Lentiviral Library Packaging Service, 5x 10^8 TU | CLVP-5E8-GVO-CT | 5 x 10^8 ifu | 9196 € | DETAILS | Add to Cart |
| Lentiviral Library Packaging Service, Large Scale | CLVP-LGLIB-GVO-CT | 1 x 10^9 ifu | 13460 € | DETAILS | Add to Cart |