Kit for Gene Knockout or Gene Modification on the E. coli Chromosome
Quick & Easy E.coli Gene Deletion Kit - Genome Engineering by Red/ET RecombinationFor knockouts or modifications of genes on the E.coli chromosome
• Faithful, fast and precise recombineering by Red/ET - Knock out or alter genes on the E. coli chromosome in a base pair-specific and faithful manner
• Strictly controlled recombination process due to an optimized design of the pRed/ET expression plasmid
• Achieve permanent gene disruption within less than one week
• Multiple knockouts possible: Generate multiple knock-outs by either a repetitive insertion of the
functional cassette contained in the kit, or by combination with other available cassettes (see link below)
• Convenient removal of the recombineering plasmid
• Enables marker-free gene disruption: Disruption of the gene by the supplied FRT-flanked kanamycin
resistance marker cassette allows the subsequent removal of the selection marker by a FLP expression
plasmid (available separately, see link below)
• Cassettes with other resistance markers also available
• Fragments as large as at least 30kb can be replaced on the chromosome in one step
• Enables insertion of DNA fragments such as expression cassettes, reporter genes or ORFs from other
organisms
• Positive controls are included to guide you through the protocol
Applications
This kit is designed to knockout or alter genes on the E.coli chromosome in less than one week.
Targeted disruption of genes on the E.coli chromosome is achieved as follows: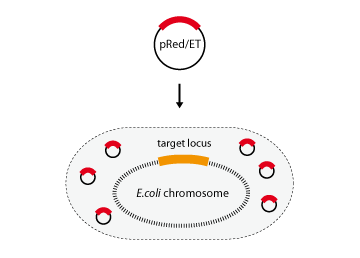 1. Transformation
The E.coli strain which will be modified is transformed with the expression plasmid pRedET.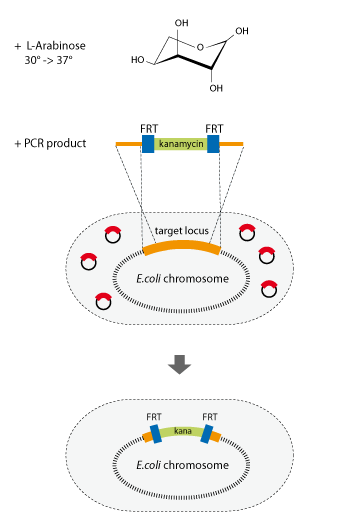 2. Red/ET Recombination
Red/ET expression is induced by addition of L-arabinose and a temperature shift.
An FRT-PGK-gb2-neo-FRT cassette containing 50 bp homology arms, generated by PCR (use of a high fidelity DNA polymerase such as Phusion DNA Polymerase is strongly recommended, see link below),
is transformed.
Red/ET mediated recombination disrupts the target locus by inserting the cassette.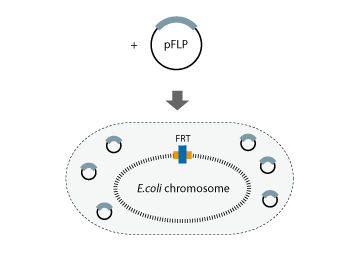 3. Optional: Removal of selection marker
Flp-mediated excision to leave a single FRT site behind.
See links below: FRT selection cassettes and Flp expression plasmids & strains
Description
Red/ET recombination allows the exchange of genetic information in a base pair precise, specific, and faithful manner. An FRT-flanked kanamycin resistance marker cassette is supplied with the kit which can be used to replace a gene on the E.coli chromosome. Red/ET recombination can replace fragments as large as 30kb from the chromosome.
The use of a FRT-flanked resistance cassette for the replacement of the targeted gene allows the subsequent removal of the selection marker by a FLP-recombinase step, if required.
FRT cassettes and FLP expression plasmids can be purchased separately, see links below.
FRT cassettes and also loxP cassettes flanking other antibiotics restistances are available to make the system more flexible and even useful when your E. coli strain already carries the one or other resistance marker (see link below)
Multiple knock-outs can be generated either by a repetitive insertion of the functional cassette supplied with the kit or by combination with other functional cassettes from Gene Bridges (see link below)
The recombination process is strictly controlled due to an optimized design of the pRedET expression plasmid. The genes for the Recombination proteins are under the control of an inducible promoter and the plasmid carries a temperature sensitive origin of replication for a convenient removal of the plasmid after recombination.
Kit Contents
- Two Red/ET recombination protein expression plasmids pRedET (tet) and pRedET (amp); any E.coli strain can be made Red/ET proficient by transformation with these plasmids
- FRT flanked kanamycin resistance template (FRT-PGK-gb2-neo-FRT) to be used for your own experiments
- Positive controls to replace the gene for mannose transporter (manX) on the E.coli chromosome
- Detailed protocols, descriptions of plasmids, maps and sequences
This product is only available to academic researchers, not to commercial sites. Academic customers accept the free license conditions (see link below) by opening the product box.
---
Related Links
FRT selection cassettes
Flp expression plasmids (for removing FRT cassettes)
loxP Cassettes with other resistance markers
Cre expression plasmids (for removing loxP cassettes)

---
PDF-Downloads
- Will open in new browser window
Gene Bridges License Agreement
User Manual
Product Flyer
Poster Presentation about the Technology

| Description | Cat# | Size | Price | | |
| --- | --- | --- | --- | --- | --- |
| Quick and Easy E. coli Gene Deletion Kit | K006-GVO-GB | 1 kit | 695 € | DETAILS | Add to Cart |