Plate Based Gene Expression Profiling (Chemoluminescence Readout)
Pathway Targeted Gene Expression Profiling
• Targeted - Profile the expression of genes involved in important pathways
• Simple - Do the gene expression profiling as doing ELISA
• No expensive scanner equipment needed - luminescence plate reader is sufficient
• Highly sensitive detection - Detected mRNA molecules are converted into multiple biotin-labeled cDNAs for sensitive detection using as little as 1-10 ug total RNA
• Quantitative comparison – The difference of two or more samples in gene expression can be quantitatively analyzed.
Principle of the Technology
Signosis' proprietary cDNA plate array is a plate-based hybridization profiling analysis for monitoring the expression of dozens of genes through reverse transcription of mRNA into cDNA. Total RNA is first reverse transcribed into cDNA in the presence of biotin-dUTP in the assay. Targeted genes are then specifically captured onto individual wells on a plate through a pre-coated gene-specific oligonucleotide. The captured cDNAs are further detected with streptavidin-HRP. An HRP chemiluminescent substrate is added for measurement. The concentrations of cDNAs are directly proportional to the chemiluminescent intensity of the test sample.
Single Cell Arrays are available for cDNA synthesis directly from Cell Lysates
Synthesize cDNA probes through reverse transcription directly in cell lysates without RNA preparation.
Single Stem Cell cDNA Plate Array
This array (SC-0001-SO) uses a high sensitive detection method for profiling single-cell gene expression through two level amplifications: template amplification and signal amplification.
Example - Mouse Cytokine Genes cDNA Plate Array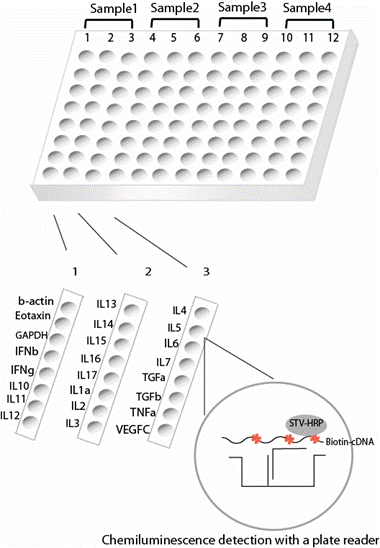 Reference
Ma, S. et al. (2009) Endogenous Human CaMKII Inhibitory Protein Suppresses Tumor Growth by Inducing Cell Cycle Arrest and Apoptosis through Down-regulation of the Phosphatidylinositide 3-Kinase/Akt/HDM2 Pathway. JBC 284: 24773–24782.
For gene lists and user manuals see individual products.
| Description | Cat# | Size | Price | | |
| --- | --- | --- | --- | --- | --- |
| Akt Pathway Regulated Genes (Human) cDNA Plate Array (24 genes) for total RNA | AP-0161-SO | 4 profilings | 728 € | DETAILS | Add to Cart |
| Apoptosis Regulating Genes (Human) cDNA Plate Array (23 genes) for total RNA | AP-0121-SO | 4 profilings | 728 € | DETAILS | Add to Cart |
| Cytokine Genes (Mouse) cDNA Plate Array (24 genes) for total RNA | AP-1141-SO | 4 profilings | 728 € | DETAILS | Add to Cart |
| Cytokine Marker Genes (Human) cDNA Plate Array (24 genes) for total RNA | AP-0204-SO | 4 profilings | 728 € | DETAILS | Add to Cart |
| HIF Pathway Regulated Genes (Human) cDNA Plate Array (23 genes) for Cell Lysates | AP-3102-SO | 4 profilings | 631 € | DETAILS | Add to Cart |
| HIF Pathway Regulated Genes (Human) cDNA Plate Array (23 genes) for total RNA | AP-0111-SO | 4 profilings | 728 € | DETAILS | Add to Cart |
| HIF Pathway Regulated Genes (Mouse) cDNA Plate Array (23 genes) for total RNA | AP-1111-SO | 4 profilings | 728 € | DETAILS | Add to Cart |
| HIF Pathway Regulated Genes (Rat) cDNA Plate Array (23 genes) for total RNA | AP-1121-SO | 4 profilings | 728 € | DETAILS | Add to Cart |
| Inflammation Related Genes (Mouse) cDNA Plate Array (23 genes) for total RNA | AP-1131-SO | 4 profilings | 728 € | DETAILS | Add to Cart |
| NFkB Pathway Regulated Genes (Human) cDNA Plate Array (23 genes) for Cell Lysates | AP-3101-SO | 4 profilings | 631 € | DETAILS | Add to Cart |
| NFkB Pathway Regulated Genes (Human) cDNA Plate Array (23 genes) for total RNA | AP-0101-SO | 4 profilings | 728 € | DETAILS | Add to Cart |
| NFkB Pathway Regulated Genes (Mouse) cDNA Plate Array (23 genes) for total RNA | AP-1101-SO | 4 profilings | 728 € | DETAILS | Add to Cart |
| p450 Pathway Genes (Human) cDNA Plate Array (24 genes) for total RNA | AP-0202-SO | 4 profilings | 728 € | DETAILS | Add to Cart |
| p450 Pathway Genes (Rat) cDNA Plate Array (23 genes) for total RNA | AP-1181-SO | 4 profilings | 728 € | DETAILS | Add to Cart |
| p53 Pathway Regulated Genes (Human) cDNA Plate Array (24 genes) for total RNA | AP-0141-SO | 4 profilings | 728 € | DETAILS | Add to Cart |
| PPARg Pathway Regulated Genes (Rat) cDNA Plate Array (23 genes) for total RNA | AP-1161-SO | 4 profilings | 728 € | DETAILS | Add to Cart |
| PPARr Pathway Regulated Genes (Human) cDNA Plate Array (23 genes) for total RNA | AP-0201-SO | 4 profilings | 728 € | DETAILS | Add to Cart |
| STAT3 Pathway Regulated Genes (Human) cDNA Plate Array (23 genes) for total RNA | AP-0151-SO | 4 profilings | 728 € | DETAILS | Add to Cart |
| Stem Cell Marker Genes (Human) cDNA Plate Array (32 genes) for total RNA | AP-0181-SO | 3 profilings | 728 € | DETAILS | Add to Cart |
| T Cell Receptor Signaling Genes (Human) cDNA Plate Array (23 genes) for total RNA | AP-0191-SO | 4 profilings | 728 € | DETAILS | Add to Cart |
| Toxicity Genes (Human) cDNA Plate Array (23 genes) for total RNA | AP-0203-SO | 4 profilings | 728 € | DETAILS | Add to Cart |
| Wnt / b-Catenin Pathway Regulated Genes (Human) cDNA Plate Array (24 genes) for total RNA | AP-0171-SO | 4 profilings | 728 € | DETAILS | Add to Cart |
| Wnt/b-Catenin Pathway Regulated Genes (Mouse) cDNA Plate Array (23 genes) for total RNA | AP-1171-SO | 4 profilings | 728 € | DETAILS | Add to Cart |