Human Targeted Expression Profiling by Multiplex-RT PCR and subsequent NGS
Combine the sensitivity of qRT-PCR and the throughput of NGS
DriverMap Targeted Expression Profiling Panels specifically amplify selected sets of genes whose expression provides insights on cancer and inflammatory diseases, cell signaling, cell lineages, processes of differentiation and immune activation.
• Expertly curated key genes associated with specific human diseases or cell phenotypes
• Ultra-sensitive quantitation of genes most likely to be involved in cellular processes and disease progression
• Robust, reproducible data from low-input RNA samples—start with as little as 10 pg total RNA
• Targeted gene sets increase NGS read numbers for gene targets, which improves profiling statistics, specificity and sensitivity
• Includes software to extract gene expression levels directly from Illumina sequencing files (FASTQ data)
All the benefits of the DriverMap Technology
The DriverMap Targeted Profiling Panels utilize the same single-tube multiplex assay approach as the DriverMap Human Genome-Wide Expression Profiling Assay, which provides robust, quantitative, and reproducible measurements of each expressed gene over as much as 5-orders of magnitude. The DriverMap approach overcomes the low sensitivity and specificity challenges of current RNA sequencing technologies. It greatly simplifies the protocols for data generation and analysis while providing robust specificity, sensitivity and reproducibility of differentially expressed, protein-coding genes.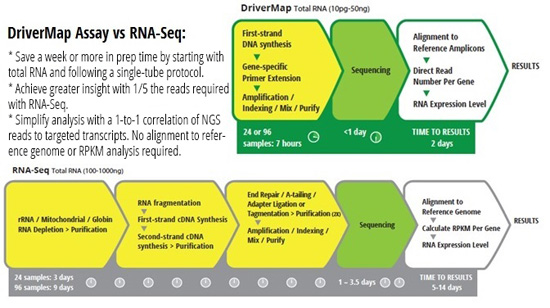 DriverMap kits include all necessary reagents and components required to generate 96 targeted RNA-Seq libraries ready for sequencing. The DriverMap technology can effectively be used with total RNA derived from blood, cell culture, or fresh frozen or formalin-fixed paraffin-embedded (FFPE) tissue.
For rapid analysis, each kit also comes with the DriverMap Analysis Software that enables visualization of gene-specific expression data in an Excel spreadsheet format directly from Illumina NGS FASTQ raw reads.
Citations
Tarca AL et al. (2019)
Targeted expression profiling by RNA-Seq improves detection of cellular dynamics during pregnancy and identifies a role for T cells in term parturition.
Scientific Reports 9:848.
---
Related Links
Product Brochure
DriverMap Human Genome-Wide Expression Profiling Assay
DriverMap Mouse Expression Profiling Assay
Video Harvard Professor Lester Kobzik on DriverMap

| Description | Cat# | Size | Price | | |
| --- | --- | --- | --- | --- | --- |
| DriverMap Human Cell Marker Panel Targeted Expression Profiling Kit (96 multiplex) | DMF-HCM-96-CT | 1 kit | 3598 € | DETAILS | Add to Cart |
| DriverMap Human Hallmark Signatures Panel Targeted Expression Profiling Kit (96 multiplex) | DMF-HHM-96-CT | 1 kit | 3598 € | DETAILS | Add to Cart |
| DriverMap Human LINCSx Panel Targeted Expression Profiling Kit (96 multiplex) | DMF-HLX-96-CT | 1 kit | 3598 € | DETAILS | Add to Cart |
| DriverMap Human PanCancer Panel Targeted Expression Profiling Kit (96 multiplex) | DMF-HPC-96-CT | 1 kit | 3598 € | DETAILS | Add to Cart |
| DriverMap Human TransFactor Signatures Panel Targeted Expression Profiling Kit (96 multiplex) | DMF-HTF-96-CT | 1 kit | 3598 € | DETAILS | Add to Cart |