Human Genome-wide Expression Profiling by Multiplex-RT PCR and subsequent NGS
Combine the sensitivity of qRT-PCR and the throughput of NGS
• Easy-to-run, one-tube, single-day expression profiling directly from total RNA from any tissue, cell, or blood samples
• Single-tube protocol: 96 samples per day (2 hours hands-on time)
• Efficient multiplex RT-PCR amplification for comprehensive profiles with greater detection of low abundant transcripts
• Robust, reproducible data from low-input RNA samples—start with as little as 10 pg total RNA
• No rRNA or globin depletion required
• 10- to 100-fold more sensitive than RNA-Seq
• Linear data up to 10e5-fold dynamic range
• Highly specific for human genes
• Includes software to extract gene expression levels directly from Illumina sequencing files (FASTQ data)
• Convenient result validation by conventional qRT-PCR using the DriverMap PCR primer sequences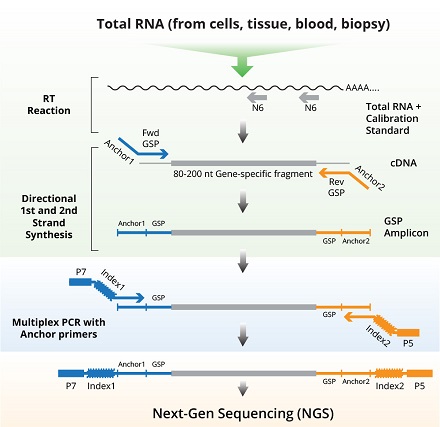 To amplify representative transcript sequences from each of more than 19,000 protein-coding genes in the human genome, the development of the DriverMap Targeted RNA Sequencing Assay involved extensive optimization and experimental validation of tens of thousands of primer sets to identify a pool of primers that could be combined in a single multiplex PCR reaction. The result is a rapid and convenient, single-tube, RT-PCR combined with NGS protocol that–without intermediate steps–provides robust measurements of each expressed gene from total RNA. Even down to single-cell levels of 10 pg, the assay produces a highly quantitative and reproducible NGS readout that has a range of measurement over 5-orders of magnitude.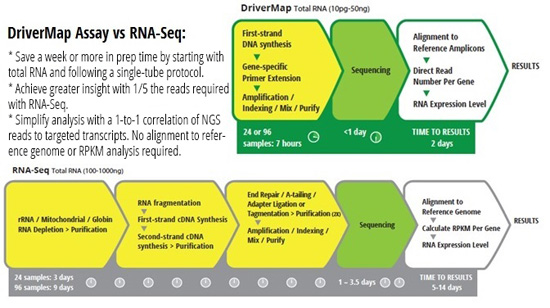 As a result of an intensive primer design and testing process that included extensive empirical analysis of multiplex PCR primer mixes, we generated a complete set of validated multiplex RT-PCR primers providing reproducible amplification of all 19,000 human protein-coding transcripts (one cDNA fragment per gene) directly from total RNA. mRNA enrichment is not needed, and, for blood samples, no globin depletion is required. NGS of the amplified products quantifies the relative levels of each transcript using the targeted amplicons as a reference for sequencing deconvolution.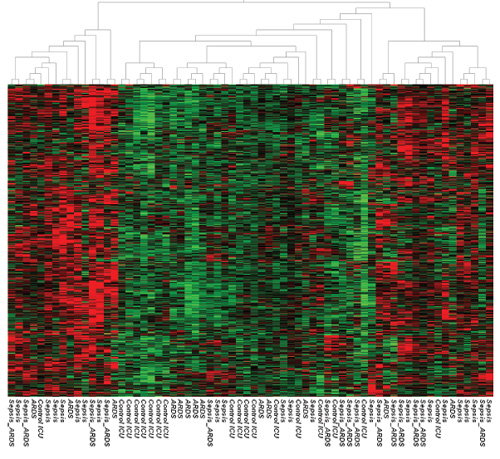 The result is a highly quantitative, targeted RNA expression profiling assay that
• accurately measures levels of gene expression with great reproducibility (R-squared values > 0.9)
• requires only total RNA as input for a multiplex PCR reaction so it is simple and fast (1-day) to run
• generates defined single-amplicon sequencing results per gene, which makes deconvolution straightforward and easily comparable across samples
Citations
Tarca AL et al. (2019)
Targeted expression profiling by RNA-Seq improves detection of cellular dynamics during pregnancy and identifies a role for T cells in term parturition.
Scientific Reports 9:848.
---
Related Links
DirectCell Protocol for Single Cell Expression Profiling
Human DriverMap Target Panels
Mouse DriverMap Expression Profiling
Product Brochure
DriverMap Expression Profiling Service

| Description | Cat# | Size | Price | | |
| --- | --- | --- | --- | --- | --- |
| DriverMap Human Genome-Wide Expression Profiling Kit, Version 2 (24 multiplex) | DM2-HGW-24-CT | 1 kit | 1618 € | DETAILS | Add to Cart |
| DriverMap Human Genome-Wide Expression Profiling Kit, Version 2 (96 multiplex) | DM2-HGW-96-CT | 1 kit | 6158 € | DETAILS | Add to Cart |