myTags Custom FISH-probe Libraries
• Custom designed ready-to-use labeled probes
• Unlimited Quantity - Up to tens of thousands of probes per library
• Eliminate background signal from non-specific and cross-hybridization in your FISH
• Range of fluorophores for various microscopy filters
• Consistent – Probes designed with normalized Tm for single hybridization profile
• Increased Signal Intensity with triple-labeled probes
• Free bioinformatic design service for custom target regions
Break free from the limitations of
traditional FISH with high-specificity,
repeat-free myTags® probes
myTags® labeled probes from our partner
Arbor Biosciences
are a simple solution for producing successful hybridization to targets in FISH applications.
Due to the short size of the probes and the consistent melting temperature range, these probes are able to efficiently cross cell barriers and bind to their intended target. myTags® improve experimental results by reducing non-specific hybridization and background signal which typically occur with traditional BAC catalog probes.
Labeled myTags® probes are delivered ready-to-use at a minimum yield of 500pmol of single-stranded DNA. The probes can be single- or triple-labeled with a fluorophore of choice, and we can offer assistance in selecting compatible fluorophore combinations for multi-color FISH or other applications requiring multiple fluorophores. If a desired labeling option is not listed in our standard offering,
please contact us
for availability.
We offer free assistance in designing probes or self-designed probes can be incorporated into the myTags® labeling system. myTags® FISH probes have been successfully used in specialized applications including 3D DNA-FISH, Cryo-FISH, and RNA-FISH in a variety of cell types.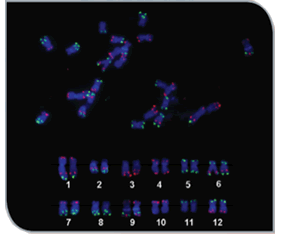 Identification of potato
chromosomes using oligo-
based FISH barcode.
Photo courtesy of Guilherme
Braz and Jiming Jiang
For those who want to be more flexible in the choice of fluorophores or haptens and generate high-quality labeled probes themselves Arbor Biosciences offers
myTags® Immortal Libraries
which are amplifiable for endless probe supply.
Applications
• Fluorescent In Situ Hybridization (FISH)
>>DNA-FISH
>>RNA-FISH
>>Cryo-FISH
• Flow cytometry
• Fluorescent reporters
• Microarray signal enhancement
Labeling Options
Choose from our standard offering of popular fluorophores and haptens, including biotin and digoxigenin. Probes can be single-labeled or triple-labeled with fluorophores to boost signal. Contact us regarding any label you would like that is not included in our standard offering.
Design Process
Citations
Beck, S. et al. (2018)
Implications of CpG islands on chromosomal architectures and modes of global gene regulation.
Nucleic Acids Research:46: 4382–4391.
Braz, G.T. et al. (2018)
Comparative Oligo-FISH Mapping: An Efficient and Powerful Methodology To Reveal Karyotypic and Chromosomal Evolution.
Genetics 208: 513-523.
Hou, L. et al. (2018)
Chromosome painting and its applications in cultivated and wild rice.
BMC Plant Biology 18:110.
Walczak, M. et al. (2018)
ATG8 Is Essential Specifically for an Autophagy-Independent Function in Apicoplast Biogenesis in Blood-Stage Malaria Parasites.
mBio.
Beagrie et al. (2017)
Complex multi-enhancer contacts captured by genome architecture mapping.
Nature 543:519-524.
Nozawa et al. (2017)
SAF-A Regulates Interphase Chromosome Structure through Oligomerization with Chromatin-Associated RNAs.
Cell 169:1214-1227.
Giorgetti et al. (2016)
Structural organization of the inactive X chromosome in the mouse.
Nature 535: 575–579.
---
Related Links
myTags® Product Information Sheet

| Description | Cat# | Size | Price | | |
| --- | --- | --- | --- | --- | --- |
| myTags labeled probes for a 2.0 Mb maximum target area (10 probes per kb), 700 pmol | 402007-ARB | 1 library | 2318 € | DETAILS | Add to Cart |
| myTags labeled probes for a 4.0 Mb maximum target area (10 probes per kb), 700 pmol | 404007-ARB | 1 library | 2936 € | DETAILS | Add to Cart |
| myTags labeled probes for a 6.0 Mb maximum target area (10 probes per kb), 700 pmol | 406007-ARB | 1 library | 3698 € | DETAILS | Add to Cart |
| myTags labeled probes for a 8.0 Mb maximum target area (10 probes per kb), 700 pmol | 408007-ARB | 1 library | 4275 € | DETAILS | Add to Cart |
| Triple-label Upgrade | 400305-ARB | 1 upgrade | 474 € | DETAILS | Add to Cart |