Purification of PCR Products
• Purify DNA fragments for next generation sequencing
• Size range from 100 bp to 15,000 bp
• > 90% recovery
The efficient removal of unincorporated dNTPs, salts and enzymes after any PCR is detrimental of the success or failure of downstream applications such as next generation sequencing.
The Norgen PCR Purification Kit enables the rapid purification of amplified DNA products from PCR mixes. The kit is able to purify amplified DNA ranging in size from 100 bp to 15,000 bp, and the typical purification yield is greater than 90% of the input amount. It removes all primers, primer dimers, enzymes, unincorporated nucleotides and mineral oil from the desired PCR product. Purification is based on spin-column chromatography using an easy bind-wash-elute protocol.
The kit is also available in a 96-well format, see table below, for high-hroughput PCR purification. Purification with the 96-well plate can be performed using either a vacuum manifold or centrifugation. The purified DNA can be used in a number of downstream applications including next generation sequencing.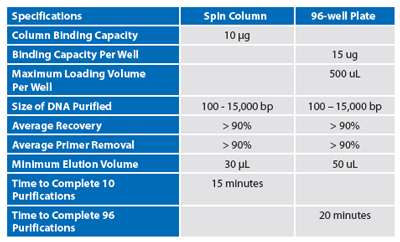 Description
Cat#
Size
Price
Norgen PCR Purification and Primer Dimer Removal Kit
14400-NB
50 rxns

Special


144.00 €
DETAILS
Add to Cart
Norgen PCR Purification and Primer Dimer Removal Kit
45700-NB
250 rxns

Special


474.30 €
DETAILS
Add to Cart
Norgen PCR Purification and Primer Dimer Removal Kit 96-well Version for High-Throughput
24800-NB
192 rxns

Special


439.20 €
DETAILS
Add to Cart