Circulating DNA Isolation
Plasma/Serum and Urine Circulating DNA Isolation Kits
The
Norgen Cell-Free Circulating (CFC) DNA Purification Kits
provide an efficient method for the purification of fragmented free-circulating DNA or total nucleic acids from variable volumes of plasma/serum or cell-free urine samples. The kits are able to isolate all sizes of circulating DNA irrespective of size or GC content, without bias. They provide an advantage over other available kits in that they do not require extension tubes for the purification of cfc DNA from large sample volumes. The purified cfc DNA are eluted in an elution solution that is compatible with all downstream applications including PCR, qPCR, methylation-sensitive PCR, and sequencing.
• Isolate all sizes of cfc-DNA
• Various sample types: Plasma/Serum, Urine, CSF and other bodily fluids
• Concentrate circulating DNA into a flexible elution volume ranging from 10-100ul
• No phenol extractions nor carrier RNA
• Inhibitor-free cfc-DNA
• Versatile input volumes
• 4 different cfc DNA isolation kit sizes available for plasma/serum input:
Mini: 200 ul - 500 ul
Micro: 100 ul - 200 ul
Midi: 1ml - 4ml
Maxi: 5ml - 10ml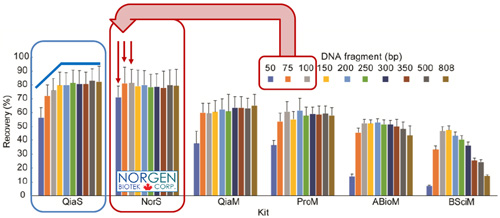 Superior Recovery of Small DNA Fragments from Plasma.
Different commercial kits for the purification of cell-free circulating DNA were compared. Using the Norgen Cell-Free Circulating (CFC) DNA Purification Kits (Silicon Carbide), high yields of cfc DNA of all sizes can be isolated. For DNA fragments <150 bp the Norgen kit shows the best recovery.
Data from Diefenbach RJ et al. (2018) Evaluation of commercial kits for purification of circulating free DNA. Cancer Genetics 228-229:21-27.
Cell-Free Circulating (CFC) RNA Purification Kits
developed by Norgen are also available.
There are more kits available from other suppliers for isolation of cell-free DNA using magnetic beads (SBI and Epigentek) or silica-coated paramagnetic particles (BioChain). For details check products listed below.
---
Related Links
Low Abundance DNA Quantification Kit
Plasma/Serum RNA Purification Kits
Plasma/Serum RNA/DNA Purification Mini Kit
Overview plasma/serum sample preparation kits

Description
Cat#
Size
Price
Plasma/Serum Cell-Free Circulating DNA (cfc DNA, ccf DNA) Purification Mini Kit
55100-NB
50 preps
360 €
DETAILS
Add to Cart
Plasma/Serum Cell-Free Circulating DNA Purification Mini Kit - CE-marked (for IVD)
Dx55100-NB
50 preps
379 €
DETAILS
Add to Cart
Plasma/Serum Cell-Free Circulating DNA (cfc DNA, ccf DNA) Purification Mini Kit - Trial Size
55140-NB
4 preps
27 €
DETAILS
Add to Cart
Plasma/Serum Cell-Free Circulating DNA (cfc DNA, ccf DNA) Purification Micro Kit
55500-NB
50 preps
302 €
DETAILS
Add to Cart
Plasma/Serum Cell-Free Circulating DNA Purification Micro Kit - CE-marked (for IVD)
Dx55500-NB
50 preps
314 €
DETAILS
Add to Cart
Plasma/Serum Cell-Free Circulating DNA (cfc DNA, ccf DNA) Purification Midi Kit
55600-NB
20 preps
449 €
DETAILS
Add to Cart
Plasma/Serum Cell-Free Circulating DNA (cfc DNA, ccf DNA) Purification Midi Kit - Trial Size
55640-NB
2 preps
47 €
DETAILS
Add to Cart
Plasma/Serum Cell-Free Circulating DNA Purification Midi Kit - CE-marked (for IVD)
Dx55600-NB
20 preps
468 €
DETAILS
Add to Cart
Plasma/Serum Cell-Free Circulating DNA (cfc DNA, ccf DNA) Purification Maxi Kit
55800-NB
10 preps
281 €
DETAILS
Add to Cart
Plasma/Serum Cell-Free Circulating DNA Purification Maxi Kit - CE-marked (for IVD)
Dx55800-NB
10 preps
298 €
DETAILS
Add to Cart
Plasma/Serum Circulating DNA Isolation Mini Kit (Slurry Format)
50600-NB
50 preps
248 €
DETAILS
Add to Cart
Plasma/Serum Circulating DNA Isolation Midi Kit (Slurry Format)
51200-NB
20 preps
275 €
DETAILS
Add to Cart
Plasma/Serum Circulating DNA Isolation Maxi Kit (Slurry Format)
51300-NB
10 preps
254 €
DETAILS
Add to Cart
Plasma/Serum Cell-Free Circulating and Viral Nucleic Acid Purification Maxi Kit
56500-NB
10 preps
287 €
DETAILS
Add to Cart
Plasma/Serum Cell-Free Circulating and Viral Nucleic Acid Purification Midi Kit
56400-NB
20 preps
453 €
DETAILS
Add to Cart
Plasma/Serum Cell-Free Circulating and Viral Nucleic Acid Purification Mini Kit
56300-NB
50 preps
529 €
DETAILS
Add to Cart
Urine Cell-Free Circulating DNA Purification Mini Kit
56600-NB
50 preps

Special


397.80 €
DETAILS
Add to Cart
Urine Cell-Free Circulating DNA Purification Midi Kit
56700-NB
20 preps

Special


422.10 €
DETAILS
Add to Cart
Urine Cell-Free Circulating DNA Purification Maxi Kit
56800-NB
10 preps

Special


268.20 €
DETAILS
Add to Cart
Urine Cell-Free Circulating and Viral Nucleic Acid Purification Maxi Kit
60100-NB
10 preps
276 €
DETAILS
Add to Cart
Urine Cell-Free Circulating and Viral Nucleic Acid Purification Midi Kit
60000-NB
20 preps
458 €
DETAILS
Add to Cart
Urine Cell-Free Circulating and Viral Nucleic Acid Purification Mini Kit
59900-NB
50 preps
491 €
DETAILS
Add to Cart
EpiQuik Circulating Cell-Free DNA (cf DNA, cfc DNA) Isolation Kit (magnetic-bead based) for isolating cfDNA from 0.5 ml Plasma/Serum
P-1064-25-EP
25 preps
231 €
DETAILS
Add to Cart
EpiQuik Circulating Cell-Free DNA (cf DNA, cfc DNA) Isolation Kit (magnetic-bead based) for isolating cfDNA from 0.5 ml Plasma/Serum
P-1064-50-EP
50 preps
321 €
DETAILS
Add to Cart
EpiQuik Circulating Cell-Free DNA (cf DNA, cfc DNA) Isolation Easy Kit (magnetic-bead based) for isolating cfDNA from 0.5 ml Plasma/Serum
P-1065-25-EP
25 preps
231 €
DETAILS
Add to Cart
EpiQuik Circulating Cell-Free DNA (cf DNA, cfc DNA) Isolation Easy Kit (magnetic-bead based) for isolating cfDNA from 0.5 ml Plasma/Serum
P-1065-50-EP
50 preps
321 €
DETAILS
Add to Cart
cfMAX cfDNA Isolation System for high yields of cfDNA
CFMAX100A-1-SBI
1 kit (processing of 80ml serum/plasma)
478 €
DETAILS
Add to Cart
cfPure V2 Cell Free DNA Extraction Kit (magnetic bead-based, automatization-friendly) for human plasma/serum
K5011610-V2-BC
100ml sample volume
524 €
DETAILS
Add to Cart
cfPure V2 Cell Free DNA Extraction Kit (magnetic bead-based, automatization-friendly) for human plasma/serum
K5011625-V2-BC
250ml sample volume
785 €
DETAILS
Add to Cart
cfPure Max V2 Cell Free DNA Extraction Kit (magnetic bead-based, automatization-friendly) for human plasma/serum, sample volumes >5ml
K5011625MA-V2-BC
250ml sample volume
564 €
DETAILS
Add to Cart
cfPure DNA Free Plasma
Z2010001-BC
5 ml
25 €
DETAILS
Add to Cart
cfPure DNA Free Plasma
Z2010002-BC
50 ml
345 €
DETAILS
Add to Cart
cfPure MAX Cell-Free DNA Extraction Kit
K5011625MA-BC
250ml sample volume
564 €
DETAILS
Add to Cart
DNA Cleared Plasma
DCP100A-1-SBI
100 ml
480 €
DETAILS
Add to Cart
Plasma/Serum cfc-DNA Advanced Purification Kit
68000-NB
50 preps
1300 €
DETAILS
Add to Cart
Plasma/Serum cfc-DNA/cfc-RNA Advanced Fractionation Kit
68300-NB
50 preps
1655 €
DETAILS
Add to Cart
Plasma/Serum Total cfc-Nucleic Acid Advanced Purification Kit
68100-NB
50 preps
1438 €
DETAILS
Add to Cart