5-Methylcytosine Hydroxylase (TET Family) Activity Assays
The Epigenase™ 5mC-Hydroxylase TET Activity/Inhibition Assay Kits consist of optimized buffers and reagents for measuring activity/inhibition of total 5mC hydroxylase TET enzymes in nuclear extracts or purified TET isoforms (TETs 1-3) from a broad range of species such as mammalian, plant, fungal, and bacterial, and in a variety of forms including, but not limited to cultured cells and fresh and frozen tissues.
• 5 hour colorimetric assay procedure with easy-to-follow steps for convenience and speed.
• Directly measures TET hydroxylase activity via a straightforward detection of TET-converted hydroxymethylated products.
• Innovative kit composition enables background signals to be extremely low and allows the assay to be simple, accurate, reliable, and consistent.
• Either cell/tissue extracts or purified TET proteins can be used, which allows for detection of inhibitory effects of TET hydroxylase inhibitors in vivo and in vitro.
• Novel assay principle allows high sensitivity to be achieved. The activity can be detected from as low as 20 ng of purified TET1 hydroxylase.
• A hydroxymethylated standard is included, which allows the specific activity of TET hydroxylases to be quantified.
• Strip 96-well microplate format makes the assay flexible for manual or high throughput analysis
Background Information
5-hydroxymethylcytosine (5hmC), as a sixth DNA base with functions in transcription regulation, has been detected to be abundant in the human and mouse brain and embryonic stem (ES) cells. In mammals, it can be generated by oxidation of 5-methylcytosine (5mC), a reaction mediated by the ten-eleven translocation (TET) family of 5mC-hydroxylases.
The TET family of 5mC hydroxylases includes TET1, TET2, and TET3. These TET proteins may promote DNA demethylation by binding to CpG-rich regions to prevent unwanted DNA methyltransferase activity, and by converting 5mC to 5hmC and further to 5caC (5-carboxylcytosine) through hydroxylase activity. It was shown that genomic 5hmC levels correlate with TET hydroxylase activity. In addition, TET1 was shown to have dual functions in transcription activation and repression by binding different target genes in ES cells. TET1 is also a fusion partner of the MLL gene in acute myeloid leukemia and is considered an oncoprotein. TET2 is found to be frequently mutated in leukemia and considered to act as tumor suppressor. TET3 was demonstrated to play a unique role in DNA methylation reprogramming processes in the mammalian zygote. Thus, activating tumor suppressor TET enzymes such as TET2 or inhibiting oncoprotein TET enzymes such as TET1 would be important in benefiting cancer diagnositcs and developing new target-based cancer therapeutics.
Product Features
There are a limited number of methods available for detecting TET hydroxylase activity/inhibition using nuclear extracts or purified enzymes. To address this issue, Epigentek developed and offers the Epigenase™ 5mC Hydroxylase TET Activity/Inhibition Assay Kits.
Fig. 1. Schematic procedure for the Epigenase™ 5mC-Hydroxylase TET Activity/Inhibition Assay Kit (Colorimetric).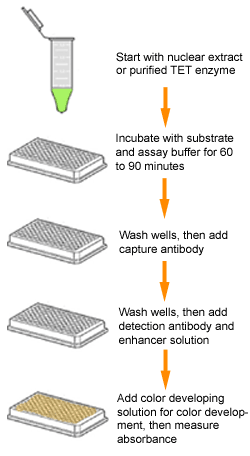 Principle & Procedure
A methylated substrate is stably coated onto the microplate wells. Active TETs (not included) bind to the substrate and convert methylated substrate hydroxymethylated products from the substrate. The TET-converted hydroxymethylated products can be recognized with a specific antibody. The ratio or amount of hydroxymethylated products, which is proportional to enzyme activity, can then be colorimetrically measured by reading the absorbance in a microplate spectrophotometer at a wavelength of 450 nm. The activity of the TET enzyme is in turn proportional to the optical density intensity measured.
Example Data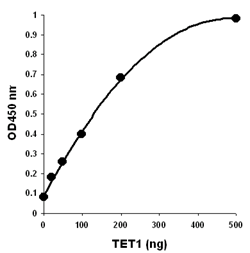 Fig. 2. Demonstration of high sensitivity and specificity of the TET1 activity/inhibition assay achieved by using recombinant TET1 with the Epigenase 5-mC Hydroxylase TET Activity/Inhibition Assay Kit (Colorimetric).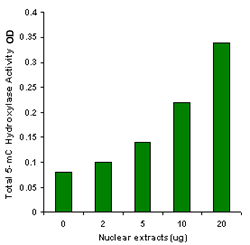 Fig. 3. Demonstration of high sensitivity and specificity of the TET activity assay achieved by using nuclear extracts with the the Epigenase 5-mC Hydroxylase TET Activity/Inhibition Assay Kit (Colorimeric). Nuclear extracts were prepared from mouse ES cells by using the EpiQuik Nuclear Extraction Kit (Cat. No. OP-0002-EP).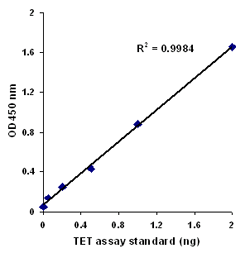 Fig. 4. Illustrated standard curve generated with the kit´s TET assay standard.
| Description | Cat# | Size | Price | | |
| --- | --- | --- | --- | --- | --- |
| Epigenase 5mc-Hydroxylase TET Activity/Inhibition Assay Kit (Colorimetric) | P-3086-48-EP | 48 reactions | 495 € | DETAILS | Add to Cart |
| Epigenase 5mc-Hydroxylase TET Activity/Inhibition Assay Kit (Colorimetric) | P-3086-96-EP | 96 reactions | 763 € | DETAILS | Add to Cart |
| Epigenase 5mc-Hydroxylase TET Activity/Inhibition Assay Kit (Fluorometric) | P-3087-48-EP | 48 reactions | 495 € | DETAILS | Add to Cart |
| Epigenase 5mc-Hydroxylase TET Activity/Inhibition Assay Kit (Fluorometric) | P-3087-96-EP | 96 reactions | 763 € | DETAILS | Add to Cart |