DNA Concentration Kit
Epigentek´s unique DNA Concentration Kit features the fastest procedure available (< 2 minutes) and DNA can be concentrated in as little as 5 ul.
The obtained concentrated DNA is ultra-pure -
All contaminants (salts, proteins, enzymes, nucleotides, and primers) are efficiently removed.
The kit uses a user-friendly binding solution and no chaotropic or other irritant reagents.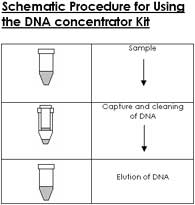 ---
PDF-Downloads
- Will open in new browser window