Histone Methyltransferase Activity Assays
Study epigenetic regulation of genes or discover Histone Methyltransferase inhibitors
• Rapid and efficient procedure, which can be completed within 3 hours
• Safe and innovative colorimetric assay without radioactivity, extraction, electrrophoresis, or chromatography
• Strip microplate format makes the assay flexible: manual or high throughput analysis
• Simple, reliable, and consistent assay conditions
• Specific measurement of activity/inhibition of H3-K4, H3-K9, and H3-K27 histone methyltransferases.
Histone Methyltransferases play a critical role in the regulation of gene transcription through histone methylation.
Histone methyltransferases (HMTs) control or regulate DNA methylation through chromatin-dependent transcription repression or activation. HMTs transfer 1-3 methyl groups from S-adenosyl-L-methionine to the lysine and arginine
residues of histone proteins. Inhibition of HMTs may lead to expression of the silenced genes and HMT inhibitors are currently developed for various therapeutic or experimental applications. Especially methylation of histone 3 at lysine 4 (H3-K4), lysine 9 (H3-K9), and lysine 27 (H3-K27) are involved in pathological processes such as cancer progress.
BioCat provides Epigentek´s non-isotopic colorimetric
EpiQuik Histone Methyltransferase Assay Kits
for quantifying histone methyltransferase activities in a strip microtiterplate format by a standard microplate reader in a manual or a high throughput manner.
Flowchart of EpiQuik Histone Methyltransferase Assay Kit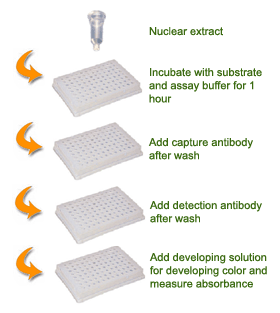 Use BPS Direct Activity Assay Kits to measure the activity of various Histone Methyltransferases
The Direct Activity Assay Kits are designed to measure Histone Methyltransferase activity using cell extracts or the purified Histone methyltransferases in 3 simple steps:
The Activity Assay Kits are applying a Histone Methyltransferase substrate precoated 96-well plate, a corresponding primary methylated histone residue specific antibody, an HRP-conjugated secondary antibody, as well as a fluorescent or chemiluminescent HRP-substrate.
---
Related Links
Histone Methylation Quantification Assays
Nuclear Extraction Kit

| Description | Cat# | Size | Price | | |
| --- | --- | --- | --- | --- | --- |
| EpiQuik Histone Methyltransferase Activity /Inhibition Assay Kit ( H3-K4) | P-3002-1-EP | 48 assays | 497 € | DETAILS | Add to Cart |
| EpiQuik Histone Methyltransferase Activity /Inhibition Assay Kit ( H3-K4) | P-3002-2-EP | 96 assays | 758 € | DETAILS | Add to Cart |
| EpiQuik Histone Methyltransferase Activity /Inhibition Assay Kit ( H3-K9) | P-3003-1-EP | 48 assays | 497 € | DETAILS | Add to Cart |
| EpiQuik Histone Methyltransferase Activity /Inhibition Assay Kit ( H3-K9) | P-3003-2-EP | 96 assays | 758 € | DETAILS | Add to Cart |
| EpiQuik Histone Methyltransferase Activity/Inhibition Assay Kit (H3-K27) | P-3005-48-EP | 48 assays | 497 € | DETAILS | Add to Cart |
| EpiQuik Histone Methyltransferase Activity/Inhibition Assay Kit (H3-K27) | P-3005-96-EP | 96 assays | 758 € | DETAILS | Add to Cart |
| Epigenase PRMT Methyltransferase (Type II-Specific) Activity/Inhibition Assay Kit (Colorimetric) | P-3088-48-EP | 48 assays | 509 € | DETAILS | Add to Cart |
| Epigenase PRMT Methyltransferase (Type II-Specific) Activity/Inhibition Assay Kit (Colorimetric) | P-3088-96-EP | 96 assays | 804 € | DETAILS | Add to Cart |