DNA Methyltransferase Activity Assays
Study epigenetic regulation of genes or discover DNMT inhibitors with EpiQuik Assay Kits
• Rapid and efficient procedure, which can be completed within 3 hours
• Safe and innovative colorimetric or fluorometric assay without radioactivity, extraction, electrophoresis, or chromatography
• Strip microplate format makes the assay flexible: manual or high throughput analysis
• Simple, reliable, and consistent assay conditions
• Available for measuring general DNMT activity and for specific DNMT´s activity
Epigenetic inactivation of genes plays a critical role in many important human diseases, especially in cancer. A core mechanism for epigenetic inactivation of the genes is methylation of CpG islands in genomic DNA. Methylation of CpG islands involves the course in which DNA methyltransferases (Dnmts) transfer a methyl group from S-adenosyl-L-methionine to the fifth carbon position of the
cytosines.
Four active Dnmts have been identified in mammals. They are named DNMT1, DNMT2, DNMT3A, and DNMT3B. Inhibition of Dnmts may lead to demethylation and expression of the silenced genes. Dnmt inhibitors are currently being developed as potential anticancer agents.
There are only a couple of methods used for measuring Dnmt activity/inhibition. These methods available so far are time consuming, labor-intensive, have low throughput, or produce radioactive waste.
The EpiQuik™ DNA Methyltransferase Activity/Inhibition Assay Kits address these problems by using a unique procedure to measure Dnmt activity/inhibition.
Product Comparison Chart - DNA Methyltransferase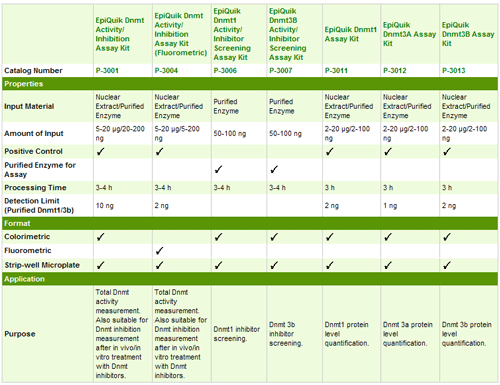 Colorimetric Assay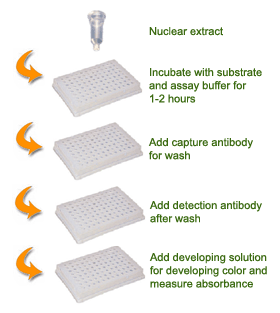 Fluorometric Assay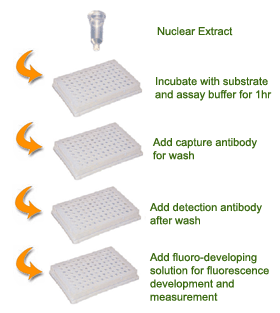 Use BPS Direct Activity Assay Kits to measure the activity of DNA Methyltransferase 1
The Direct Activity Assay Kits are designed to measure DNA Methyltransferase 1 activity using cell extracts or the purified DNMT1 in 3 simple steps:
The Activity Assay Kits are applying a DNMT1 substrate precoated 96-well plate, a primary 5methyl-cytosine specific antibody, an HRP-conjugated secondary antibody, as well as a fluorescent or chemiluminescent HRP-substrate.
---
Related Links
Nuclear Extraction Kit
DNA Demethylase Assay Kits

---
PDF-Downloads
- Will open in new browser window
| Description | Cat# | Size | Price | | |
| --- | --- | --- | --- | --- | --- |
| EpiQuik Dnmt / DNA Methyltransferase Activity/Inhibition Assay Kit (Colorimetric) | P-3001-1-EP | 48 assays | 485 € | DETAILS | Add to Cart |
| EpiQuik Dnmt / DNA Methyltransferase Activity/Inhibition Assay Kit (Colorimetric) | P-3001-2-EP | 96 assays | 747 € | DETAILS | Add to Cart |
| EpiQuik Dnmt / DNA Methyltransferase Activity/Inhibition Assay Kit (Fluorometric) | P-3004-48-EP | 48 assays | 497 € | DETAILS | Add to Cart |
| EpiQuik Dnmt / DNA Methyltransferase Activity/Inhibition Assay Kit (Fluorometric) | P-3004-96-EP | 96 assays | 758 € | DETAILS | Add to Cart |
| EpiQuik DNMT Activity/Inhibition Assay Ultra Kit (Colorimetric) | P-3009-48-EP | 48 assays | 466 € | DETAILS | Add to Cart |
| EpiQuik DNMT Activity/Inhibition Assay Ultra Kit (Colorimetric) | P-3009-96-EP | 96 assays | 705 € | DETAILS | Add to Cart |
| EpiQuik DNMT Activity/Inhibition Assay Ultra Kit (Fluorometric) | P-3010-48-EP | 48 assays | 477 € | DETAILS | Add to Cart |
| EpiQuik DNMT Activity/Inhibition Assay Ultra Kit (Fluorometric) | P-3010-96-EP | 96 assays | 705 € | DETAILS | Add to Cart |
| EpiQuik DNMT Activity/Inhibition ELISA Easy Kit | P-3139-48-EP | 48 assays | 505 € | DETAILS | Add to Cart |
| EpiQuik DNMT Activity/Inhibition ELISA Easy Kit | P-3139-96-EP | 96 assays | 746 € | DETAILS | Add to Cart |
| EpiQuik Dnmt 1 / DNA Methyltransferase 1 Activity/Inhibition Assay Kit (Colorimetric) Core Kit without enzyme | P-3006A-48-EP | 48 assays | 409 € | DETAILS | Add to Cart |
| EpiQuik Dnmt 1 / DNA Methyltransferase 1 Activity/Inhibition Assay Kit (Colorimetric) Core Kit without enzyme | P-3006A-96-EP | 96 assays | 679 € | DETAILS | Add to Cart |
| EpiQuik Dnmt 1 / DNA Methyltransferase 1 Assay Kit (Colorimetric) | P-3011-2-EP | 48 assays | 566 € | DETAILS | Add to Cart |
| EpiQuik Dnmt 1 / DNA Methyltransferase 1 Assay Kit (Colorimetric) | P-3011-3-EP | 96 assays | 758 € | DETAILS | Add to Cart |
| EpiQuik Dnmt 3b / DNA Methyltransferase 3B Activity/Inhibition Assay Kit (Colorimetric) Core Kit without enzyme | P-3007A-48-EP | 48 assays | 409 € | DETAILS | Add to Cart |
| EpiQuik Dnmt 3b / DNA Methyltransferase 3B Activity/Inhibition Assay Kit (Colorimetric) Core Kit without enzyme | P-3007A-96-EP | 96 assays | 679 € | DETAILS | Add to Cart |
| EpiQuik Dnmt 3a / DNA Methyltransferase 3a Assay Kit (Colorimetric) | P-3012-2-EP | 48 assays | 566 € | DETAILS | Add to Cart |
| EpiQuik Dnmt 3a / DNA Methyltransferase 3a Assay Kit (Colorimetric) | P-3012-3-EP | 96 assays | 758 € | DETAILS | Add to Cart |
| EpiQuik Dnmt 3b / DNA Methyltransferase 3b Assay Kit (Colorimetric) | P-3013-2-EP | 48 assays | 566 € | DETAILS | Add to Cart |
| EpiQuik Dnmt 3b / DNA Methyltransferase 3b Assay Kit (Colorimetric) | P-3013-3-EP | 96 assays | 758 € | DETAILS | Add to Cart |
| Methyltransferase Activity Assay Kit (Colorimetric) | K986-100-BV | 100 assays | 638 € | DETAILS | Add to Cart |
| Methyltransferase Activity Assay Kit (Fluorometric) | K521-100-BV | 100 assays | 567 € | DETAILS | Add to Cart |