Expressioneering: Restriction Enzyme Free E. coli Cloning and Expression Systems
Surprisingly Simple Recombinant Protein Expression!
• No vector preparation
• No restriction enzymes or ligase required
• No DNA purification steps
• Tightly-controlled expression of N- or C-Terminal 6xHis-tagged proteins
• Choose from tunable Rhamnose or strong T7 Promoter
• Cleavable SUMO Tag versions available to improve protein solubility
• Easy downstream manipulation of small vectors (2.2 kb to 2.5 kb).
Clone your favorite gene in an effortless afternoon, and start expression analysis the next day with the Expresso® Cloning and Protein Expression Systems, available with Rhamnose or T7 promoters and SUMO fusion tag to improve protein solubility.
Expressioneering™ Technology uses in vivo homologous recombination to seamlessly clone PCR amplified DNA into specially designed expression vectors without the need for enzymes or purification steps. The desired insert is simply amplified with primers that include 18 bases that overlap with the ends of the Expresso vector. The unpurified PCR amplicon is then mixed with the pre-processed expression plasmid and the high-efficiency competent cells provided, and directly plated on appropriate media.
Expressioneering Technology Options
Expresso Cloning & Protein Expression System Vectors are designed for rapid directional cloning using Expressioneering™ Technology and include the choice of T7 or Rhamnose promoters, N- or C-terminal 6x Histag for protein purification, and cleavable SUMO fusion tag for increased solubility.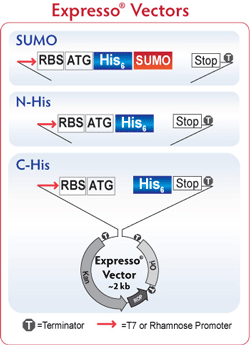 Expresso Rhamnose Promoter
• Rhamnose-inducible for tunable protein expression
• Single strain for transformation and expression
• High-throughput Protein Expression
• Autoinduction reagents included
Expresso T7 Promoter
• IPTG-inducible for maximal protein expression
• Supplied with two competent HI-Control™ strains for cloning and expression
Expresso SUMO Solubility Tag
• Increases expression efficiency and decreases likelihood of inclusion bodies
• Recover native protein with SUMO Express Protease.
Expresso Cloning and Expression Kits Selection Guide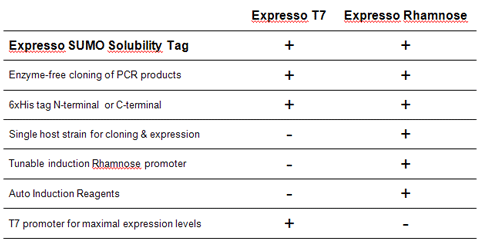 This product is the subject of U.S. Patent #6,709,861. Additional patent applications owned by Lucigen Corporation are pending.
---
Related Links
Video Expresso Cloning and Expression System

| Description | Cat# | Size | Price | | |
| --- | --- | --- | --- | --- | --- |
| Expresso Rhamnose Cloning and Expression System (for C-terminal His tag Fusion Proteins) | 49012-1-LU | 5 rxns | 326 € | DETAILS | Add to Cart |
| Expresso Rhamnose Cloning and Expression System (for C-terminal His tag Fusion Proteins) | 49012-2-LU | 10 rxns | 508 € | DETAILS | Add to Cart |
| Expresso Rhamnose Cloning and Expression System (for N-terminal His tag Fusion Proteins) | 49011-1-LU | 5 rxns | 326 € | DETAILS | Add to Cart |
| Expresso Rhamnose Cloning and Expression System (for N-terminal His tag Fusion Proteins) | 49011-2-LU | 10 rxns | 508 € | DETAILS | Add to Cart |
| Expresso Rhamnose SUMO Solubility Tag Cloning and Expression System | 49013-1-LU | 5 rxns | 411 € | DETAILS | Add to Cart |
| Expresso Rhamnose SUMO Solubility Tag Cloning and Expression System | 49013-2-LU | 10 rxns | 654 € | DETAILS | Add to Cart |
| Expresso T7 Cloning and Expression System (for C-terminal His tag Fusion Proteins) | 49002-1-LU | 5 rxns | 326 € | DETAILS | Add to Cart |
| Expresso T7 Cloning and Expression System (for C-terminal His tag Fusion Proteins) | 49002-2-LU | 10 rxns | 508 € | DETAILS | Add to Cart |
| Expresso T7 Cloning and Expression System (for N-terminal His tag Fusion Proteins) | 49001-1-LU | 5 rxns | 326 € | DETAILS | Add to Cart |
| Expresso T7 Cloning and Expression System (for N-terminal His tag Fusion Proteins) | 49001-2-LU | 10 rxns | 508 € | DETAILS | Add to Cart |
| Expresso T7 SUMO Solubility Tag Cloning and Expression System | 49003-1-LU | 5 rxns | 411 € | DETAILS | Add to Cart |
| Expresso T7 SUMO Solubility Tag Cloning and Expression System | 49003-2-LU | 10 rxns | 654 € | DETAILS | Add to Cart |
| Glucose Solution 15% w/v | 49022-1-LU | 5 x 1,25 ml | 145 € | DETAILS | Add to Cart |
| Rhamnose Solution 20% w/v | 49021-1-LU | 5 x 1,25 ml | 145 € | DETAILS | Add to Cart |
| Arabinose Solution, 1000X | 49023-1-LU | 5 x 1,0 ml | 143 € | DETAILS | Add to Cart |
| SUMO Express Protease | 30801-2-LU | 200 U | 358 € | DETAILS | Add to Cart |
| E. cloni 10G Hi-Control Chemically Competent Cells (SOLOS) | 60110-1-LU | 12 transformations (12 x 40 ul) | 284 € | DETAILS | Add to Cart |
| E. cloni EXPRESS BL21(DE3) Hi-Control Chemically Competent Cells (SOLOS) | 60435-1-LU | 12 transformations (12 x 40 ul) | 284 € | DETAILS | Add to Cart |