Home
->
Genomics
->
Cloning Kits
-> Expressioneering: Restriction Enzyme Free E. coli Cloning and Expression System including Solubility
Expressioneering: Restriction Enzyme Free E. coli Cloning and Expression System including Solubility
Expresso® Solubility and Expression Screening SystemMultiplex Protein Solubility Screen
One convenient screening kit containing 7 fusion tags proven to increase protein expression and solubility
•Use one amplicon to simultaneously generate all your constructs
•Rapid, simultaneous protein screening with TEV-cleavable fusion tags
•PCR to protein in as little as 4 days
The Expresso® Solubility and Expression Screening System is an all-in-one system that enables PCR amplification, rapid cloning, and expression of your protein of interest with a diverse panel of powerful and cleavable solubility tags. Lucigen has identified 7 unique and literature-validated solubility tags and combined them with Expressioneering™ technology to create a suite of cloning-ready vectors for rapid and parallel evaluation of your protein with all 7 solubility tags (plus a 6xHis-tagged control vector).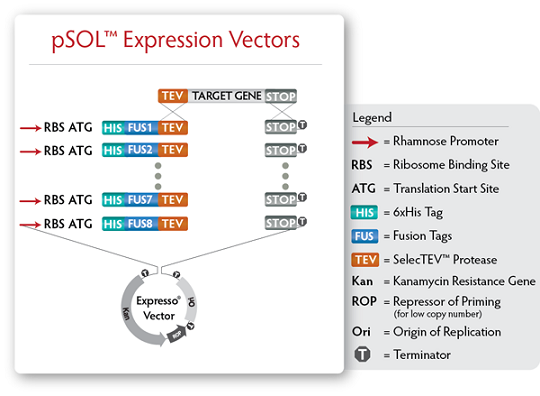 Each pSOL vector contains everything you need to seamlessly clone in your target gene without any additional amino acids added. Fusion tags are cleavable via a TEV protease site.
Expresso Screening Workflow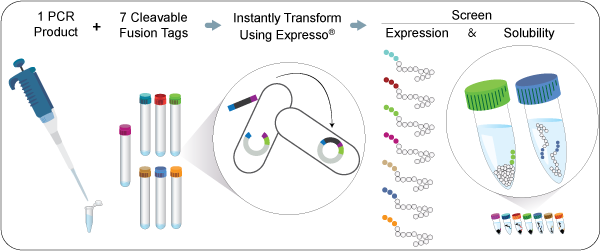 Lucigen´s Expressioneering™ technology makes it simpler than ever to rapidly screen multiple fusion tags for solubility and expression enhancement. Use one amplicon to simultaneously create 8 different clones (7 fusion tags and one His-tagged control), followed by screening for solubility and expression.
Results
Every protein reacts differently to various fusion tags. With the Expresso Solubility and Expression Screening System, you can quickly and easily screen multiple, proven fusion tags to find the optimal tag for your protein.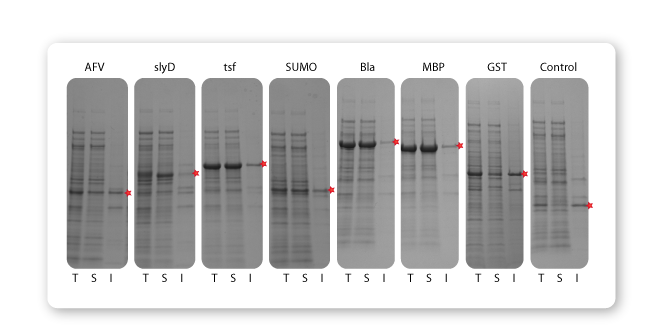 GH1 (Human Growth Hormone) was evaluated for E. coli expression and solubility when expressed as a fusion. Fusion tags SlyD, Tsf, SUMO, Bla, and MBP demonstrated enhanced solubility (Lane S) compared to teh His-control protein. T: Total Lysate, S: Cleared Soluble Fraction, I: Insoluble Pellet
Fusion Tags Included
The Expresso Solubility and Expression Screening System includes 7 vectors that each contain a unique fusion tag and one His control vector. The fusion tags vary in sequence, size, and derivative.
# Fusion Tag AA kDa pI Description
1 6xHis-AFV 113 13.5 5.0 Hypothetical Protein from Acidianus Filamentous Virus 1
2 6xHis-SlyD 210 22.7 5.2 FKBP-type peptidyl-prolyl cis-trans isomerase
3 6xHis-Tsf 297 32.2 5.7 E. coli elongation factor
4 6xHis-SUMO 115 13.3 5.2 Small Ubiquitin-like Modifier
5 6xHis-Bla 381 41.3 4.4 Beta-lactamase
6 6xHis-MBP 382 42.1 5.5 Maltose-Binding Protein
7 6xHis-GST 233 27.4 6.6 Glutathione S-transferase
8 6xHis Control 14 1.8 7.0 Affinity Tag
Cleavage with SelecTEV® Protease
All fusion tagged proteins produced with the Expresso Solubility and Expression Screening System are fully cleavable with SelecTEV protease from Lucigen. For more information, visit the SelecTEV protease product page 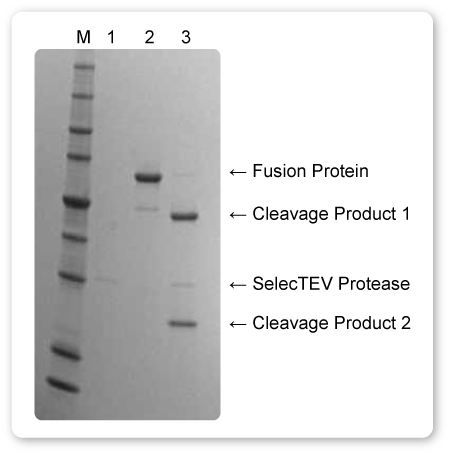 SelecTEV Protease:
Coomassie-stained SDS-PAGE gel of TEV cleavage reaction. 10 U of SelecTEV Protease was incubated with 30 µg of fusion protein substrate at 30°C for 1 hour in a 100 µL reaction. Marker (lane M), SelecTEV Protease (Lane 1), Uncleaved fusion substrate (Lane 2), Cleaved substrate and SelecTEV Protease. (Lane 3)
Order Information:
The Expresso Solubility and Expression Screening System contains pre-processed pSol™ vectors with 7 different fusion tags and one HIS-tagged control vector (3 reactions of each vector), positive control insert, sequencing primers, E. cloni® 10G Chemically Competent Cells (SOLOs), and 20% Rhamnose solution and 15% Glucose solution autoinduction reagents.
Kits with either SelecTEV™ Protease or Accura® High-Fidelity Polymerase or both of them are also available.
SelecTEV™ Protease can also be purchased as a separate product.
---
Related Links
Poster: Expresso® Solubility and Expression Screening System
Expressioneering Cloning System

| Description | Cat# | Size | Price | | |
| --- | --- | --- | --- | --- | --- |
| Expresso Solubility and Expression Screening System (3 rxns for each vector) | 49060-1-LU | 24 rxns | 1164 € | DETAILS | Add to Cart |
| Expresso Solubility and Expression Screening System (3 rxns for each vector) plus SelecTEV Protease (1000 Units) | 49062-1-LU | 24 rxns | 1264 € | DETAILS | Add to Cart |
| Expresso Solubility and Expression Screening System (3 rxns for each vector) plus Accura High-Fidelity DNA Polymerase (25 Units) | 49064-1-LU | 24 rxns | 1209 € | DETAILS | Add to Cart |
| Expresso Solubility and Expression Screening System (3 rxns for each vector) plus SelecTEV Protease (1000 Units) and Accura High-Fidelity DNA Polymerase (25 Units) | 49066-1-LU | 24 rxns | 1298 € | DETAILS | Add to Cart |
| SelecTEV Protease | 30810-1-LU | 1000 U | 220 € | DETAILS | Add to Cart |
| SelecTEV Protease | 30810-2-LU | 5000 U | 685 € | DETAILS | Add to Cart |