Circulating Histone Quantification
Measurement of Circulating Histone H3 directly from plasma or serum
• Quick and efficient procedure, can be finished within 2.5 hours
• High sensitivity and specificity
• Control is conveniently included
• Flexible due to Strip microplate format: manual or high throughput
• Simple, reliable, and consistent assay conditions
Our partner Epigentek offers three different colorimetric Assays for the quantification of Total Histone H3, Trimethyl Histone H3K27 and Acetyl Histone H3K27.
The kits are designed for measuring circulated histones in Plasma or Serum. In an assay with this kits, the Histone H3 proteins are captured on the strip wells coated with anti-H3, H3K27me3 or H3K27ac antibody. The captured proteins can be then recognized with detection antibodies followed by a color development reagent. The ratio of histone is proportional to the intensity of absorbance. The absolute amount of histones can be quantitated by comparing to the standard control.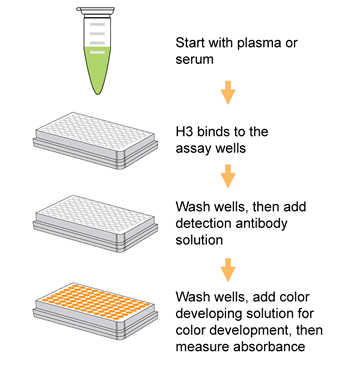 Schematic procedure of the EpiQuik Circulating Total Histone H3 Quantification Kit (Colorimetric).