Pooled Lentiviral NGS Barcode Library with expressed barcodes for RNA-Seq
CloneTracker™ XP Expressed Barcode Libraries
• Easily label individual cells with unique RNA expressed barcodes that can be detected by both genomic DNA sequencing and by RNA-Seq

• Choose from lentiviral libraries with 50 million or 5 million expressed barcodes
• Access up to 10 unique 5M barcode library pools so different cell populations can be labeled with uniquely discernible, non-overlapping, expressed barcode sequences
Single-cell RNA-Seq analysis is an important tool to analyze individual cell responses. However, since all cell populations are phenotypically heterogeneous, important genes and pathways may not be active in all cells. Thus, significant responses to experimental conditions that may only be present in a sub-population of the cells in any particular population may be easily missed as distinct. One way to address this challenge is to label individual cells with uniquely identifiable, expressed barcodes. In this way, effects and responses of each of the clonal progeny from this initial barcoded population can be easily assessed within study, and data correlating how experimental conditions may differentially affect distinct groups of cells from a common progenitor, can be extracted.
To detect cell-specific barcodes in conjunction with gene activation or pathway analysis, however, cell-specific barcodes need to be expressed on the mRNA. This can be done by incorporating the barcodes into the 3′- or 5′-UTR of an RNA transcript. Cellecta's collection of ready-to-use barcode libraries enables convenient labeling of up to 1 million individual cells with unique barcodes that are detected in both the genomic DNA and expressed RNA fractions. When used in conjunction with single-cell RNA-Seq analysis, the expressed barcode may be used to identify expression profiles and activated genes in different cells so that distinct clonal populations of cells from a single progenitor, as well as sub-populations of cells with distinct pathway activations or expression profiles, can be readily identified.
CloneTracker™ XP-rLuc Lentiviral Expressed Barcode Libraries
• Intense red-shifted luciferase marker for in vivo bioluminescent imaging
Rather than a fluorescent protein marker, CloneTracker XP-rLuc libraries have a red-shifted luciferase (rLuc) derived from Photinus pyralis (Ppy RE9 mutant) as a reporter for bioluminescent imaging (BLI).
Luciferase reporters provide a useful tool for indirect cell labeling and tracking of cell fates in vivo. While the BLI technique has been successfully used for monitoring of migration, growth, and viability associated with drug treatment of transplanted cancer, stem, or immune cells in mouse models, standard luciferase assays in animal models are particularly sensitive because they are not subject to high background as a result of tissue autofluorescence. The codon-optimized Photinus pyralis far-red luciferase in the XP-rLuc Liibrary offers enhanced sensitivity and resolution in deep tissue– 50- to 100-fold better light intensity than the click beetle (Renilla) enzyme.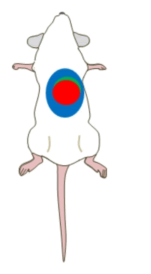 The CloneTracker XP-rLuc Library can be transduced into cells to create a barcoded cell population, which, when engrafted into mice, can be used for monitoring tumor formation and metastasis growth. BLI of rLuc-tagged cells in vivo requires the use of an appropriate imager for detecting photos generated from D-Luciferin substrate by CCD cameras able to sample the entire visible and near-infrared spectrum. For details on in vivo imaging, please refer to the standard protocols provided with your instrument, for example, In vivo Bioluminescence Imaging of Luciferase-labeled Cancer Cells protocol for BLI using the IVIS Spectrum Imager from Perkin Elmer.
| Description | Cat# | Size | Price | | |
| --- | --- | --- | --- | --- | --- |
| CloneTracker XP 50M Barcode-3' Library with RFP-Puro (plasmid) | BCXP50M3RP-P-CT | 200 ug | 10495 € | DETAILS | Add to Cart |
| CloneTracker XP 50M Barcode-3' Library with RFP-Puro (virus) | BCXP50M3RP-V-GVO-CT | 1 x 10^8 TU | 6483 € | DETAILS | Add to Cart |
| CloneTracker XP 5M Barcode-3' Library with RFP-Puro (plasmid)-1 pool | BCXP5M3RP-XS1-P-CT | 200 ug | 6996 € | DETAILS | Add to Cart |
| CloneTracker XP 5M Barcode-3' Library with RFP-Puro (virus)- 1 pool | BCXP5M3RP-XS1-V-GVO-CT | 1 x 10^8 TU | 4946 € | DETAILS | Add to Cart |
| CloneTracker XP 5M Barcode-3' Library with RFP-Puro (plasmid)- 2 pools | BCXP5M3RP-XS2-P-CT | 2 x 200 ug | 11716 € | DETAILS | Add to Cart |
| CloneTracker XP 5M Barcode-3' Library with RFP-Puro (virus)- 2 pools | BCXP5M3RP-XS2-V-GVO-CT | 2 x 10^8 TU | 8221 € | DETAILS | Add to Cart |
| CloneTracker XP 5M Barcode-3' Library with RFP-Puro (plasmid)- 3 pools | BCXP5M3RP-XS3-P-CT | 3 x 200 ug | 14047 € | DETAILS | Add to Cart |
| CloneTracker XP 5M Barcode-3' Library with RFP-Puro (virus)- 3 pools | BCXP5M3RP-XS3-V-GVO-CT | 3 x 10^8 TU | 9969 € | DETAILS | Add to Cart |
| CloneTracker XP 5M Barcode-3' Library with RFP-Puro (plasmid)- 4 pools | BCXP5M3RP-XS4-P-CT | 4 x 200 ug | 16377 € | DETAILS | Add to Cart |
| CloneTracker XP 5M Barcode-3' Library with RFP-Puro (virus)- 4 pools | BCXP5M3RP-XS4-V-GVO-CT | 4 x 10^8 TU | 11716 € | DETAILS | Add to Cart |
| CloneTracker XP 5M Barcode-3' Library with RFP-Puro (plasmid)- 5 pools | BCXP5M3RP-XS5-P-CT | 5 x 200 ug | 18707 € | DETAILS | Add to Cart |
| CloneTracker XP 5M Barcode-3' Library with RFP-Puro (virus)- 5 pools | BCXP5M3RP-XS5-V-GVO-CT | 5 x 10^8 TU | 13173 € | DETAILS | Add to Cart |
| CloneTracker XP 5M Barcode-3' Library with RFP-Puro (plasmid)- 6 pools | BCXP5M3RP-XS6-P-CT | 6 x 200 ug | 21037 € | DETAILS | Add to Cart |
| CloneTracker XP 5M Barcode-3' Library with RFP-Puro (virus)- 6 pools | BCXP5M3RP-XS6-V-GVO-CT | 6 x 10^8 TU | 14920 € | DETAILS | Add to Cart |
| CloneTracker XP 5M Barcode-3' Library with RFP-Puro (plasmid)-7 pools | BCXP5M3RP-XS7-P-CT | 7 x 200 ug | 23368 € | DETAILS | Add to Cart |
| CloneTracker XP 5M Barcode-3' Library with RFP-Puro (virus)- 7 pools | BCXP5M3RP-XS7-V-GVO-CT | 7 x 10^8 TU | 16668 € | DETAILS | Add to Cart |
| CloneTracker XP 5M Barcode-3' Library with RFP-Puro (plasmid)- 8 pools | BCXP5M3RP-XS8-P-CT | 8 x 200 ug | 25698 € | DETAILS | Add to Cart |
| CloneTracker XP 5M Barcode-3' Library with RFP-Puro (virus)- 8 pools | BCXP5M3RP-XS8-V-GVO-CT | 8 x 10^8 TU | 18125 € | DETAILS | Add to Cart |
| CloneTracker XP 5M Barcode-3' Library with RFP-Puro (plasmid)- 9 pools | BCXP5M3RP-XS9-P-CT | 9 x 200 ug | 28028 € | DETAILS | Add to Cart |
| CloneTracker XP 5M Barcode-3' Library with RFP-Puro (virus)- 9 pools | BCXP5M3RP-XS9-V-GVO-CT | 9 x 10^8 TU | 19872 € | DETAILS | Add to Cart |
| CloneTracker XP 5M Barcode-3' Library with RFP-Puro (plasmid)- 10 pools | BCXP5M3RP-XS10-P-CT | 10 x 200 ug | 29193 € | DETAILS | Add to Cart |
| CloneTracker XP 5M Barcode-3' Library with RFP-Puro (virus)- 10 pools | BCXP5M3RP-XS10-V-GVO-CT | 10 x 10^8 TU | 21620 € | DETAILS | Add to Cart |
| Single Barcode-3' Control Construct with RFP-Puro (plasmid) | BCXP3RP-P-CT | 25 ug | 400 € | DETAILS | Add to Cart |
| Single Barcode-3' Control Construct with RFP-Puro (virus) | BCXP3RP-V-GVO-CT | 1 x 10^7 TU | 646 € | DETAILS | Add to Cart |
| CloneTracker XP-rLuc 10M Barcode-3' Library with rLuciferase-Puro (plasmid) | BCXP10M3LP-P-CT | 200 ug | 8787 € | DETAILS | Add to Cart |
| CloneTracker XP-rLuc 10M Barcode-3' Library with rLuciferase-Puro (virus) | BCXP10M3LP-V-GVO-CT | 1 x 10^8 TU | 5378 € | DETAILS | Add to Cart |