Expression-Ready cDNA Gene Family/Pathway Clone Sets
MGC Premier cDNA Focused Sets
MGC Premier Expression-Ready cDNA gene families and pathways are arrayed into focused subsets making overexpression screening possible for large and small laboratories.
The libraries are arrayed from the MGC Premier cDNA collection cloned into the pCMV SPORT6 vector.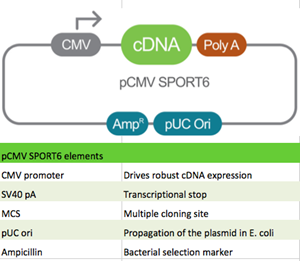 The gene lists were created using resources from the National Institute of Health's Cancer Genome Anatomy Project (CGAP) and Gene Ontology (GO). Annotation is based on electronic and manual literature-based curation as well as sequence analysis. (See Annotation Standard Operating Procedures from the Gene Ontology Consortium for more information - see link below.)
Delivery, Shipping and Storage
Turnaround time for expression-ready sets is 2 weeks. Collections are shipped in 96 well plate format on dry ice and should be stored at –80°C.
---
Related Links
Gene Ontology Consortium Annotation SOP
Search individual clones

| Description | Cat# | Size | Price | | |
| --- | --- | --- | --- | --- | --- |
| IMAGE / MGC (Mammalian Gene Consortium) Premier Human cDNA Set in Expression Vector pCMV SPORT6: Apoptosis related proteins (313 genes) (Gene Ontology ID GO:0006915) | TCH3010-GVO-TRI | 377 clones representing 313 genes | 2316 € | DETAILS | Add to Cart |
| IMAGE / MGC (Mammalian Gene Consortium) Premier Human cDNA Set in Expression Vector pCMV SPORT6: Cell Cycle related proteins (336 genes) (Gene Ontology ID GO:0007049) | TCH3001-GVO-TRI | 386 clones representing 336 genes | 5990 € | DETAILS | Add to Cart |
| IMAGE / MGC (Mammalian Gene Consortium) Premier Human cDNA Set in Expression Vector pCMV SPORT6: GPCR / G-Protein Coupled Receptors (95 genes) (Gene Ontology ID GO:0004930) | TCH3003-GVO-TRI | 111 clones representing 95 genes | 2761 € | DETAILS | Add to Cart |
| IMAGE / MGC (Mammalian Gene Consortium) Premier Human cDNA Set in Expression Vector pCMV SPORT6: Insulin Signaling Pathway related proteins (51 genes) (Gene Ontology ID GO:0008286) | TCH3011-GVO-TRI | 63 clones representing 51 genes | 1621 € | DETAILS | Add to Cart |
| IMAGE / MGC (Mammalian Gene Consortium) Premier Human cDNA Set in Expression Vector pCMV SPORT6: Ion Channel related proteins (73 genes) (Gene Ontology ID GO:0005216) | TCH3005-GVO-TRI | 87 clones representing 73 genes | 2212 € | DETAILS | Add to Cart |
| IMAGE / MGC (Mammalian Gene Consortium) Premier Human cDNA Set in Expression Vector pCMV SPORT6: Kinases (243 genes) (Gene Ontology ID GO:0016301) | TCH3006-GVO-TRI | 275 clones representing 243 genes | 5563 € | DETAILS | Add to Cart |
| IMAGE / MGC (Mammalian Gene Consortium) Premier Human cDNA Set in Expression Vector pCMV SPORT6: Nuclear Hormone Receptor Binding related proteins (42 genes) (Gene Ontology ID GO:0035257) | TCH3007-GVO-TRI | 49 clones representing 42 genes | 1420 € | DETAILS | Add to Cart |
| IMAGE / MGC (Mammalian Gene Consortium) Premier Human cDNA Set in Expression Vector pCMV SPORT6: Peptidases / Proteases (140 genes) (Gene Ontology ID GO:0008233) | TCH3008-GVO-TRI | 153 clones representing 140 genes | 3918 € | DETAILS | Add to Cart |
| IMAGE / MGC (Mammalian Gene Consortium) Premier Human cDNA Set in Expression Vector pCMV SPORT6: Phosphatases (96 genes) (Gene Ontology ID GO:0016791) | TCH3009-GVO-TRI | 106 clones representing 96 genes | 2212 € | DETAILS | Add to Cart |
| IMAGE / MGC (Mammalian Gene Consortium) Premier Human cDNA Set in Expression Vector pCMV SPORT6: Transcription factors (267 genes) (Gene Ontology ID GO:0003700) | TCH3004-GVO-TRI | 309 clones representing 267 genes | 6233 € | DETAILS | Add to Cart |
| IMAGE / MGC (Mammalian Gene Consortium) Premier Human cDNA Set in Expression Vector pCMV SPORT6: Ubiquitin Ligase Complex related proteins (52 genes) (Gene Ontology ID GO:0000151) | TCH3002-GVO-TRI | 57 clones representing 52 genes | 1968 € | DETAILS | Add to Cart |