cDNA Clones
cDNA Clone Collections for Gene Analysis
Genome-scale cDNA clones are the starting material in any gain-of-function study for gene analysis and protein function. Creating cDNA clones from biological material requires significant time, labor and cost to produce full-insert sequence validated cDNA clones.
Pre-made fully-sequenced cDNA collections provide convenient access to reliable clones for gene analysis studies allowing the researcher to quickly obtain experimental results. Validation of the full insert sequence in a cDNA clone is critical to obtaining reproducible experimental results. Therefore, researchers typically validate pre-made cDNA clones to ensure correct sequence identity.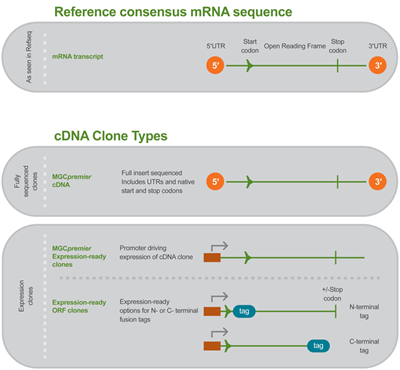 transOMIC technologies' cDNA clone collections are derived from the rigorously sequenced Mammalian Genome Collection created by the National Institutes of Health (NIH) and are 100% guaranteed to match the Genbank published sequence. The MGC premier expression-ready cDNA clones are subcloned in an expression vector of your choice and are additionally sequence verified to reconfirm the sequence of the cDNA clone before shipment.
Also available are tagged ORF expression vectors which allow you to express a protein of interest with either Myc or FLAG® fusion tags.
Use the
transOMIC Fetch my Gene™ search tool
to find cDNA or tagged ORF clones representing your gene(s) of interest, see link below. Let us know which cDNA clone(s) you have chosen, and we will provide the cDNA clone(s) within 1-2 weeks, depending if you order gene ID verification by DNA sequencing or an expression-ready cDNA construct in a vector of your choice.
For
overexpression screening approaches
premade re-arrays of cDNA clones for gene families and pathways in the pCMV SPORT 6 vector (Expression-Ready cDNA Gene Family/Pathway Clone Sets - see link above), as well as customized re-arrays, and genome wide libraries are also available.
---
Related Links
Clone Search Tool
Contact us for more info or to receive a quotation

---
PDF-Downloads
- Will open in new browser window