Dye Terminator Removal by Gel Filtration Cartridges
Performa® DTR Gel Filtration Cartridges (Individual Spin Columns) for Sanger Sequencing-Cleanup
•
Obtain Highest-Quality Sequencing Data
- Longest read lengths: Consistently greater than 900 bases
- Highest base call rates, highest base calling accuracy
- Lower repeat testing rate than observed with magnetic bead-based methods
- No dye blobs, no peak shouldering
- Accurately call bases close to the sequencing primer
- Obtain excellent signal strength
•
Shortest Time-to-Completion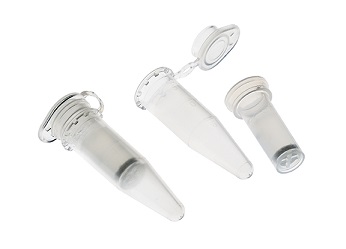 - Ready to Use: Pre-packed with a fully hydrated gel filtration matrix
- 5 minutes total protocol time
- Simplest protocol with minimal manipulation
- Only 3 steps!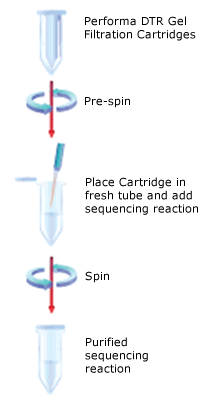 • Pre-spin to remove hydrating liquid
• Place cartridge in fresh tube and add sequencing reaction
• Spin to collect purified sequencing products
- Sample is ready for immediate loading onto the Capillary Sequencing platform
Performa® DTR: The gold standard in gel filtration based dye terminator removal!
Performa DTR utilizes a fully hydrated gel filtration matrix that allows high molecular weight molecules (sequencing products) to pass through, while retaining small molecules(BigDye v3.1 or other Dye Terminators, nucleotides, primers, salts).
Performa DTR ensures removal of BigDye® Terminator v3.1 (or other Dye Terminators such as BigDye® Terminator v1.1, DYEnamic™ DTCS Quick Start Kit and Methods Development Kit), along with dNTPs, salts and other low molecular weight materials from sequencing reactions. DNA primers and fragments up to 15 bases, buffers, nucleotides labeled with biotin, isotopes and other assorted markers are also eliminated. To minimize the potential for interference with sequencing applications, no preservatives, salts, or buffers are used in the preparation of Performa DTR.
Performa® DTR and the extremely cost-effective Optima DTR are available in various plate formats for High Throughput Dye Terminator Removal, see links below
---
Related Links
Optima™ DTR Gel Filtration Plates
Performa® DTR Gel Filtration Plates
Sequencing Buffer System for lowering Dye Terminator volumes

---
PDF-Downloads
- Will open in new browser window
Product Overview Brochure: Performa® DTR

| Description | Cat# | Size | Price | | |
| --- | --- | --- | --- | --- | --- |
| Performa DTR Gel Filtration Cartridges | 98780-ED | 36 preps | 124 € | DETAILS | Add to Cart |
| Performa DTR Gel Filtration Cartridges | 42453-ED | 108 preps | 243 € | DETAILS | Add to Cart |