Acetylated Histone Target Screening
H3 and H4 acetylation regulates various cellular processes, including transcriptional gene activation, chromatin assembly, cell proliferation, and pathological processes such as tumorigenesis.
Thus, identification of genes activated through H3 and H4 acetylation are of particluar significance for understanding and analyzing biological normal and pathological processes.
Chromatin Immunoprecipitation (ChIP) is a powerful technique for studying protein-DNA interaction in vivo: Acetylated H3 and H4 ChIP enable you to identify genes activated by histone acetylation.
Epigentek´s H3 and H4 ChIP kits are complete, fast and easy-to-use kits including DNA purification columns. They are available in special versions when using tissue samples as source material.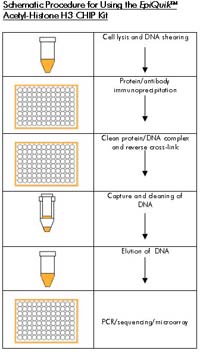 Kit Features:
* The fastest procedure available - finished within 5 hours.
* Strip microwell format makes the assay flexible: manual or high throughput.
* Columns for DNA purification are included: save time and reduce labor.
* Compatible with all subsequent DNA amplification-based approaches and with DNA Array analysis
* Simple, reliable, and consistent assay conditions.
---
Related Links