Home
-> Fluorescent Proteins & Biosensors
Fluorescent Proteins
Red Fluorescent Protein FusionRed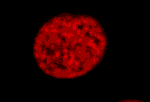 FusionRed is a red fluorescent protein with superior performance in fusions and low toxicity. FusionRed lacks the residual tendency of other monomeric RFPs to dimerize and behaves as a pure monomer at high concentrations. Such "supermonomeric" properties ensure industry leading efficiency of FusionRed in protein labeling applications, especially in cells with high expression level.
Please select from our comprehensive list of FusionRed vectors. We also offer cell lines stably transfected with FusionRed. For detecting both denatured and native forms of FusionRed and several other protein tags please check our anti-tRFP antibodies.

Evrogen Fluorescent Protein Vectors
When ordering 2 or more vectors encoding the same fluorescent protein, you receive a 50% discount on the second and subsequent vectors.

Please use promotion code EV13 when placing your order.
Overview Fluorescent Proteins
Choose from a large selection of fluorescent proteins.
Near-infrared Fluorescent Proteins TurboFP650 and NirFP for whole body imaging and multicolor applications.
Apply the Spectra Viewer to compare the spectra of the fluorescent proteins listed above and to calculate their excitation and emission efficiencies at different wavelengths.
Antibodies against Fluorescent Proteins
Polyclonal antibodies for the immunological detection of Evrogen fluorescent proteins.
Lentiviral Cyto-Tracers
Track subcellular activities in real-time using GFP- or RFP-based Cyto-Tracers.
Photoswitchable Fluorescent Proteins
Analyze cellular events in vivo
Fluorescent Photosensitizer
Reversibly block cell division with the photoinducible cell cycle inhibitor ArrestRed
Perform precise protein photoinactivation or light-induced cell killing with KillerRed Photosensitizer.
Fluorescent Biosensors
Use the fluorescent biosensors Case12 and HyPer to detect intracellular Ca2+ and H2O2, respectively.
Apply Casper3 FRET-based apoptosis sensor for the early detection of caspase-3 activity.
Stably Transfected Cells Expressing Fluorescent Proteins
Choose from a large variety of cell lines expressing fluorescent proteins and biosensors.