Stem Cell Differentiation Reporter System
Monitor stem cells during differentiation
• Monitor cell differentiation in real-time
• Track 5 lineages: neural, hematopoietic, myogenic, structural and signaling
• Lentivector-based reporters with cell-specific promoter
• Choice of fluorescent marker - copGFP or RFP
• Choice of selection marker - Zeo or TK
Cell differentiation can be tracked in real-time using the Differentiation Reporter Constructs. Cell- and stage-specific promoters drive the expression of a fluorescent protein and a selection marker in differentiated cells. Lentivector-based reporters for 5 different lineages including neurogenic, hematopoietic, myogenic, structural and signaling are offered. They can be used to develop new directed ifferentiation protocols and to study cell fate specification.
All Differentiation Reporter Constructs are available as lentivector plasmids or as pre-packaged lentiviral peparations. Positive and negative transduction control plasmids and pre-packaged viral particles are also available.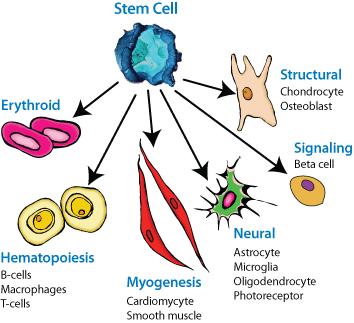 Neural
(Astrocytes, Neurons, Microglia, Optic nerves)
Hematopoiesis
(B-cells, T-cells, and Macrophages)
Myogenesis
(Cardiac, Smooth & Skeletal Muscle)
Structural
(Bone, Collagen, Skin)
Signaling
(Islets, Beta-cells)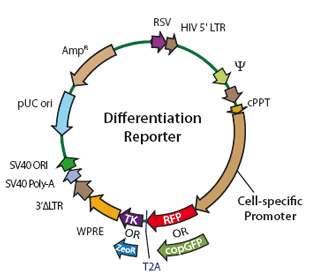 SBI Differentiation Reporter Vector.
Cell-specific promoters drive expression of the fluorescent protein and selection marker in the corresponding cell type. Different configurations with copGFP or RFP for sorting, and Zeocin resistance for positive selection or thymidin kinase for negative selection are available.

Stem cell differentiation tracking.
Different neural lineages can be tracked using specific differentiation reporter constructs. Cell-specific promoters: DCX (Doublecortin), GFAP (Glial Fibrillary Acidic Protein), GAD67 (GAD1, Glutamic Acid Decarboxylase 1), MAP2 (Microtubule-associated Protein 2).
Reference
Ravin, R. et al. (2008) Potency and fate specification in CNS stem cell populations in vitro. Cell Stem Cell. 3:670-80.
Publication contains online Supplemental Materials with amazing Astrocyte differentiation movies with SBI´s GFAP Reporter.
---
Related Links
Pluripotency Reporter Vectors
Overview: Stem Cell Related Products
All Products for Transcription Factor Activity Determination

| Description | Cat# | Size | Price | | |
| --- | --- | --- | --- | --- | --- |
| Positive Transduction Control Vector for Pluripotency / Stem Cell Differentiation Reporter Vector System: pGreenZeo-CMV (plasmid) | SR501PA-1-SBI | 10 ug | 586 € | DETAILS | Add to Cart |
| Positive Transduction Control Vector for Pluripotency / Stem Cell Differentiation Reporter Vector System: pGreenZeo-CMV (pre-packaged lentiviral particles) | SR501VA-1-GVO-SBI | >2 x 10^6 IFUs | 717 € | DETAILS | Add to Cart |
| Negative Transduction Control Vector for Pluripotency / Stem Cell Differentiation Reporter Vector System: pGreenZeo-mCMV (plasmid) | SR500PA-1-SBI | 10 ug | 586 € | DETAILS | Add to Cart |
| Negative Transduction Control Vector for Pluripotency / Stem Cell Differentiation Reporter Vector System: pGreenZeo-mCMV (pre-packaged lentiviral particles) | SR500VA-1-GVO-SBI | >2 x 10^6 IFUs | 717 € | DETAILS | Add to Cart |
| Adipocyte Specific Stem Cell Differentiation Reporter Vector (plasmid), Mouse ALBP Promoter | SR10036PA-1-SBI | 10 ug | 1754 € | DETAILS | Add to Cart |
| Adipocyte Specific Stem Cell Differentiation Reporter Vector (Prepackaged lentiviral particles), Mouse ALBP Promoter | SR10036VA-1-GVO-SBI | >2 x 10^6 IFUs | 799 € | DETAILS | Add to Cart |
| Astrocyte Specific Promoter Reporter Vector / Stem Cell Differentiation Reporter Vector (plasmid), Human GFAP Promoter | SR10015PA-1-SBI | 10 ug | 1754 € | DETAILS | Add to Cart |
| Astrocyte Specific Promoter Reporter Vector / Stem Cell Differentiation Reporter Vector (plasmid), Mouse GFAP Promoter | SR10016PA-1-SBI | 10 ug | 1754 € | DETAILS | Add to Cart |
| Astrocyte Specific Promoter Reporter Vector / Stem Cell Differentiation Reporter Vector (Prepackaged lentiviral particles), Human GFAP Promoter | SR10015VA-1-GVO-SBI | >2 x 10^6 IFUs | 799 € | DETAILS | Add to Cart |
| Astrocyte Specific Promoter Reporter Vector / Stem Cell Differentiation Reporter Vector (Prepackaged lentiviral particles), Mouse GFAP Promoter | SR10016VA-1-GVO-SBI | >2 x 10^6 IFUs | 799 € | DETAILS | Add to Cart |
| Astrocyte Specific Stem Cell Differentiation Reporter Vector (pre-packaged lentiviral particles), Human GFAP Promoter, Puro | SR10015VA-P-GVO-SBI | >2 x 10^6 IFUs | 799 € | DETAILS | Add to Cart |
| Astrocyte Specific Stem Cell Differentiation Reporter Vector (pRedZeo, prepackaged lentiviral particles), Human GFAP Promoter | SR10051PA-1-SBI | 10 ug | 1754 € | DETAILS | Add to Cart |
| Astrocyte Specific Stem Cell Differentiation Reporter Vector (pRedZeo, prepackaged lentiviral particles), Human GFAP Promoter | SR10051VA-1-GVO-SBI | >2 x 10^6 IFUs | 799 € | DETAILS | Add to Cart |
| B-cell Specific Promoter Reporter Vector / Stem Cell Differentiation Reporter Vector (plasmid), Human B29 Promoter | SR1004PA-1-SBI | 10 ug | 1754 € | DETAILS | Add to Cart |
| B-cell Specific Promoter Reporter Vector / Stem Cell Differentiation Reporter Vector (plasmid), Mouse B29 Promoter | SR1005PA-1-SBI | 10 ug | 1754 € | DETAILS | Add to Cart |
| B-cell Specific Promoter Reporter Vector / Stem Cell Differentiation Reporter Vector (Prepackaged lentiviral particles), Human B29 Promoter | SR1004VA-1-GVO-SBI | >2 x 10^6 IFUs | 799 € | DETAILS | Add to Cart |
| B-cell Specific Promoter Reporter Vector / Stem Cell Differentiation Reporter Vector (Prepackaged lentiviral particles), Mouse B29 Promoter | SR1005VA-1-GVO-SBI | >2 x 10^6 IFUs | 799 € | DETAILS | Add to Cart |
| Beta cell Specific Promoter Reporter Vector / Stem Cell Differentiation Reporter Vector (plasmid), Human Insulin Promoter | SR10028PA-1-SBI | 10 ug | 1754 € | DETAILS | Add to Cart |
| Beta cell Specific Promoter Reporter Vector / Stem Cell Differentiation Reporter Vector (Prepackaged lentiviral particles), Human Insulin Promoter | SR10028VA-1-GVO-SBI | >2 x 10^6 IFUs | 799 € | DETAILS | Add to Cart |
| Cardiomyocyte Specific Promoter Reporter Vector / Stem Cell Differentiation Reporter Vector (plasmid), Human mlC-2v Promoter | SR10011PA-1-SBI | 10 ug | 1754 € | DETAILS | Add to Cart |
| Cardiomyocyte Specific Promoter Reporter Vector / Stem Cell Differentiation Reporter Vector (plasmid), Human Tnnt2 Promoter | SR10012PA-1-SBI | 10 ug | 1754 € | DETAILS | Add to Cart |
| Cardiomyocyte Specific Promoter Reporter Vector / Stem Cell Differentiation Reporter Vector (plasmid), Mouse ACTC Promoter | SR10010PA-1-SBI | 10 ug | 1754 € | DETAILS | Add to Cart |
| Cardiomyocyte Specific Promoter Reporter Vector / Stem Cell Differentiation Reporter Vector (plasmid), Mouse Tnnt2 Promoter | SR10013PA-1-SBI | 10 ug | 1754 € | DETAILS | Add to Cart |
| Cardiomyocyte Specific Promoter Reporter Vector / Stem Cell Differentiation Reporter Vector (Prepackaged lentiviral particles), Human mlC-2v Promoter | SR10011VA-1-GVO-SBI | >2 x 10^6 IFUs | 799 € | DETAILS | Add to Cart |
| Cardiomyocyte Specific Promoter Reporter Vector / Stem Cell Differentiation Reporter Vector (Prepackaged lentiviral particles), Human Tnnt2 Promoter | SR10012VA-1-GVO-SBI | >2 x 10^6 IFUs | 799 € | DETAILS | Add to Cart |
| Cardiomyocyte Specific Promoter Reporter Vector / Stem Cell Differentiation Reporter Vector (Prepackaged lentiviral particles), Mouse ACTC Promoter | SR10010VA-1-GVO-SBI | >2 x 10^6 IFUs | 799 € | DETAILS | Add to Cart |
| Cardiomyocyte Specific Promoter Reporter Vector / Stem Cell Differentiation Reporter Vector (Prepackaged lentiviral particles), Mouse Tnnt2 Promoter | SR10013VA-1-GVO-SBI | >2 x 10^6 IFUs | 799 € | DETAILS | Add to Cart |
| Cardiomyocyte Specific Stem Cell Differentiation Reporter Vector (plasmid), | SR10068PA-1-SBI | 10 ug | 1754 € | DETAILS | Add to Cart |
| Cardiomyocyte Specific Stem Cell Differentiation Reporter Vector (plasmid), Human ACTC Promoter | SR10049PA-1-SBI | 10 ug | 1754 € | DETAILS | Add to Cart |
| Cardiomyocyte Specific Stem Cell Differentiation Reporter Vector (plasmid), Human NKX2.5 Promoter | SR10067PA-1-SBI | 10 ug | 1754 € | DETAILS | Add to Cart |
| Cardiomyocyte Specific Stem Cell Differentiation Reporter Vector (pre-packaged lentiviral particles), Alpha-Actin 2, ACTA2 Promoter | SR10068VA-1-GVO-SBI | >2 x 10^6 IFUs | 799 € | DETAILS | Add to Cart |
| Cardiomyocyte Specific Stem Cell Differentiation Reporter Vector (pre-packaged lentiviral particles), Human mlC-2v Promoter, EF1-Neo Marker | SR10011VA-N-GVO-SBI | >2 x 10^6 IFUs | 799 € | DETAILS | Add to Cart |
| Cardiomyocyte Specific Stem Cell Differentiation Reporter Vector (pre-packaged lentiviral particles), Human NKX2.5 Promoter | SR10067VA-1-GVO-SBI | >2 x 10^6 IFUs | 799 € | DETAILS | Add to Cart |
| Cardiomyocyte Specific Stem Cell Differentiation Reporter Vector (Prepackaged lentiviral particles), Human ACTC Promoter | SR10049VA-1-GVO-SBI | >2 x 10^6 IFUs | 799 € | DETAILS | Add to Cart |
| CD8 T-cell Specific Promoter Reporter Vector / Stem Cell Differentiation Reporter Vector (plasmid), Mouse CD8 Promoter | SR1006PA-1-SBI | 10 ug | 1754 € | DETAILS | Add to Cart |
| CD8 T-cell Specific Promoter Reporter Vector / Stem Cell Differentiation Reporter Vector (Prepackaged lentiviral particles), Mouse CD8 Promoter | SR1006VA-1-GVO-SBI | >2 x 10^6 IFUs | 799 € | DETAILS | Add to Cart |
| Chondrocyte Specific Promoter Reporter Vector / Stem Cell Differentiation Reporter Vector (plasmid), Mouse col2a1 Promoter | SR1001PA-1-SBI | 10 ug | 1754 € | DETAILS | Add to Cart |
| Chondrocyte Specific Promoter Reporter Vector / Stem Cell Differentiation Reporter Vector (Prepackaged lentiviral particles), Mouse col2a1 Promoter | SR1001VA-1-GVO-SBI | >2 x 10^6 IFUs | 799 € | DETAILS | Add to Cart |
| Epithelium Specific Stem Cell Differentiation Reporter Vector (plasmid), Human Keratin 14 Promoter | SR10038PA-1-SBI | 10 ug | 1754 € | DETAILS | Add to Cart |
| Epithelium Specific Stem Cell Differentiation Reporter Vector (Prepackaged lentiviral particles), Human Keratin 14 Promoter | SR10038VA-1-GVO-SBI | >2 x 10^6 IFUs | 799 € | DETAILS | Add to Cart |
| Erythroid Specific Promoter Reporter Vector / Stem Cell Differentiation Reporter Vector (plasmid), Human HLA-Dra Promoter | SR1007PA-1-SBI | 10 ug | 1754 € | DETAILS | Add to Cart |
| Erythroid Specific Promoter Reporter Vector / Stem Cell Differentiation Reporter Vector (Prepackaged lentiviral particles), Human HLA-Dra Promoter | SR1007VA-1-GVO-SBI | >2 x 10^6 IFUs | 799 € | DETAILS | Add to Cart |
| Islet Specific Stem Cell Differentiation Reporter Vector (plasmid), Human NGN3 Promoter | SR10037PA-1-SBI | 10 ug | 1754 € | DETAILS | Add to Cart |
| Islet Specific Stem Cell Differentiation Reporter Vector (plasmid), Human PDX1 Promoter | SR10039PA-1-SBI | 10 ug | 1754 € | DETAILS | Add to Cart |
| Islet Specific Stem Cell Differentiation Reporter Vector (plasmid), Mouse PDX1 Promoter | SR10040PA-1-SBI | 10 ug | 1754 € | DETAILS | Add to Cart |
| Islet Specific Stem Cell Differentiation Reporter Vector (Prepackaged lentiviral particles), Human NGN3 Promoter | SR10037VA-1-GVO-SBI | >2 x 10^6 IFUs | 799 € | DETAILS | Add to Cart |
| Islet Specific Stem Cell Differentiation Reporter Vector (Prepackaged lentiviral particles), Human PDX1 Promoter | SR10039VA-1-GVO-SBI | >2 x 10^6 IFUs | 799 € | DETAILS | Add to Cart |
| Islet Specific Stem Cell Differentiation Reporter Vector (Prepackaged lentiviral particles), Mouse PDX1 Promoter | SR10040VA-1-GVO-SBI | >2 x 10^6 IFUs | 799 € | DETAILS | Add to Cart |
| Lymphocyte Specific Stem Cell Differentiation Reporter Vector (plasmid), Human LCK Promoter | SR10032PA-1-SBI | 10 ug | 1754 € | DETAILS | Add to Cart |
| Lymphocyte Specific Stem Cell Differentiation Reporter Vector (Prepackaged lentiviral particles), Human LCK Promoter | SR10032VA-1-GVO-SBI | >2 x 10^6 IFUs | 799 € | DETAILS | Add to Cart |