Stem Cell related Products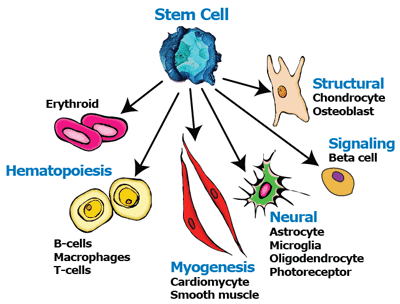 Pressing questions in this rapidly evolving field concern the internal and external signals for cell differentiation and the specificity of such signals for differentiation into particular cell types. While individual transcription factors and stem cell markers such as OCT4 have been identified, the revolution in stem cell research is identifying hundreds of other genes that either play a critical role in stem cell biology, or are uniquely impacted within the stem cell environment.
BioCat offers comprehensive tools for investigating stem cell differentiation and pluripotency. The Stem Cell Differentiation Reporter System applies cell-specific promoters and a fluorescent reporter for monitoring differentiation in real-time. With the Pluripotency Reporter System you can determine the pluripotent state of stem cells using reporter constructs with pluripotency factor-specific promoters. Expression Vectors for Human and Mouse Pluripotency Factors like C-MYC, KLF4, LIN28, NANOG, OCT4 (POU5F1, OCT3/4), SOX2 enable cellular reprogramming.
Kits for Stem Cell Characterization using the stem cell marker alkaline phosphatase (AP) and for Stem Cell Quantification and Isolation are also available.
To find the antibody for your target of interest, search our extensive collection of Stem Cell Antibodies, including popular targets such as ALDH, OCT4, c-KIT, and NANOG, see link below.