Cancer Biomarker Mutant Cell Lines
• Mutations available in both homozygous and heterozygous forms
• Puromycin resistance for easy growth and maintenance
• Premade cell lines with short time of delivery
Our partner GeneCopoeia offers premade cancer cell lines carrying diverse gene mutations commonly seen in tumor biomarkers, including EGFR, KRAS and BRAF in the MAPK pathway. The mutant cells are engineered based on the HCT116 cancer cell line, in which mutations are integrated either homozygously or heterozygously using CRISPR technology.
Applications
• Study molecular and cellular mechanisms
• Monitoring cancer signaling pathways
• Drug discovery
• Compound screening
• Functional characterization
They can be used to enhance our understanding of cancer biology and the evelopment of cancer therapies.
Product Details
Cancer cell lines carrying hotspot mutations were engineered using CRISPR to introduce single-nucleotide mutations or in-frame indel mutations. The mutants are built with Cas9, sgRNA and a DNA donor fragment carrying the specific mutation and a puromycin marker; the marker is inserted into the nearby intron. Single clonal isolation were performed for sequence verification, and then expansion as shown below.

Figure 1. Cell line construction using CRISPR Cas9
Sequence verification of the mutation is performed by PCR and Sanger sequencing of a single cell clone.
Technology Overview
The mitogen-activated protein kinase (MAPK) pathway is critical for human cancer cell survival, proliferation and resistance to therapies. Genomic profiling has revealed hotspot mutations in the MAPK pathway components in tumors, such as EGFR, BRAF and KRAS genes. Mutations in these genes lead to increased protein amplification and alter the tumor microenviroment, therefore overactivate the downstream MAPK pathway. Drug therapies are developed with overactivated and oncogenic drivers of the MAPK pathway as therapeutic targets.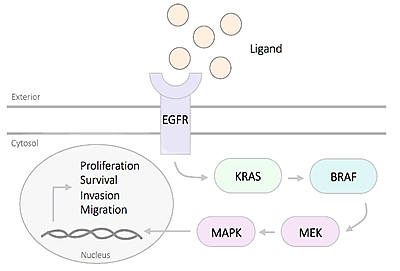 EGFR (epidermal growth factor receptor) is a cell surface tyrosine kinase receptor that binds to epidermal growth factor. Dysregulation of the EGFR contributes to a range of cancers and in various ways. EGFR has become an important therapeutic target for the treatment of NSCLC. The in-frame indel mutation ΔE746-A750 of exon 19 and point substitution L858R of exon 21 are the most common mutations in EGFR, accounts for ~45% and 35% of all EGFR mutations respectively. Current FDA approved tyrosine kinase inhibitors (TKIs) for advanced lung cancers require the presence of these mutations. Inhibition of mutant EGFR in preclinical models through TKIs unsettles the intracellular signaling cascade, generating cell cycle arrest and apoptosis [1].
KRAS are small GTPases that mediate downstream growth factor receptor signaling, therefore are critical for cell proliferation survival and differentiation. Activating mutations in KRAS resulting in constitutive activation of the GTPase protein in the absence of growth factor signaling, resulting in a sustained proliferation signal within the cell. Approximately 36-40% of patients with colorectal cancer have tumor associated KRAS mutations. The KRAS G13C mutation is strongly associated with colorectal cancer. Studies have shown that KRAS mutations are linked to poor response to anti-EGFR antibody therapy in colorectal cancer [2]. Therefore, it is recommended to test for KRAS mutations before applying EGFR-inhibiting drugs to colorectal cancer patients.
BRAF belongs to the serine/threonine-protein family of growth signal transduction kinases. BRAF mutations can be found in some types of cancer, including melanoma and colorectal cancer. About 50% of melanomas harbors activating BRAFmutations, with over 90% of which V600E. The BRAF V600E mutation deregulates activation of the downstream MEK/ERK effectors, evades senescence, apoptosis and immune response, and drives the proliferation of cancer cells [3]. Kinase inhibitors targeting BRAF V600E mutation have gained FDA approval for the treatment of malignant melanoma and NSCLC.
References
1. Costa DB. Kinase inhibitor-responsive genotypes in EGFR mutated lung
adenocarcinomas: moving past common point mutations or indels into uncommon
kinase domain duplications and rearrangements. Transl Lung Cancer Res. 2016
Jun;5(3):331-7.
2. Lièvre A, Bachet JB, Le Corre D, Boige V, Landi B, Emile JF, Côté JF, Tomasic
G, Penna C, Ducreux M, Rougier P, Penault-Llorca F, Laurent-Puig P. KRAS mutation
status is predictive of response to cetuximab therapy in colorectal cancer.
Cancer Res. 2006 Apr 15;66(8):3992-5.
3. Maurer G, Tarkowski B, Baccarini M. Raf kinases in cancer-roles and
therapeutic opportunities. Oncogene. 2011 Aug 11;30(32):3477-88.
---
Related Links
| Description | Cat# | Size | Price | | |
| --- | --- | --- | --- | --- | --- |
| OncoSpot AKT1 E17K Heterozygous HCT116 Cancer Biomarker Mutant Cell Line (academic institutions) | SL740-GVO-GC | 1 vial of 2 x 10^6 cells | 1625 € | DETAILS | Add to Cart |
| OncoSpot AKT1 E17K Heterozygous HCT116 Cancer Biomarker Mutant Cell Line (commercial entities) | SL740-C-GVO-GC | 1 vial of 2 x 10^6 cells | please inquire € | DETAILS | Add to Cart |
| OncoSpot AKT1 E17K Homozygous HCT116 Cancer Biomarker Mutant Cell Line (academic institutions) | SL739-GVO-GC | 1 vial of 2 x 10^6 cells | 1625 € | DETAILS | Add to Cart |
| OncoSpot AKT1 E17K Homozygous HCT116 Cancer Biomarker Mutant Cell Line (commercial entities) | SL739-C-GVO-GC | 1 vial of 2 x 10^6 cells | please inquire € | DETAILS | Add to Cart |
| OncoSpot BRAF V600E Heterozygous HCT116 Cancer Biomarker Mutant Cell Line (academic institutions) | SL732-GVO-GC | 1 vial of 2 x 10^6 cells | 1625 € | DETAILS | Add to Cart |
| OncoSpot BRAF V600E Heterozygous HCT116 Cancer Biomarker Mutant Cell Line (commercial entities) | SL732-C-GVO-GC | 1 vial of 2 x 10^6 cells | please inquire € | DETAILS | Add to Cart |
| OncoSpot BRAF V600E Homozygous HCT116 Cancer Biomarker Mutant Cell Line (academic institutions) | SL731-GVO-GC | 1 vial of 2 x 10^6 cells | 1625 € | DETAILS | Add to Cart |
| OncoSpot BRAF V600E Homozygous HCT116 Cancer Biomarker Mutant Cell Line (commercial entities) | SL731-C-GVO-GC | 1 vial of 2 x 10^6 cells | please inquire € | DETAILS | Add to Cart |
| OncoSpot cKIT D816V Homozygous HCT116 Cancer Biomarker Mutant Cell Line (academic institutions) | SL735-GVO-GC | 1 vial of 2 x 10^6 cells | 1625 € | DETAILS | Add to Cart |
| OncoSpot cKIT D816V Homozygous HCT116 Cancer Biomarker Mutant Cell Line (commercial entities) | SL735-C-GVO-GC | 1 vial of 2 x 10^6 cells | please inquire € | DETAILS | Add to Cart |
| OncoSpot EGFR C797S Heterozygous HCT116 Cancer Biomarker Mutant Cell Line (academic institutions | SL777-GVO-GC | 1 vial of 2 x 10^6 cells | 1625 € | DETAILS | Add to Cart |
| OncoSpot EGFR C797S Heterozygous HCT116 Cancer Biomarker Mutant Cell Line (academic institutions) | SL716-GVO-GC | 1 vial of 2 x 10^6 cells | 1625 € | DETAILS | Add to Cart |
| OncoSpot EGFR C797S Heterozygous HCT116 Cancer Biomarker Mutant Cell Line (commercial entities) | SL716-C-GVO-GC | 1 vial of 2 x 10^6 cells | please inquire € | DETAILS | Add to Cart |
| OncoSpot EGFR C797S Heterozygous HCT116 Cancer Biomarker Mutant Cell Line (commercial entities) | SL777-C-GVO-GC | 1 vial of 2 x 10^6 cells | please inquire € | DETAILS | Add to Cart |
| OncoSpot EGFR C797S Homozygous HCT116 Cancer Biomarker Mutant Cell Line (academic institutions) | SL715-GVO-GC | 1 vial of 2 x 10^6 cells | 1625 € | DETAILS | Add to Cart |
| OncoSpot EGFR C797S Homozygous HCT116 Cancer Biomarker Mutant Cell Line (academic institutions) | SL776-GVO-GC | 1 vial of 2 x 10^6 cells | 1625 € | DETAILS | Add to Cart |
| OncoSpot EGFR C797S Homozygous HCT116 Cancer Biomarker Mutant Cell Line (commercial entities) | SL715-C-GVO-GC | 1 vial of 2 x 10^6 cells | please inquire € | DETAILS | Add to Cart |
| OncoSpot EGFR C797S Homozygous HCT116 Cancer Biomarker Mutant Cell Line (commercial entities) | SL776-C-GVO-GC | 1 vial of 2 x 10^6 cells | please inquire € | DETAILS | Add to Cart |
| OncoSpot EGFR deltaE746-A750 Heterozygous HCT116 Cancer Biomarker Mutant Cell Line (academic institutions) | SL728-GVO-GC | 1 vial of 2 x 10^6 cells | 1625 € | DETAILS | Add to Cart |
| OncoSpot EGFR deltaE746-A750 Heterozygous HCT116 Cancer Biomarker Mutant Cell Line (commercial entities) | SL728-C-GVO-GC | 1 vial of 2 x 10^6 cells | please inquire € | DETAILS | Add to Cart |
| OncoSpot EGFR deltaE746-A750 Homozygous HCT116 Cancer Biomarker Mutant Cell Line (academic institutions) | SL727-GVO-GC | 1 vial of 2 x 10^6 cells | 1625 € | DETAILS | Add to Cart |
| OncoSpot EGFR deltaE746-A750 Homozygous HCT116 Cancer Biomarker Mutant Cell Line (commercial entities) | SL727-C-GVO-GC | 1 vial of 2 x 10^6 cells | please inquire € | DETAILS | Add to Cart |
| OncoSpot EGFR L858R Heterozygous HCT116 Cancer Biomarker Mutant Cell Line (academic institutions) | SL726-GVO-GC | 1 vial of 2 x 10^6 cells | 1625 € | DETAILS | Add to Cart |
| OncoSpot EGFR L858R Heterozygous HCT116 Cancer Biomarker Mutant Cell Line (commercial entities) | SL726-C-GVO-GC | 1 vial of 2 x 10^6 cells | please inquire € | DETAILS | Add to Cart |
| OncoSpot EGFR L858R Homozygous HCT116 Cancer Biomarker Mutant Cell Line (academic institutions) | SL725-GVO-GC | 1 vial of 2 x 10^6 cells | 1625 € | DETAILS | Add to Cart |
| OncoSpot EGFR L858R Homozygous HCT116 Cancer Biomarker Mutant Cell Line (commercial entities) | SL725-C-GVO-GC | 1 vial of 2 x 10^6 cells | please inquire € | DETAILS | Add to Cart |
| OncoSpot EGFR L861Q Heterozygous HCT116 Cancer Biomarker Mutant Cell Line (academic institutions) | SL805-GVO-GC | 1 tube of 2 x 10^6 cells | 1625 € | DETAILS | Add to Cart |
| OncoSpot EGFR L861Q Heterozygous HCT116 Cancer Biomarker Mutant Cell Line (commercial entities) | SL805-C-GVO-GC | 1 tube of 2 x 10^6 cells | please inquire € | DETAILS | Add to Cart |
| OncoSpot EGFR L861Q Homozygous HCT116 Cancer Biomarker Mutant Cell Line (academic institutions) | SL804-GVO-GC | 1 tube of 2 x 10^6 cells | 1625 € | DETAILS | Add to Cart |
| OncoSpot EGFR L861Q Homozygous HCT116 Cancer Biomarker Mutant Cell Line (commercial entities) | SL804-C-GVO-GC | 1 tube of 2 x 10^6 cells | please inquire € | DETAILS | Add to Cart |
| OncoSpot EGFR S768I Homozygous HCT116 Cancer Biomarker Mutant Cell Line (academic institutions) | SL789-GVO-GC | 1 tube of 2 x 10^6 cells | 1625 € | DETAILS | Add to Cart |
| OncoSpot EGFR S768I Homozygous HCT116 Cancer Biomarker Mutant Cell Line (commercial entities) | SL789-C-GVO-GC | 1 tube of 2 x 10^6 cells | please inquire € | DETAILS | Add to Cart |
| OncoSpot EGFR T790M C797S Heterozygous HCT116 Cancer Biomarker Mutant Cell Line (academic institutions) | SL718-GVO-GC | 1 vial of 2 x 10^6 cells | 1625 € | DETAILS | Add to Cart |
| OncoSpot EGFR T790M C797S Heterozygous HCT116 Cancer Biomarker Mutant Cell Line (commercial entities) | SL718-C-GVO-GC | 1 vial of 2 x 10^6 cells | please inquire € | DETAILS | Add to Cart |
| OncoSpot EGFR T790M C797S Heterozygous RKO Cancer Biomarker Mutant Cell Line (academic institutions) | SL784-GVO-GC | 1 vial of 2 x 10^6 cells | 1625 € | DETAILS | Add to Cart |
| OncoSpot EGFR T790M C797S Heterozygous RKO Cancer Biomarker Mutant Cell Line (commercial entities) | SL784-C-GVO-GC | 1 vial of 2 x 10^6 cells | please inquire € | DETAILS | Add to Cart |
| OncoSpot EGFR T790M C797S Homozygous HCT116 Cancer Biomarker Mutant Cell Line (academic institutions) | SL717-GVO-GC | 1 vial of 2 x 10^6 cells | 1625 € | DETAILS | Add to Cart |
| OncoSpot EGFR T790M C797S Homozygous HCT116 Cancer Biomarker Mutant Cell Line (commercial entities) | SL717-C-GVO-GC | 1 vial of 2 x 10^6 cells | please inquire € | DETAILS | Add to Cart |
| OncoSpot EGFR T790M C797S Homozygous RKO Cancer Biomarker Mutant Cell Line (academic institutions) | SL783-GVO-GC | 1 vial of 2 x 10^6 cells | 1625 € | DETAILS | Add to Cart |
| OncoSpot EGFR T790M C797S Homozygous RKO Cancer Biomarker Mutant Cell Line (commercial entities) | SL783-C-GVO-GC | 1 vial of 2 x 10^6 cells | please inquire € | DETAILS | Add to Cart |
| OncoSpot EGFR T790M Heterozygous HCT116 Cancer Biomarker Mutant Cell Line (academic institutions) | SL714-GVO-GC | 1 vial of 2 x 10^6 cells | 1625 € | DETAILS | Add to Cart |
| OncoSpot EGFR T790M Heterozygous HCT116 Cancer Biomarker Mutant Cell Line (commercial entities) | SL714-C-GVO-GC | 1 vial of 2 x 10^6 cells | please inquire € | DETAILS | Add to Cart |
| OncoSpot EGFR T790M Heterozygous RKO Cancer Biomarker Mutant Cell Line (academic institutions) | SL782-GVO-GC | 1 vial of 2 x 10^6 cells | 1625 € | DETAILS | Add to Cart |
| OncoSpot EGFR T790M Heterozygous RKO Cancer Biomarker Mutant Cell Line (commercial entities) | SL782-C-GVO-GC | 1 vial of 2 x 10^6 cells | please inquire € | DETAILS | Add to Cart |
| OncoSpot EGFR T790M Homozygous HCT116 Cancer Biomarker Mutant Cell Line (academic institutions) | SL713-GVO-GC | 1 vial of 2 x 10^6 cells | 1625 € | DETAILS | Add to Cart |
| OncoSpot EGFR T790M Homozygous HCT116 Cancer Biomarker Mutant Cell Line (commercial entities) | SL713-C-GVO-GC | 1 vial of 2 x 10^6 cells | please inquire € | DETAILS | Add to Cart |
| OncoSpot EGFR T790M Homozygous RKO Cancer Biomarker Mutant Cell Line (academic institutions) | SL781-GVO-GC | 1 vial of 2 x 10^6 cells | 1625 € | DETAILS | Add to Cart |
| OncoSpot EGFR T790M Homozygous RKO Cancer Biomarker Mutant Cell Line (commercial entities) | SL781-C-GVO-GC | 1 vial of 2 x 10^6 cells | please inquire € | DETAILS | Add to Cart |
| OncoSpot EGFR V769D770insASV Homozygous HCT116 Cancer Biomarker Mutant Cell Line (academic institutions) | SL806-GVO-GC | 1 tube of 2 x 10^6 cells | 1625 € | DETAILS | Add to Cart |
| OncoSpot EGFR V769D770insASV Homozygous HCT116 Cancer Biomarker Mutant Cell Line (commercial entities) | SL806-C-GVO-GC | 1 tube of 2 x 10^6 cells | please inquire € | DETAILS | Add to Cart |