RNA Packaging into Exosomes
Exosomes contain distinct subsets of RNAs and proteins depending upon the cell type from which they are secreted, making them useful for biomarker discovery. Additionally, their natural function as cell to cell communication vehicles makes them attractive for use as therapeutic shuttles to deliver biological molecules or drugs to target disease cells. The RNA content varies, depending upon the cell from which the exosomes was secreted. The mechanism of how specific RNA sequences are selectively packaged into exosomes is an intensive area of investigation.
The XMotif RNA Sequence to Package RNAs into Exosomes
Our partner SBI has identified a specific RNA sequence tag that targets a small RNA to be packaged into exosomes for secretion. This "XMotif" RNA sequence tag has been implemented in 2 systems for packaging of miRNA into exosomes:
• Incorporation of the XMotif RNA sequence tag into the miRNA and anti-miRNA oligos for XMIR/AXMIR products
• The XMotif exosomal targeting RNA tag has been built into the XMIRXpress cloning and expression lentivectors
How Exosome RNA Packaging Works

Exosome RNA Packaging
The packaging system works by simply transfecting the XMIR/AXMIR pre-RNA oligo of choice into cells that you want to produce the engineered exosomes. The result is a burst of miRNA loading into the secreted exosomes that can be isolated and then used to treat other target cells to test for phenotypic effects.
The XMIRXpress lentivector system incorporates the XMotif scaffold tag sequences into the multicloning site(MCS) of the lentivector. There are a number of pre-made miRNAs in XMIRXpress lentivectors or a cloning XMIRXpress lentivector (Cat# XMIRXP-Vect-SBI) is also available where you can clone the miRNA or anti-miRNA of choice into the XMIRXpress lentivector. Once cloned, the XMIRXpress lentivector can be packaged into virus and used to transduce producer calls of interest to generate stable cell lines constantly secreting exosomes with engineered RNA content for your studies.
XMIR and AXMIR RNA Oligos
The XMIR and AXMIR kits allow for cell-mediated generation of ready to use exosomes packed with a miRNA (XMIR) or anti-miRNA (AXMIR) of choice. These exosomes can then be used to efficiently knock down native targets in recipient cells or be used to study biological pathways by which functional exosomal miRNA cargo is delivered to target cells. This technology is especially attractive as a means to study the efficacy of exosome mediated delivery of potential therapeutic miRNAs or anti-miRNAs to disease cells.
To generate XMIRs and AXMIRS, an oligo is designed that fuses the XMotif sequence to a miRNA or anti-miRNA sequence, which results in exosomal loading of the RNA oligo. The oligo is first transfected into a culture of the exosome generating cell type of choice.
IMPORTANT NOTE:
Be sure to culture your exosome generating cell lines in media that does not contain standard FBS. There are high levels of cow exosomes present in FBS. Instead, use SBI´s Exo-FBS Exosome-depleted FBS Media Supplement (Cat# EXO-FBS-50A-1-SBI) in place of standard FBS media supplements. After 24 hours, exosomes packed with the XMIR or AXMIR are precipitated using ExoQuick-TC. After resuspension in PBS, the XMIR or AXMIR-loaded exosomes are ready to be added to target cells. Any miRNA, anti-miRNA or even siRNA sequence can also be used in a transfection-ready oligo for use in the XMIR/AXMIR system.
XMIR-1 and XMIR-122 Packaging into Exosomes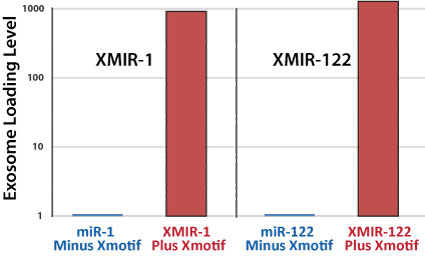 XMIR oligos for miR-1 and miR-122 were transfected at a 20 nM final concentration to test exosomal loading in HEK-293 cells. Transfection was accomplished using PureFection (Cat# LV750A-1-SBI), and exosomes were purified 24 hours later using ExoQuick-TC. RNA was extracted from exosomes, cDNA was synthesized, and qPCR was performed using the SeraMir kit (Cat# RA820A-1-SBI), Data were analyzed using an Applied Biosystems 7900HT qPCR instrument and relative exosome abundance levels were calculated using the delta-delta Ct method using exosomal miR-16 as a reference control.
Packaged XMIR-1 and XMIR-122 Delivery to 3´UTR Reporter Cells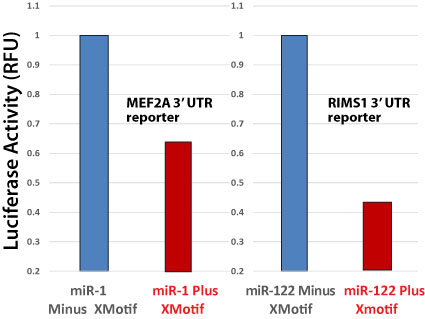 The XMIR-1 and XMIR-122 loaded exosomes were added to reporter HEK-293 cells previously transfected with a luciferase gene linked to the 3´ UTR for MEF2A, a known miR-1 target, or RIMS1, a known miR-122 target, respectively. After 24 hours, luciferase assays were performed to determine bioactivity of the XMIR miRNAs delivered to target cells via exosomes. Notably, exosomes from cells transfected with 20 nM miR-1 oligo caused maximum luciferase down regulation, whereas exosomes from cells transfected with 100 nM miR-122 caused maximum luciferase down regulation, illustrating the need to optimize conditions for each XMIR/AXMIR oligo. The degree of knockdown XMIR-1 and XMIR-122 loaded exosomes displayed on the MEF2A and RIMS1 luciferase reporters are similar to that seen for transfections of miRNA oligos using a similar reporter assays, indicating that exosome mediated delivery of miRNAs occurs at maximal efficiency.
XMIR-21 Knockdown of Endogenous PDCD4 Protein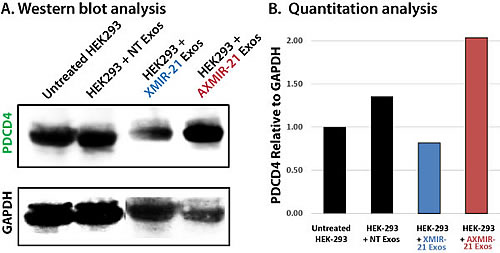 A) Exosomes from HEK-293 cells transfected with a miRNA-21 XMIR oligo (XMIR-21) or an anti-miRNA-21 AXMIR oligo (AXMIR-21) were added to naïve HEK-293 cells in culture. After 24 hours, total cell lysates were taken and Western blots for PDCD4, a known miR-21 target, were performed. GAPDH protein levels detected in the Westerns were used as a loading control and reference signal for band intensity quantitation analysis. B) Quantitative analysis of band intensities from the Western blot shown in Panel A. Addition of exosomes from cells transfected with XMIR-21 resulted in down regulation of endogenous levels of PDCD4, and addition of exosomes from cells transfected with AXMIR-21 resulted in increased levels of PDCD4. These results confirm that XMIRs act on endogenous targets and that AXMIRs effectively act as miRNA inhibitors in cells when delivered via exosomes. Notably, exosomes from cells transfected with 20 nM XMIR-21 oligo caused maximum PDCD4 down regulation, whereas exosomes from cells transfected with 100 nM AXMIR-21 increased PDCD4 levels, illustrating the need to optimize conditions for each XMIR/AXMIR oligo (PDCD4 antibody obtained from Cell Signaling Technologies, Cat# 9535, and GAPDH antibody obtained from Abcam, Cat# ab9485).
XMIRXpress Lentivector System
The XMIRXpress lentivectors are based on the same XMotif exosomal targeting RNA tag utilized in the XMIR/AXMIR synthetic oligos. There are a number of pre-made XMIR-Express miRNA expression constructs available, and SBI will design and build a custom XMIRXpress lentivector construct for any particular miRNA or anti-miRNA of your choice for the same list price as the pre-made constructs. The lentivectors all feature an EF1a-GFP-Puro selection cassette and a downstream H1 promoter expressing the XMIR + XMotif cassette. Pre-made miRNA containing XMIRExpress lentivectors are offered as well as a cloning MIRXpress lentivector (cat# XMIRXP-VECT-SBI), allowing you to clone a fusion of the XMotif to any miRNA, anti-miRN,A or siRNA you choose to make stable exosome cellular "factories".
XMIRXpress XMIRXP-1 Loading into Exosomes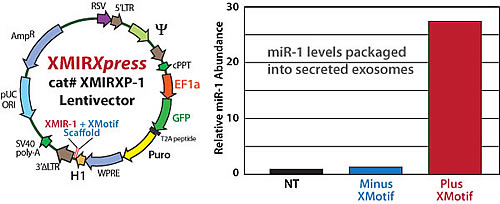 XMIR-1 lentivector expression construct was transfected into HEK293 cells cultured in DMEM media with SBI´s exosome-depleted FBS media supplement in place of standard FBS to remove contaminating bovine exosomes. HEK293 exosomes were collected after 48 hours. The exosomal RNA was purified and converted into qPCR-compatible cDNA. Relative amounts of XMIR-1 packaged into exosomes from the XMIRXP-1 lentivector were quantitated by qPCR with miR-16 used as a reference exosome control signal. The delta-delta Ct calculation for XMIR-1 is shown in the bar graph.
XMIRXpress Cloning and Expression Lentivector
SBI also provides a cloning and expression XMIRXpress lentivector plasmid (Cat# XMIRXP-VECT-SBI) to allow you to clone any miRNA or anti-miRNA of your choice and fuse it to the XMotif sequence upon ligation. The XMIRXP-VECT plasmid is provided in a linearized form for rapid cloning. Simply design two DNA oligos for the top and bottom strand as detailed below, anneal the top and bottom oligos, and ligate directly into the XMIRXP-VECT plasmid. An example of cloning hsa-miR-155-5p (MIMAT0000646) is shown below. First, look up miRNA of interest using miRBase (www.miRBase.org) and identify what mature miRNA sequence you wish to express as an XMIR. Convert the U residues to T residues and create the top and bottom strand oligos with restriction enzyme site overhangs as shown below. The XMIRXpress lentivectors can be used in transfection experiments to test the exosomal loading of the XMIR and can also be packaged into lentivirus to easily create stable XMIR producer cell lines constitutively secreting exosomes packed with XMIRs. To create stable cell lines stably expressing XMIRs that will be loaded into secreted exosomes, package the XMIRXpress lentivector plasmid into virus using SBI´s lentivirus packaging systems. Visit Lentiviral packaging systems for product information on the kits to perform virus packaging.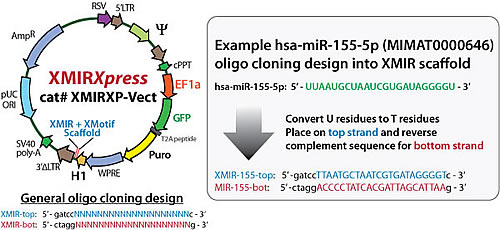 | Description | Cat# | Size | Price | | |
| --- | --- | --- | --- | --- | --- |
| AXMIR-1 RNA oligo anti-miRNA-1-3p with Xmotif | AXMIR-1-SBI | 10 reactions | 495 € | DETAILS | Add to Cart |
| AXMIR-122 RNA oligo anti-miRNA-122-5p with Xmotif | AXMIR-122-SBI | 10 reactions | 495 € | DETAILS | Add to Cart |
| AXMIR-124a RNA oligo anti-miRNA-124a-3p with Xmotif | AXMIR-124a-SBI | 10 reactions | 495 € | DETAILS | Add to Cart |
| AXMIR-125a RNA oligo anti-miRNA-125a-5p with Xmotif | AXMIR-125a-SBI | 10 reactions | 495 € | DETAILS | Add to Cart |
| AXMIR-125b RNA oligo anti-miRNA-125b-5p with Xmotif | AXMIR-125b-SBI | 10 reactions | 495 € | DETAILS | Add to Cart |
| AXMIR-145 RNA oligo anti-miRNA-145-5p with Xmotif | AXMIR-145-SBI | 10 reactions | 495 € | DETAILS | Add to Cart |
| AXMIR-146a RNA oligo anti-miRNA-146a-5p with Xmotif | AXMIR-146a-SBI | 10 reactions | 495 € | DETAILS | Add to Cart |
| AXMIR-150 RNA oligo anti-miRNA-150-5p with Xmotif | AXMIR-150-SBI | 10 reactions | 495 € | DETAILS | Add to Cart |
| AXMIR-155 RNA oligo anti-miRNA-155-5p with Xmotif | AXMIR-155-SBI | 10 reactions | 495 € | DETAILS | Add to Cart |
| AXMIR-200c RNA oligo anti-miRNA-200c-3p with Xmotif | AXMIR-200c-SBI | 10 reactions | 495 € | DETAILS | Add to Cart |
| AXMIR-203 RNA oligo anti-miRNA-203a-3p with Xmotif | AXMIR-203-SBI | 10 reactions | 495 € | DETAILS | Add to Cart |
| AXMIR-205 RNA oligo anti-miRNA-205-5p with Xmotif | AXMIR-205-SBI | 10 reactions | 495 € | DETAILS | Add to Cart |
| AXMIR-21 RNA oligo anti-miRNA-21-5p with Xmotif | AXMIR-21-SBI | 10 reactions | 495 € | DETAILS | Add to Cart |
| AXMIR-219 RNA oligo anti-miRNA-219a-5p with Xmotif | AXMIR-219-SBI | 10 reactions | 495 € | DETAILS | Add to Cart |
| AXMIR-221 RNA oligo anti-miRNA-221-3p with Xmotif | AXMIR-221-SBI | 10 reactions | 495 € | DETAILS | Add to Cart |
| AXMIR-222 RNA oligo anti-miRNA-222-3p with Xmotif | AXMIR-222-SBI | 10 reactions | 495 € | DETAILS | Add to Cart |
| AXMIR-223 RNA oligo anti-miRNA-223-3p with Xmotif | AXMIR-223-SBI | 10 reactions | 495 € | DETAILS | Add to Cart |
| AXMIR-224 RNA oligo anti-miRNA-224-5p with Xmotif | AXMIR-224-SBI | 10 reactions | 495 € | DETAILS | Add to Cart |
| AXMIR-29a RNA oligo anti-miRNA-29a-3p with Xmotif | AXMIR-29a-SBI | 10 reactions | 495 € | DETAILS | Add to Cart |
| AXMIR-31 RNA oligo anti-miRNA-31-5p with Xmotif | AXMIR-31-SBI | 10 reactions | 495 € | DETAILS | Add to Cart |
| AXMIR-34a RNA oligo anti-miRNA-34a-5p with Xmotif | AXMIR-34a-SBI | 10 reactions | 495 € | DETAILS | Add to Cart |
| AXMIR-let7a RNA oligo anti-miRNA-let7a-5p with Xmotif | AXMIR-let7a-SBI | 10 reactions | 495 € | DETAILS | Add to Cart |
| XMIR Texas-Red labeled positive control RNA oligo with Xmotif | XMIR-POS-SBI | 10 reactions | 495 € | DETAILS | Add to Cart |
| XMIR-1 RNA oligo miRNA-1-3p with Xmotif | XMIR-1-SBI | 10 reactions | 495 € | DETAILS | Add to Cart |
| XMIR-10a RNA oligo miRNA-miR-10a-5p with Xmotif | XMIR-10a-SBI | 10 rxn | 495 € | DETAILS | Add to Cart |
| XMIR-122 RNA oligo miRNA-122-5p with Xmotif | XMIR-122-SBI | 10 reactions | 495 € | DETAILS | Add to Cart |
| XMIR-124a RNA oligo miRNA-124a-3p with Xmotif | XMIR-124a-SBI | 10 reactions | 495 € | DETAILS | Add to Cart |
| XMIR-125a RNA oligo miRNA-125a-5p with Xmotif | XMIR-125a-SBI | 10 reactions | 495 € | DETAILS | Add to Cart |
| XMIR-125b RNA oligo miRNA-125b-5p with Xmotif | XMIR-125b-SBI | 10 reactions | 495 € | DETAILS | Add to Cart |
| XMIR-127 RNA oligo miRNA-127-3p with Xmotif | XMIR-127-SBI | 10 rxn | 495 € | DETAILS | Add to Cart |
| XMIR-145 RNA oligo miRNA-145-5p with Xmotif | XMIR-145-SBI | 10 reactions | 495 € | DETAILS | Add to Cart |
| XMIR-146a RNA oligo miRNA-146a-5p with Xmotif | XMIR-146a-SBI | 10 reactions | 495 € | DETAILS | Add to Cart |
| XMIR-150 RNA oligo miRNA-150-5p with Xmotif | XMIR-150-SBI | 10 reactions | 495 € | DETAILS | Add to Cart |
| XMIR-155 RNA oligo miRNA-155-5p with Xmotif | XMIR-155-SBI | 10 reactions | 495 € | DETAILS | Add to Cart |
| XMIR-200c RNA oligo miRNA-200c-3p with Xmotif | XMIR-200c-SBI | 10 reactions | 495 € | DETAILS | Add to Cart |
| XMIR-203 RNA oligo miRNA-203a-3p with Xmotif | XMIR-203-SBI | 10 reactions | 495 € | DETAILS | Add to Cart |
| XMIR-205 RNA oligo miRNA-205-5p with Xmotif | XMIR-205-SBI | 10 reactions | 495 € | DETAILS | Add to Cart |
| XMIR-21 RNA oligo miRNA-21-5p with Xmotif | XMIR-21-SBI | 10 reactions | 495 € | DETAILS | Add to Cart |
| XMIR-219 RNA oligo miRNA-219a-5p with Xmotif | XMIR-219-SBI | 10 reactions | 495 € | DETAILS | Add to Cart |
| XMIR-221 RNA oligo miRNA-221-3p with Xmotif | XMIR-221-SBI | 10 reactions | 495 € | DETAILS | Add to Cart |
| XMIR-222 RNA oligo miRNA-222-3p with Xmotif | XMIR-222-SBI | 10 reactions | 495 € | DETAILS | Add to Cart |
| XMIR-223 RNA oligo miRNA-223-3p with Xmotif | XMIR-223-SBI | 10 reactions | 495 € | DETAILS | Add to Cart |
| XMIR-224 RNA oligo miRNA-224-5p with Xmotif | XMIR-224-SBI | 10 reactions | 495 € | DETAILS | Add to Cart |
| XMIR-29a RNA oligo miRNA-29a-3p with Xmotif | XMIR-29a-SBI | 10 reactions | 495 € | DETAILS | Add to Cart |
| XMIR-31 RNA oligo miRNA-31-5p with Xmotif | XMIR-31-SBI | 10 reactions | 495 € | DETAILS | Add to Cart |
| XMIR-34a RNA oligo miRNA-34a-5p with Xmotif | XMIR-34a-SBI | 10 reactions | 495 € | DETAILS | Add to Cart |
| XMIR-486 RNA oligo miRNA-miR-486-5p with Xmotif | XMIR-486-SBI | 10 rxn | 495 € | DETAILS | Add to Cart |
| XMIR-let7a RNA oligo miRNA-let7a-5p with Xmotif | XMIR-let7a-SBI | 10 reactions | 495 € | DETAILS | Add to Cart |
| XMIRXpress cloning lentivector with Xmotif (linearized plasmid DNA) | XMIRXP-Vect-SBI | 10 reactions | 725 € | DETAILS | Add to Cart |
| XMIRXpress lentivector miRNA-1-3p with Xmotif | XMIRXP-1-SBI | 10 ug | 725 € | DETAILS | Add to Cart |