Exosome Transfection
Create novel "FedExosomes"
Exo-Fect is a novel nucleic acid transfer agent that enables the transfection of nucleic acids directly into isolated exosomes. The transfected siRNA, microRNA, mRNA or even plasmid DNA can then be shuttled into target cells via the transfected exosome vesicles. Simply combine isolated exosomes with Exo-Fect and the nucleic acid of your choice to generate exosome delivery vehicles. The protocol takes less than an hour and is highly efficient at placing nucleic acids into exosomes for transport. All Exo-Fect kits come with a Texas-Red labeled positive control, non-targeting siRNA to confirm exosome transfections. The term "FedExosomes" was coined by Dr. Michelle E. Marcus and Dr. Joshua N. Leonard in their article, "FedExosomes: Engineering Therapeutic Biological Nanoparticles that Truly Deliver" published in Pharmaceuticals (Basel), May 2013; 6(5): 659-680.
Transfect siRNAs and microRNAs directly into Exosomes
A Texas-Red end-labeled siRNA (20 pmol) was transfected into exosomes using Exo-Fect. The far left panels show the transfection of the fluorescently labeled siRNA into exosomes that were then immunocaptured on CD63 magnetic beads. The right panels show the transfection of unlabeled siRNA into exosomes that were then immunocaptured on CD63 magnetic beads. The magnetic beads were imaged after overnight capture of transfected HEK293 exosomes on CD63 immunobeads (catalog# EXOFLOW32A-CD63-SBI).
The transfected, CD63-captured exosomes were eluted from the beads and then added to HEK293 cells grown in exosome-depleted media (catalog# EXOFBS-50A-1-SBI). The transfected exosomes were allowed to dock and interact with the cells for 1-2 days and then the cells were imaged to monitor siRNA cargo delivery.
Transfect mRNAs and Plasmid DNA directly into Exosomes
ExoFect kits work with longer RNAs, like mRNA. SBI transfected 1 ug of an mRNA encoding RFP into exosomes. These exosomes were then added to HEK293 cells and imaged for RFP protein production after 24 hours. Exo-Fect also enables the transfection of plasmid DNA into exosomes. They used 5 ug of plasmid DNA encoding a GFP gene, transfected exosomes and then added to HEK293 cells. The cells were imaged for GFP protein presence after 48 hours. The image data are shown below.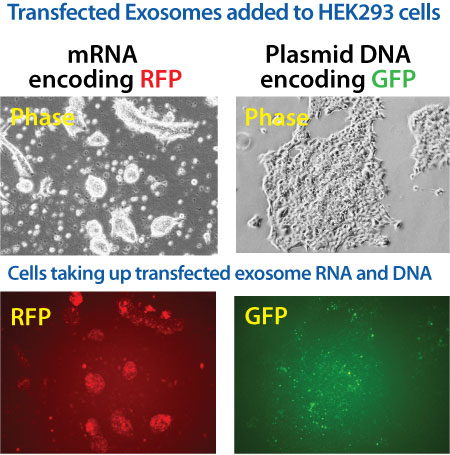 ---
Related Links
EV-Entry System for Exosome Delivery

---
PDF-Downloads
- Will open in new browser window
Brochure Exosome - Research, Products and Services

| Description | Cat# | Size | Price | | |
| --- | --- | --- | --- | --- | --- |
| Exo-Fect Exosome Transfection Kit | EXFT10A-1-SBI | 10 reactions | 339 € | DETAILS | Add to Cart |
| Exo-Fect Exosome Transfection Kit | EXFT20A-1-SBI | 20 reactions | 519 € | DETAILS | Add to Cart |