Exosome Purification
Purify Exosomes using FACS: Exo-Flow™
• Large surface area magnetic beads for enhanced capture capability
• Selectively purify exosome subpopulations based on surface markers
• Use Tetraspanins, Annexins, adhesion, or fusion markers for capture
• Modular system - use your own specific biotinylated antibody to purify exosomes
• Universal and reversible Exo-FITC stain to "paint" captured exosomes for FACS
Exosomes are 60 - 180 nm membrane vesicles secreted by most cell types in vivo and in vitro and contain distinct subsets of RNAs and proteins depending upon the cell type from which they are secreted, making them useful for biomarker discovery and functional characterization. Exosomes can originate from any tissue or cell type and end up in a mixed population biofluid. Since exosomes are too small for direct FACS analysis, they must first be captured on a larger surface. The new Exo-Flow magnetic antibody bead kits are designed to enable the selective capture for flow sorting to quantify and purify distinct subpopulations of exosomes based on a particular surface marker- "Flow Exometry".
The Exo-Flow kits are designed to enable the selective capture and flow sorting to purify distinct subpopulations of exosomes, based on a particular surface marker. You will first enrich for all exosomes using ExoQuick (serum, plasma, ascites samples) or ExoQuick-TC (cell media, urine, spinal fluid). The isolated exosomes are then resuspended and bound to the magnetic beads for specific capture and subsequent FACS analysis and sorting.
Structure and Gating of Exo-Flow Beads
Selective Exosome Capture using Surface Markers
SBI has developed and validated antibody magnetic bead capture systems including tetraspanins, annexins, adhesion, fusion and immune presentation categories. Depending upon the specific exosomes you wish to purify, a particular biotinylated antibody may be used to couple to the Exo-Flow streptavidin beads. The Exo-Flow kits are modular, thus you can select from various pre-validated capture antibody kits, or utilize your own biotinylated capture antibody corresponding to the exosome surface marker specific for the exosomes of interest in your model system. SBI has thoroughly tested a variety of capture antibodies that work quite well to flow-sort exosomes from either serum or cell culture medium samples. These are highlighted in the diagram below.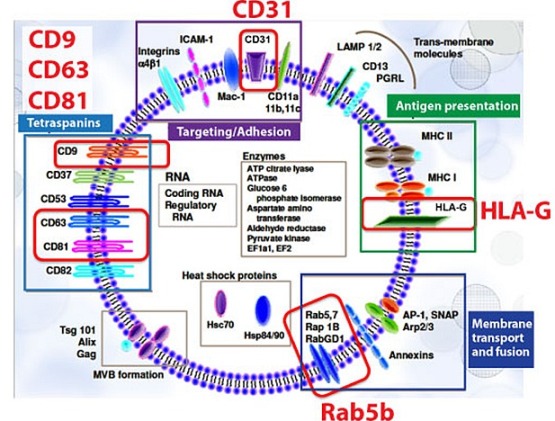 Obtain highly pure and intact Exosomes
Once the desired exosomes have been captured and stabilized on the Exo-Flow beads, you will need to fluorescently stain these exosomes with a fluorescent moiety to perform FACS. One method is to use a second antibody conjugated to commonly used fluorophores such as phycoerythrin (PE), APC, Alexa fluors, or fluorescein isothiocyanate (FITC) to accomplish this goal. These typically offer subpar staining ability and can be costly for multiple exosome sample purifications.
SBI has invented a novel method to universally stain captured exosomes on the beads. The technology takes advantage of the findings that most exosome surface proteins have post-translational modifications such as glycosylation and carbohydrate additions. The Exo-FITC stain supplied in all kits features FITC fluorescent molecules conjugated to a protein known to universally bind these types of protein modifications. This allows for a more general and inexpensive exosome FACS approach for selective capture and purification.
The other key feature is that the Exo-FITC stain is also reversible. Once the captured exosomes on the Exo-Flow beads are flow-sorted on FITC-positive gating, addition of the Exosome Elution Buffer (supplied with all kits) to the exosome-bead mixture will simultaneously remove the Exo-FITC stain and liberates the intact exosomes from the beads. Then simply place the magnetic beads back on the magnetic stand, the eluted and FACS-purified exosomes will be in the supernatant. The exosomes are intact and ready for downstream analysis and functional studies.
The Exo-Flow kits for IP
The Exo-Flow96 and 32 IP kits enable the high-throughput, plate-based immunopurification of exosomes directly from serum or from concentrated exosomes from media (with ExoQuick-TC or ultracentrifugation). The magnetic beads are provided pre-coupled with either CD9, CD63 or CD81 for selective capture of distinct subsets of exosomes from either 96 or 32 samples simultaneously.
---
Related Links
Flyer Exo-Flow Exosome Purification Kits

| Description | Cat# | Size | Price | | |
| --- | --- | --- | --- | --- | --- |
| CD9 Exo-Flow Capture Kit (Magnetic streptavidin beads, CD9-biotin capture antibody, Wash and Elution Buffers, Exo-FITC stain) | EXOFLOW100A-1-SBI | 10 reactions | 554 € | DETAILS | Add to Cart |
| CD63 Exo-Flow Capture Kit (Magnetic streptavidin beads, CD63-biotin capture antibody, Wash and Elution Buffers, Exo-FITC stain) | EXOFLOW300A-1-SBI | 10 reactions | 554 € | DETAILS | Add to Cart |
| CD81 Exo-Flow Capture Kit (Magnetic streptavidin beads, CD81-biotin capture antibody, Wash and Elution Buffers, Exo-FITC stain) | EXOFLOW400A-1-SBI | 10 reactions | 554 € | DETAILS | Add to Cart |
| Tetraspanin Exo-Flow Combo Capture Kit (Magnetic streptavidin beads, CD9, CD63, and CD81-biotin capture antibodies, Wash and Elution Buffers, Exo-FITC stain) | EXOFLOW150A-1-SBI | 10 reactions | 788 € | DETAILS | Add to Cart |
| CD31 Exo-Flow Capture Kit (Magnetic streptavidin beads, CD31-biotin capture antibody, Wash and Elution Buffers, Exo-FITC stain) | EXOFLOW200A-1-SBI | 10 reactions | 554 € | DETAILS | Add to Cart |
| CD44 Exo-Flow Capture Kit (Magnetic streptavidin beads, CD44-biotin capture antibody, Wash and Elution Buffers, Exo-FITC stain) | EXOFLOW210A-1-SBI | 10 reactions | 554 € | DETAILS | Add to Cart |
| Rab5b Exo-Flow Capture Kit (Magnetic streptavidin beads, Rab5b-biotin capture antibody, Wash and Elution Buffers, Exo-FITC stain) | EXOFLOW500A-1-SBI | 10 reactions | 554 € | DETAILS | Add to Cart |
| HLA-G Exo-Flow Capture Kit (Magnetic streptavidin beads, HLA-G-biotin capture antibody, Wash and Elution Buffers, Exo-FITC stain) | EXOFLOW600A-1-SBI | 10 reactions | 554 € | DETAILS | Add to Cart |
| CD14 Exo-Flow Capture kit (Magnetic streptavidin beads, CD14-biotin capture antibody, Wash and Elution Buffers, Exo-FITC stain) | EXOFLOW610A-1-SBI | 10 reactions | 554 € | DETAILS | Add to Cart |
| CD68 Exo-Flow Capture kit (Magnetic streptavidin beads, CD68-biotin capture antibody, Wash and Elution Buffers, Exo-FITC stain) | EXOFLOW620A-1-SBI | 10 reactions | 554 € | DETAILS | Add to Cart |
| EpCAM Exo-Flow Capture kit (Magnetic streptavidin beads, EpCAM-biotin capture antibody, Wash and Elution Buffers, Exo-FITC stain) | EXOFLOW630A-1-SBI | 10 reactions | 554 € | DETAILS | Add to Cart |
| CD73 Exo-Flow capture kit (Magnetic streptavidin beads, CD73-biotin capture antibody, Wash and Elution Buffers, Exo-FITC stain) | EXOFLOW660A-1-SBI | 10 reactions | 554 € | DETAILS | Add to Cart |
| Basic Exo-Flow kit without any coupled antibodies (Uncoupled magnetic streptavidin beads, Wash and Elution Buffers, Exo-FITC stain) | CSFLOWBASICA-1-SBI | 100 reactions | 884 € | DETAILS | Add to Cart |
| Exo-APC Exosome FACS Stain | EXOFLOW810A-1-SBI | 20 reactions | 260 € | DETAILS | Add to Cart |
| Exo-FITC Exosome FACS Stain | EXOFLOW800A-1-SBI | 20 reactions | 260 € | DETAILS | Add to Cart |
| Exo-Flow Multifunctional Magnetic Stand | EXOFLOW700A-1-SBI | 1 piece | 402 € | DETAILS | Add to Cart |
| Exo-Flow32 CD63 IP Kit | EXOFLOW32A-CD63-SBI | 32 reactions | 627 € | DETAILS | Add to Cart |
| Exo-Flow32 CD81 IP Kit | EXOFLOW32A-CD81-SBI | 32 reactions | 627 € | DETAILS | Add to Cart |
| Exo-Flow32 CD9 IP Kit | EXOFLOW32A-CD9-SBI | 32 reactions | 627 € | DETAILS | Add to Cart |
| Exo-Flow32 Tetra IP kit (CD9, CD63, CD81) | EXOFLOW32A-Tetra-SBI | 32 reactions | 627 € | DETAILS | Add to Cart |
| Exo-Flow96 CD63 IP Kit 96 | EXOFLOW96A-CD63-SBI | 96 reactions | 1546 € | DETAILS | Add to Cart |
| Exo-Flow96 CD81 IP Kit 96 | EXOFLOW96A-CD81-SBI | 96 reactions | 1546 € | DETAILS | Add to Cart |
| Exo-Flow96 CD9 IP Kit 96 | EXOFLOW96A-CD9-SBI | 96 reactions | 1546 € | DETAILS | Add to Cart |
| Exo-Flow96 Tetra IP kit (CD9, CD63, CD81) | EXOFLOW96A-Tetra-SBI | 96 reactions | 1546 € | DETAILS | Add to Cart |
| Exo-FlowMag96 96 Well Magnetic Plate | EXOFLOWMAG-1-SBI | 1 plate | 680 € | DETAILS | Add to Cart |