Exosome Purification
•
Powerful
- Deeper insights into EV biology and biomarker discovery
•
Efficient
- Capture even small subpopulations of EVs to maximize your discoveries
•
Low-background
- for targeted analysis of specific EV subpopulations
•
Easy-to-use
- Magnetic bead-based workflow for quick and easy EV capture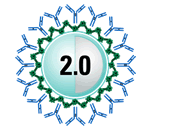 Take your EV insights to the next level by focusing on specific subpopulations
For the new and improved Exo-Flow 2.0 technology, SBI has re-engineered the original Exo-Flow beads to deliver virtually undetectable background binding.
Gain powerful insights into extracellular vesicle (EV) biology and analyze EV subpopulations for therapeutics development, biomarker discovery, and more with Exo-Flow™ 2.0 Analysis Kits. The result is highly specific capture of EVs expressing specific markers on their surface so you can easily analyze specific EV subpopulations by flow cytometry, western blot, or the downstream technology of your choice. Take your EV insights to the next level with Exo-Flow 2.0.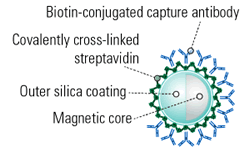 The Exo-Flow 2.0 technology is available as both individual tetraspanin (CD63, CD9, and CD81) and combination kits, as well as a basic kit that can be used with the biotinylated antibody of your choice.
Note that unlike the original Exo-Flow technology, Exo-Flow 2.0 kits are specific for isolating EVs from either serum/plasma or tissue culture medium, so be sure to choose the right kit for your needs.
Exo-Flow 2.0 Workflow

Exo-Flow kits for IP
The Exo-Flow96 and 32 IP kits enable the high-throughput, plate-based immunopurification of exosomes directly from serum or from concentrated exosomes from media (with ExoQuick-TC or ultracentrifugation). The magnetic beads are provided pre-coupled with either CD9, CD63 or CD81 for selective capture of distinct subsets of exosomes from either 96 or 32 samples simultaneously.
| Description | Cat# | Size | Price | | |
| --- | --- | --- | --- | --- | --- |
| Exo-Flow 2.0 Basic Kit without antibody (Streptavidin beads + reagents) - for Serum or Plasma | EXOFLOW2-BASICA-SP-SBI | 30 rxn | 1040 € | DETAILS | Add to Cart |
| Exo-Flow 2.0 Basic Kit without antibody (Streptavidin beads + reagents) - for Tissue Culture Media | EXOFLOW2-BASICA-TC-SBI | 30 rxn | 1040 € | DETAILS | Add to Cart |
| Exo-Flow 2.0 CD63 Analysis Kit (for Serum or Plasma) | EXOFLOW2-100A-SP-SBI | 10 rxn | 595 € | DETAILS | Add to Cart |
| Exo-Flow 2.0 CD63 Analysis Kit (for Tissue Culture Media) | EXOFLOW2-200A-TC-SBI | 10 rxn | 595 € | DETAILS | Add to Cart |
| Exo-Flow 2.0 CD81 Analysis Kit (for Serum or Plasma) | EXOFLOW2-110A-SP-SBI | 10 rxn | 595 € | DETAILS | Add to Cart |
| Exo-Flow 2.0 CD81 Analysis Kit (for Tissue Culture Media) | EXOFLOW2-210A-TC-SBI | 10 rxn | 595 € | DETAILS | Add to Cart |
| Exo-Flow 2.0 CD9 Analysis Kit (for Serum or Plasma) | EXOFLOW2-105A-SP-SBI | 10 rxn | 595 € | DETAILS | Add to Cart |
| Exo-Flow 2.0 CD9 Analysis Kit (for Tissue Culture Media) | EXOFLOW2-205A-TC-SBI | 10 rxn | 595 € | DETAILS | Add to Cart |
| Exo-Flow 2.0 Tetraspanin Combo Kit (CD63, CD9 & CD81) - for Serum or Plasma | EXOFLOW2-150A-SP-SBI | 30 rxn | 1620 € | DETAILS | Add to Cart |
| Exo-Flow 2.0 Tetraspanin Combo Kit (CD63, CD9 & CD81) - for Tissue Culture Media | EXOFLOW2-250A-TC-SBI | 30 rxn | 1620 € | DETAILS | Add to Cart |
| Exo-Flow Multifunctional Magnetic Stand | EXOFLOW700A-1-SBI | 1 piece | 496 € | DETAILS | Add to Cart |
| Exo-Flow32 CD63 IP Kit | EXOFLOW32A-CD63-SBI | 32 reactions | 656 € | DETAILS | Add to Cart |
| Exo-Flow32 CD81 IP Kit | EXOFLOW32A-CD81-SBI | 32 reactions | 656 € | DETAILS | Add to Cart |
| Exo-Flow32 CD9 IP Kit | EXOFLOW32A-CD9-SBI | 32 reactions | 656 € | DETAILS | Add to Cart |
| Exo-APC Exosome FACS Stain | EXOFLOW810A-1-SBI | 20 reactions | 274 € | DETAILS | Add to Cart |
| Exo-Flow32 Tetra IP kit (CD9, CD63, CD81) | EXOFLOW32A-Tetra-SBI | 32 reactions | 656 € | DETAILS | Add to Cart |
| Exo-FITC Exosome FACS Stain | EXOFLOW800A-1-SBI | 20 reactions | 274 € | DETAILS | Add to Cart |
| Exo-Flow96 CD63 IP Kit 96 | EXOFLOW96A-CD63-SBI | 96 reactions | 1618 € | DETAILS | Add to Cart |
| Exo-Flow96 CD81 IP Kit 96 | EXOFLOW96A-CD81-SBI | 96 reactions | 1618 € | DETAILS | Add to Cart |
| Exo-Flow96 CD9 IP Kit 96 | EXOFLOW96A-CD9-SBI | 96 reactions | 1618 € | DETAILS | Add to Cart |
| Exo-Flow96 Tetra IP kit (CD9, CD63, CD81) | EXOFLOW96A-Tetra-SBI | 96 reactions | 1618 € | DETAILS | Add to Cart |
| Exo-FlowMag96 96 Well Magnetic Plate | EXOFLOWMAG-1-SBI | 1 plate | 713 € | DETAILS | Add to Cart |
| CD9 Exo-Flow Capture Kit (Magnetic streptavidin beads, CD9-biotin capture antibody, Wash and Elution Buffers, Exo-FITC stain) | EXOFLOW100A-1-SBI | 10 reactions | 579 € | DETAILS | Add to Cart |
| CD63 Exo-Flow Capture Kit (Magnetic streptavidin beads, CD63-biotin capture antibody, Wash and Elution Buffers, Exo-FITC stain) | EXOFLOW300A-1-SBI | 10 reactions | 579 € | DETAILS | Add to Cart |
| CD81 Exo-Flow Capture Kit (Magnetic streptavidin beads, CD81-biotin capture antibody, Wash and Elution Buffers, Exo-FITC stain) | EXOFLOW400A-1-SBI | 10 reactions | 579 € | DETAILS | Add to Cart |
| Tetraspanin Exo-Flow Combo Capture Kit (Magnetic streptavidin beads, CD9, CD63, and CD81-biotin capture antibodies, Wash and Elution Buffers, Exo-FITC stain) | EXOFLOW150A-1-SBI | 10 reactions | 824 € | DETAILS | Add to Cart |
| CD31 Exo-Flow Capture Kit (Magnetic streptavidin beads, CD31-biotin capture antibody, Wash and Elution Buffers, Exo-FITC stain) | EXOFLOW200A-1-SBI | 10 reactions | 579 € | DETAILS | Add to Cart |
| CD44 Exo-Flow Capture Kit (Magnetic streptavidin beads, CD44-biotin capture antibody, Wash and Elution Buffers, Exo-FITC stain) | EXOFLOW210A-1-SBI | 10 reactions | 579 € | DETAILS | Add to Cart |
| Rab5b Exo-Flow Capture Kit (Magnetic streptavidin beads, Rab5b-biotin capture antibody, Wash and Elution Buffers, Exo-FITC stain) | EXOFLOW500A-1-SBI | 10 reactions | 579 € | DETAILS | Add to Cart |
| HLA-G Exo-Flow Capture Kit (Magnetic streptavidin beads, HLA-G-biotin capture antibody, Wash and Elution Buffers, Exo-FITC stain) | EXOFLOW600A-1-SBI | 10 reactions | 579 € | DETAILS | Add to Cart |
| CD14 Exo-Flow Capture kit (Magnetic streptavidin beads, CD14-biotin capture antibody, Wash and Elution Buffers, Exo-FITC stain) | EXOFLOW610A-1-SBI | 10 reactions | 579 € | DETAILS | Add to Cart |
| CD68 Exo-Flow Capture kit (Magnetic streptavidin beads, CD68-biotin capture antibody, Wash and Elution Buffers, Exo-FITC stain) | EXOFLOW620A-1-SBI | 10 reactions | 579 € | DETAILS | Add to Cart |
| EpCAM Exo-Flow Capture kit (Magnetic streptavidin beads, EpCAM-biotin capture antibody, Wash and Elution Buffers, Exo-FITC stain) | EXOFLOW630A-1-SBI | 10 reactions | 579 € | DETAILS | Add to Cart |
| CD73 Exo-Flow capture kit (Magnetic streptavidin beads, CD73-biotin capture antibody, Wash and Elution Buffers, Exo-FITC stain) | EXOFLOW660A-1-SBI | 10 reactions | 579 € | DETAILS | Add to Cart |
| Basic Exo-Flow kit without any coupled antibodies (Uncoupled magnetic streptavidin beads, Wash and Elution Buffers, Exo-FITC stain) | CSFLOWBASICA-1-SBI | 100 reactions | 926 € | DETAILS | Add to Cart |