Exosome Protein Analysis: Mass Spec Sample Preparation
Discover novel exosome biomarkers with ExoMS Kits
• Unique—the ExoMS Surface Protein Capture Kits are the only commercially available kits that specifically capture exosome surface and membrane proteins
• Sensitive—removes many common contaminants from EV preps, such as albumin and IgG, for improved biomarker detection by LC/MS
• Compatible—works with EVs isolated using a variety of methods including ExoQuick™, ExoQuick™ PLUS, ultracentrifugation, and most column-based kits
• Fast—go from isolated sample to LC/MS in less than 5 hours
• Flexible—options for surface protein or total protein capture from exosomes isolated from serum/plasma or from tissue culture and other biofluids
Exosomes are the future of biomarkers in medicine
Exosomes are nano-sized vesicles that are secreted outside of the cell and represent a potential "fingerprint" from their cellular origin. Exosomes also serve as nanoshuttles of RNAs and proteins that facilitate communication between cells and organs and are found in blood, urine, amniotic fluid, breast milk, malignant ascites fluids, cell culture media. Exosome-based diagnostic molecules include exosomal RNAs and proteins. Several publications have described the association of specific exosomal markers with several cancer types, neurodegenerative diseases, inflammation, and cardiovascular disease.
ExoMS Kits
To discover accurate biomarkers for any pathology, the best biomarkers are always derived from the best peptide libraries. The ExoMS™ Kits deliver high-quality, sensitive protein preparations that take you from isolated exosomes to LC/MS in less than five hours. Isolate just the extracellular vesicle (EV) surface proteins using the ExoMS Surface Protein Capture Kits or total EV protein using the ExoMS Total Protein Capture Kit, see table below.
Selectively capture only EV surface and membrane-associated proteins (the "surfeome") with our ExoMS Surface Protein Capture Kits. Choose the Serum/Plasma kit when you're using EVs isolated from serum or plasma, or the Tissue Culture kit for EVs isolated from tissue culture media or any biofluid other than serum or plasma. The robust and well-validated technology used in these kits delivers efficient and highly selective capture of EV surface and membrane-associated proteins.
Or choose the ExoMS Total Protein Capture Kit to prepare total EV protein for LC/MS.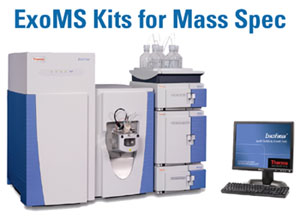 Mass Spec Analysis Service
In addition to the ExoMS Kits, we also offer mass spec analysis of surface or total exosome proteins as a custom service - just send us your biofluid samples, and we take care of the rest.
To request a quote,
please contact us
.
---
PDF-Downloads
- Will open in new browser window
Brochure Exosome - Research, Products and Services

| Description | Cat# | Size | Price | | |
| --- | --- | --- | --- | --- | --- |
| ExoMS Surface Protein Capture Kit (Exosome Mass Spec Sample Prep Kit) for Serum/Plasma EVs | EXOMS100A-4-SBI | 4 reactions | 607 € | DETAILS | Add to Cart |
| ExoMS Surface Protein Capture Kit (Exosome Mass Spec Sample Prep Kit) for Serum/Plasma EVs | EXOMS101A-8-SBI | 8 reactions | 1108 € | DETAILS | Add to Cart |
| ExoMS Surface Protein Capture Kit (Exosome Mass Spec Sample Prep Kit) for Tissue Culture EVs | EXOMS110A-4-SBI | 4 reactions | 607 € | DETAILS | Add to Cart |
| ExoMS Surface Protein Capture Kit (Exosome Mass Spec Sample Prep Kit) for Tissue Culture EVs | EXOMS111A-8-SBI | 8 reactions | 1047 € | DETAILS | Add to Cart |
| ExoMS Total Protein Capture Kit (Exosome Mass Spec Sample Prep Kit) for Total Protein from EVs | EXOMS120A-8-SBI | 8 reactions | 549 € | DETAILS | Add to Cart |