Exosome Isolation from Urine
Maximize discovery with EVs from urine, a non-invasive source for biomarkers
Urinary-associated EVs (uEVs) are an excellent source of biomarkers for a host of kidney and genito-urinary disorders including acute kidney injury (AKI), urogenital cancer, chronic kidney diseases, glomerular diseases, renal allograft rejection, and unique tubulopathies1. Because collection is easy and non-invasive, urine is a popular alternative to serum or plasma as a starting material for biomarker discovery.
However, technical challenges with EV isolation from urine have limited the power of conventional isolation methods. In particular, the presence of high amounts of THP, which can polymerize into an EV-trapping mesh, has made it difficult to obtain clean, high-concentration preps from urine.
SBI's Exo-Urine EV Isolation Kit overcomes these issues and opens the door to better, more efficient biomarker discovery from urine-derived EVs.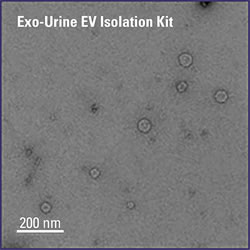 Designed to help EVs escape from the mesh of polymerized Tamm-Horstall protein (THP/uromodulin), a glycoprotein present in high amounts in urine, the Exo-Urine EV Isolation Kit combines size-exclusion chromatography (SEC) and proprietary solubilization reagents to deliver high yields of highly pure EVs. Starting with as little as 1.5 ml of freshly voided (<4 hrs from initial collection) or frozen urine preps, the Exo-Urine Kit delivers EV preps that are low in THP/uromodulin contamination, enabling faster, more efficient studies of EV-derived biomarkers from urine.
Description
Cat#
Size
Price
Urine Exosome Purification Mini Kit
57700-NB
50 preps

Special


747.00 €
DETAILS
Add to Cart
Urine Exosome Purification Midi Kit
57800-NB
25 preps

Special


760.50 €
DETAILS
Add to Cart
Urine Exosome Purification Maxi Kit
57900-NB
15 preps

Special


747.90 €
DETAILS
Add to Cart
Exo-Urine EV Isolation Kit
EXOU100A-1-SBI
10 (2 x 5 reactions)
568 €
DETAILS
Add to Cart