Exosome Antibody Arrays
Efficient Exosome Detection with Improved Antibody Arrays
•
Sensitive
-requires as little as 50 µg of exosomal protein for detection
•
Convenient
-includes eight antibodies for known exosome markers
•
Semi-quantitative
-can be used to evaluate relative abundance of certain exosome markers from a given set of samples
•
Flexible
-compatible with most exosome isolation methods, include the ExoQuick® family of reagents and ultracentrifugation
•
Complete
-includes a control for cellular contamination, a background control (blank spot), and a positive control derived from human serum exosomes
SBI´s semi-quantitative Exo-Check Exosome Antibody Arrays provide you with a robust system to check for expression of well-known exosomal markers. Each array has 12 pre-printed spots and features 8 antibodies for known exosome markers (CD63, CD81, ALIX, FLOT1, ICAM1, EpCam, ANXA5 and TSG101), a GM130 cis-Golgi marker to monitor any cellular contamination in your exosome isolations, a positive control spot derived from human serum exosomes, and a blank spot as a background control. The kits come complete with a secondary detection mixture conjugated to HRP.
Exo-Check Exosome Array Antibodies
Exosome proteins that can be detected on the array: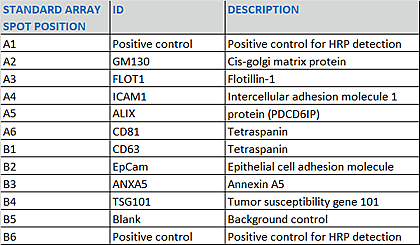 To correctly orient the array, place the notched corner in the upper left-hand position
New: Detection of Exosome derived from neurons
•
Sensitive
-use as little as 10 µg of input protein for profiling general EV and neuronal-associated markers
•
Intuitive
-provided in a simple, easy-to-use membrane-based dot-blot array format
•
Scalable
-profile up to 11 targets and 3 controls without the hassle of western blotting
•
Compatible
-suitable for EVs isolated using column-based/SEC methods, ultracentrifugation, and precipitation, as well as immuno-affinity captured EVs
•
Evidence-based
-targets are carefully chosen from the literature and have been shown to be associated with EVs
Neuronal-associated EVs, and their protein cargoes, are thought to play a role in the biogenesis of various neuronal disorders such as Alzheimer's, Dementia, Parkinson's, and Amyotrophic Lateral Sclerosis (ALS), and as such, are an active area of research for many researchers looking for potential circulating biomarkers. Having a sensitive dot-based format containing both general exosomal markers and neuronal-associated markers makes it easy to screen your EV isolates for relative expression of these markers.
Available as a comprehensive standard array with 11 targets and 3 controls (Tables 1 and 3), as well as a sample-saving mini array, with 5 targets and 3 controls (Tables 2 and 3), the Exo-Check Exosome Antibody Array (Neuro) enables sensitive detection of both exosome-specific and neuron-specific markers in a single experiment. Use as little as 10 µg of total protein from EV-containing lysates and efficiently get the answers you need.
A Guide to Exo-Check Exosome Array (Neuro) Antibodies
Table 1:
Target Proteins Standard Kit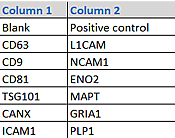 Table 2:
Target Proteins Mini Kit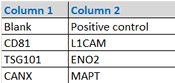 Table 3:
Assignement of Target Proteins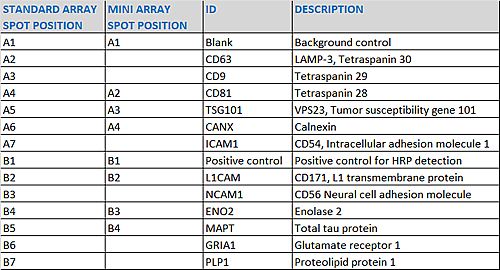 To correctly orient the array, place the notched corner in the upper left-hand position
---
Related Links
ExoQuick® / ExoQuick-TC® EV Isolation Product Family

---
PDF-Downloads
- Will open in new browser window
Brochure Exosome - Research, Products and Services

| Description | Cat# | Size | Price | | |
| --- | --- | --- | --- | --- | --- |
| Exo-Check Exosome Antibody Array | EXORAY200B-4-SBI | 4 arrays | 559 € | DETAILS | Add to Cart |
| Exo-Check Exosome Antibody Array | EXORAY210B-8-SBI | 8 arrays | 983 € | DETAILS | Add to Cart |
| Exo-Check Exosome Antibody Array (Neuro) Mini | EXORAY510A-4-SBI | 4 arrays | 510 € | DETAILS | Add to Cart |
| Exo-Check Exosome Antibody Array (Neuro) Mini | EXORAY510A-8-SBI | 8 arrays | 834 € | DETAILS | Add to Cart |
| Exo-Check Exosome Antibody Array (Neuro) Standard | EXORAY500A-4-SBI | 4 arrays | 704 € | DETAILS | Add to Cart |
| Exo-Check Exosome Antibody Array (Neuro) Standard | EXORAY500A-8-SBI | 8 arrays | 1194 € | DETAILS | Add to Cart |