Exosome Antibodies
Exosome Antibodies for Western Blot Analysis
• Confirm exosome recovery by Western Blot analysis
• Well-characterized exosomal protein markers
• Validated CD63, CD9, CD81 and Hsp70 antibodies
Exosome antibodies detecting the well-characterized exosomal protein markers CD63, CD9, CD81 or Hsp70 allow for the confirmation of exosome recovery by Western Blot analysis.
The antibodies (rabbit anti-human) are either offered individually or as sampler kit including all four exosomal marker antibodies and a HRP-conjugated secondary antibody (goat anti-Rabbit IgG) specifically tested for use in exosomal protein analysis.
The exosome antibody kits are fully compatible with exosomes isolated by SBI´s ExoQuick or ExoQuick-TC (see link below) as well as ultracentrifugation methods.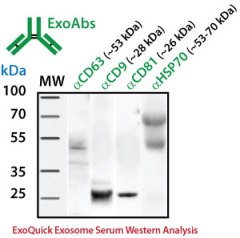 Western Blot analysis of serum exosomes.
Exosomes were isolated from serum using ExoQuick Exosome Precipitation Solution and exosomal protein markers were detected using the indicated antibodies.
CD63, CD9, and CD81 based ELISA kits for exosome quantitation are also available, see links below.
Exosome Marker Protein Analysis
Additionally, SBI offers exosome antibodies for other markers and tissue-specific exosomes. The antibody selection consists of rabbit anti-human antibodies for CETP, ANXA5-1, TSG101, EpCam, Vimentin, ALIX, FLOTILLIN-1 and the T-cell and B-cell exosomal marker CXCR4. All of these primary antibodies are used at a 1:1,000 dilution and the HRP secondary antibody at 1:20,000 dilution.To identify which antibody may work best with the exosomes in your studies, try a browse search at the online exosome protein database at EXOCARTA.org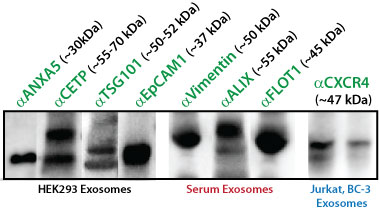 CETP Activity in Exosomes
Cholesteryl Ester Transfer Protein (CETP) esterase activity is known to be within exosomes (Savina, 2002 and Gupta 2007, see references and Western Blot data below).
References:
Savina A, Vidal M, Colombo MI. The exosome pathway in K562 cells is regulated by Rab11. J Cell Sci. 2002 Jun 15;115(Pt 12):2505-15.
Gupta S, Knowlton AA. HSP60 trafficking in adult cardiac myocytes: role of the exosomal pathway. Am J Physiol Heart Circ Physiol. 2007 Jun;292(6):H3052-6. Epub 2007 Feb 16.
Western Blot Data: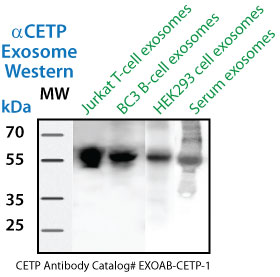 The CETP activity in exosomes is exploited for easy, rapid, and reliable exosome quantitation in the EXOCET exosome quantitation system, an enzymatic, colorimetric assay read at OD405. See link below.
---
Related Links
ExoQuick Exosome Isolation Kits
EXOCET Exosome Quantitation System

| Description | Cat# | Size | Price | | |
| --- | --- | --- | --- | --- | --- |
| CD9 biotin conjugated monoclonal antibody (mouse, anti-human) | A1501-50-BV | 50 ug | please inquire € | DETAILS | Add to Cart |