Radius 2-D Cell Migration and Wound Healing Assays
• Defined circular area for precise cell migration measurement
• Qualitative, quantitative, endpoint or real-time analysis
• Compatible with all cell stains, dyes and labels
• Suitable for automation
The Radius Cell Migration Assays provide a unique alternative to conventional cell migration assays using the Boyden chamber. Unlike Boyden chamber assays which may only be analyzed at endpoint, the Radius assay uses a proprietary cell culture plate containing a carefully-defined biocompatible hydrogel (Radius Gel) spot (0.68 mm) centralized at the bottom of each well. When cells are seeded in the well, they will attach everywhere except on the Radius Gel, creating a cell-free zone. Following cell seeding the Radius Gel is removed, allowing migratory cells to move across the area and close the gap.
This format provides a robust in vitro system to measure 2-D cell migration, screen potential inhibitors, study cytoskeleton reorganization events or investigate wound healing. It is adaptable to liquid handling equipment and HCS instrumentation.
The Radius Cell Migration Assays are available in 24-, 96- and 384-well plate format. They are also provided with 24-well plates precoated with collagen I, fibronectin or laminin to help promote cell adhesion.
Principle of the Radius Cell Migration Assay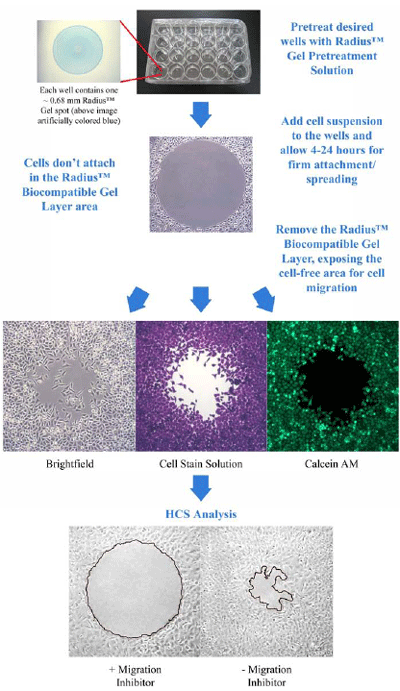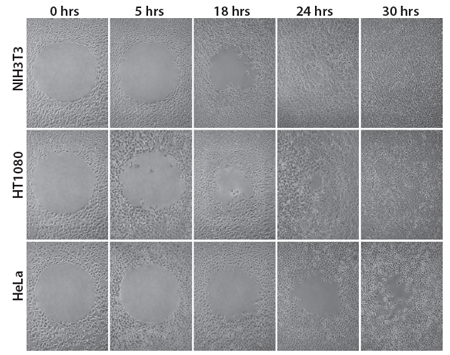 Cell migration time course.
HeLa, HT1080 and NIH3T3 cells were seeded at 100,000 cells/well overnight. After removal of Radius Gel, cells were allowed to migrate for the various times shown.
Software Analysis Tools for Gap Closure Assays
There are a number of software programs available for the analysis of cell migration images. One of these is CellProfiler™ Cell Image Analysis Software offered free-of-charge by the Broad Institute*. Please use the link below for the download.
In order to analyze data from Cell Biolabs´ Gap Closure Migration Assays, the CellProfiler™ software must be customized. For your convenience, Cell Biolabs has developed add-ons that will customize the program for you. You may obtain the add-on by clicking the respective link below and download the zip file appropriate to the kit and staining method you used. After unzipping the files, open the downloaded Adobe PDF document and follow the instructions.
*CellProfiler™ is a trademark of the Broad Institute. There is no relationship between Cell Biolabs, Inc. and the Broad Institute. Cell Biolabs offers these downloads as a courtesy to their customers who wish to analyze data obtained using their Gap Closure Assays.
---
Related Links
Wound Healing Assays
CellProfiler™ Cell Image Analysis Software Download
Software Add-On for Radius™ Cell Migration Assay / Calcein A
Software Add-On for Radius™ Cell Migration Assay/ Cell Stain

| Description | Cat# | Size | Price | | |
| --- | --- | --- | --- | --- | --- |
| Radius 24-Well Cell Migration and Wound Healing Assay | CBA-125-CB | 24 wells | 463 € | DETAILS | Add to Cart |
| Radius 24-Well Cell Migration and Wound Healing Assay | CBA-125-5-CB | 5 x 24 wells | 1817 € | DETAILS | Add to Cart |
| Radius 24-Well Cell Migration and Wound Healing Assay (Collagen I Coated) | CBA-125-COL-CB | 24 wells | 559 € | DETAILS | Add to Cart |
| Radius 24-Well Cell Migration and Wound Healing Assay (Fibronectin Coated) | CBA-125-FN-CB | 24 wells | 559 € | DETAILS | Add to Cart |
| Radius 24-Well Cell Migration and Wound Healing Assay (Laminin Coated) | CBA-125-LN-CB | 24 wells | 559 € | DETAILS | Add to Cart |
| Radius 24-Well Cell Migration and Wound Healing Assay (ECM Array Coated) | CBA-125-ECM-CB | 24 wells | 655 € | DETAILS | Add to Cart |
| Radius 96-Well Cell Migration and Wound Healing Assay | CBA-126-CB | 96 wells | 528 € | DETAILS | Add to Cart |
| Radius 96-Well Cell Migration and Wound Healing Assay | CBA-126-5-CB | 5 x 96 wells | 2076 € | DETAILS | Add to Cart |
| Radius 384-Well Cell Migration and Wound Healing Assay | CBA-127-CB | 384 wells | 553 € | DETAILS | Add to Cart |
| Radius 384-Well Cell Migration and Wound Healing Assay | CBA-127-5-CB | 5 x 384 wells | 2151 € | DETAILS | Add to Cart |
| Radius 48-Well Cell Migration Assay | CBA-5037-5-CB | 5 x 48 assays | 1894 € | DETAILS | Add to Cart |
| Radius 48-Well Cell Migration Assay | CBA-5037-CB | 48 assays | 481 € | DETAILS | Add to Cart |