Haptotaxis Assays
• Quantify haptotaxis with no manual cell counting
• Measure haptotaxis in less than 6 hours with most cell types
• Collagen I- or fibronectin-coated membrane inserts
• Colorimetric or fluorometric detection
Cell haptotaxis describes cell migration toward or along a gradient of chemoattractants or adhesion sites in the extracellular matrix.
The CytoSelect Haptotaxis Assays are optimized for determining the migratory properties of cells. They utilize polycarbonate membrane inserts, 8 um pore size, ideal for epithelial cells and fibroblasts.

The bottom side of the Boyden chamber insert is coated with collagen I or fibronectin. The membrane serves as a barrier to distinguish between migratory and non-migratory cells.
Migratory cells are able to extend protrusions towards the gradient of extracellular matrix density (via actin cytoskeleton reorganization) and ultimately pass through the pores of the polycarbonate membrane. Finally, the non-migrating cells are removed and the migratory cells are stained and quantified.
Principle of the Haptotaxis Assay, Colorimetric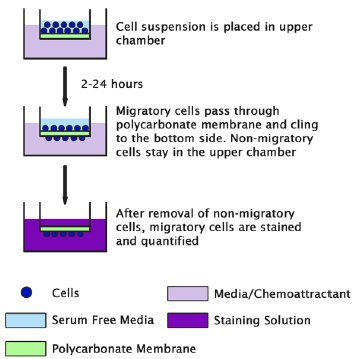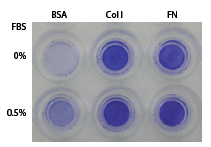 CytoSelect 24-Well Cell Haptotaxis Assay.
MDA-231 cells were seeded at 150,000 cells/well and allowed to migrate toward FBS for 4 hours. Migratory cells were stained according to the assay protocol.
---
Related Links
Cell Migration Assays
Cell Invasion Assays

| Description | Cat# | Size | Price | | |
| --- | --- | --- | --- | --- | --- |
| CytoSelect 24-well Cell Migration Haptotaxis Assay (Collagen Coated) (8 um), Colorimetric | CBA-100-COL-CB | 12 assays | 538 € | DETAILS | Add to Cart |
| CytoSelect 24-well Cell Migration Haptotaxis Assay (Collagen Coated) (8 um), Fluorometric | CBA-101-COL-CB | 12 assays | 556 € | DETAILS | Add to Cart |
| CytoSelect 24-well Cell Migration Haptotaxis Assay (Fibronectin Coated) (8 um), Colorimetric | CBA-100-FN-CB | 12 assays | 538 € | DETAILS | Add to Cart |
| CytoSelect 24-well Cell Migration Haptotaxis Assay (Fibronectin Coated) (8 um), Fluorometric | CBA-101-FN-CB | 12 assays | 556 € | DETAILS | Add to Cart |