Chemotaxis Assays
• Quantify chemotaxis with no manual cell counting
• Measure chemotaxis in less than 6 hours with most cell types
• Uncoated membrane inserts for use with any chemoattractant
• Colorimetric or fluorometric detection
Chemotaxis describes cell migration based on chemicals in a cell's surrounding environment. Chemotaxis can indicate cell migration either toward or away from a particular chemical signal. Cell chemotaxis plays a pivotal role in the progression of cancer and other diseases.
The CytoSelect Cell Migration Assays are ideal for determining the chemotactic properties of cells. The kits utilize polycarbonate membrane inserts in either 24-well or 96-well plates. Membranes are available in 4 pore sizes to accommodate a variety of cell types and sizes, see table below.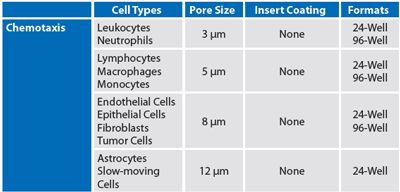 The membrane serves as a barrier to discriminate migratory cells from nonmigratory cells.
Migratory cells are able to extend protrusions towards chemoattractants (via actin cytoskeleton reorganization) and ultimately pass through the pores of the polycarbonate membrane. These migratory cells are then dissociated from the membrane and subsequently detected and quantified.
Principle of the CytoSelect Cell Migration Assay, Fluorometric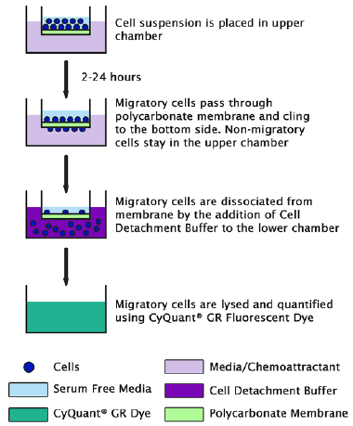 ---
Related Links
Cell Migration Assays
Cell Invasion Assays

| Description | Cat# | Size | Price | | |
| --- | --- | --- | --- | --- | --- |
| CytoSelect 24-well Cell Migration Assay (12 um), Colorimetric | CBA-107-CB | 12 assays | 510 € | DETAILS | Add to Cart |
| CytoSelect 24-well Cell Migration Assay (12 um), Fluorometric | CBA-108-CB | 12 assays | 520 € | DETAILS | Add to Cart |
| CytoSelect 24-well Cell Migration Assay (3 um, for Leukocyte Chemotaxis), Fluorometric | CBA-103-5-CB | 5 x 12 assays | 2171 € | DETAILS | Add to Cart |
| CytoSelect 24-well Cell Migration Assay (3 um, for Leukocyte Chemotaxis), Fluorometric | CBA-103-CB | 12 assays | 510 € | DETAILS | Add to Cart |
| CytoSelect 24-well Cell Migration Assay (5 um), Fluorometric | CBA-102-5-CB | 5 x 12 assays | 2171 € | DETAILS | Add to Cart |
| CytoSelect 24-well Cell Migration Assay (5 um), Fluorometric | CBA-102-CB | 12 assays | 510 € | DETAILS | Add to Cart |
| CytoSelect 24-well Cell Migration Assay (8 um) and 24-well Cell Invasion Assay (Basement Membrane Matrix Proteins): Combo Kit, Colorimetric | CBA-100-C-5-CB | 5 combo kits, 2 x (5x12 assays) | 3714 € | DETAILS | Add to Cart |
| CytoSelect 24-well Cell Migration Assay (8 um) and 24-well Cell Invasion Assay (Basement Membrane Matrix Proteins): Combo Kit, Colorimetric | CBA-100-C-CB | 1 kit | 918 € | DETAILS | Add to Cart |
| CytoSelect 24-well Cell Migration Assay (8 um) and 24-well Cell Invasion Assay (Basement Membrane Matrix Proteins): Combo Kit, Fluorometric | CBA-101-C-CB | 1 kit | 918 € | DETAILS | Add to Cart |
| CytoSelect 24-well Cell Migration Assay (8 um), Colorimetric | CBA-100-5-CB | 5 x 12 assays | 2110 € | DETAILS | Add to Cart |
| CytoSelect 24-well Cell Migration Assay (8 um), Colorimetric | CBA-100-CB | 12 assays | 506 € | DETAILS | Add to Cart |
| CytoSelect 24-well Cell Migration Assay (8 um), Fluorometric | CBA-101-5-CB | 5 x 12 assays | 2171 € | DETAILS | Add to Cart |
| CytoSelect 24-well Cell Migration Assay (8 um), Fluorometric | CBA-101-CB | 12 assays | 510 € | DETAILS | Add to Cart |
| CytoSelect 96-well Cell Migration Assay (3 um, for Leukocyte Chemotaxis), Fluorometric | CBA-104-5-CB | 5 x 96 assays | 2436 € | DETAILS | Add to Cart |
| CytoSelect 96-well Cell Migration Assay (3 um, for Leukocyte Chemotaxis), Fluorometric | CBA-104-CB | 96 assays | 586 € | DETAILS | Add to Cart |
| CytoSelect 96-well Cell Migration Assay (5 um), Fluorometric | CBA-105-5-CB | 5 x 96 assays | 2436 € | DETAILS | Add to Cart |
| CytoSelect 96-well Cell Migration Assay (5 um), Fluorometric | CBA-105-CB | 96 assays | 586 € | DETAILS | Add to Cart |
| CytoSelect 96-well Cell Migration Assay (8 um) and 96-well Cell Invasion Assay (Basement Membrane Matrix Proteins): Combo Kit , Fluorometric | CBA-106-C-CB | 1 kit | 1078 € | DETAILS | Add to Cart |
| CytoSelect 96-well Cell Migration Assay (8 um), Fluorometric | CBA-106-5-CB | 5 x 96 assays | 2436 € | DETAILS | Add to Cart |
| CytoSelect 96-well Cell Migration Assay (8 um), Fluorometric | CBA-106-CB | 96 assays | 586 € | DETAILS | Add to Cart |
| EZCell Cell Migration/Chemotaxis Assay Kit (24-well, 3 um) | K911-12-BV | 12 assays | 441 € | DETAILS | Add to Cart |
| EZCell Cell Migration/Chemotaxis Assay Kit (24-well, 5 um) | K910-12-BV | 12 assays | 455 € | DETAILS | Add to Cart |
| EZCell Cell Migration/Chemotaxis Assay Kit (24-well, 8 um) | K909-12-BV | 12 assays | 468 € | DETAILS | Add to Cart |
| EZCell Cell Migration/Chemotaxis Assay Kit (96-well, 3 um) | K908-100-BV | 100 assays | 567 € | DETAILS | Add to Cart |
| EZCell Cell Migration/Chemotaxis Assay Kit (96-well, 5 um) | K907-100-BV | 100 assays | 553 € | DETAILS | Add to Cart |
| EZCell Migration/Chemotaxis Assay Kit (96-well, 8 um) | K906-100-BV | 100 assays | 567 € | DETAILS | Add to Cart |