Cell Labeling using Lentiviral Reporter Vectors
Reliable cell labeling for efficient in vivo cell tracking
• Label with GFP, RFP, BFP, or luciferase
• Select using puromycin or blasticidin
• Co-express label and selection genes using either the CMV or EF1a promoters
• Available as plasmid or pre-packaged, high-titer lentivirus
• Sequence-verified from LTR to LTR and expression-verified
• Improved lentivector technology for optimal virus titers
Lenti-Labeler
TM
constructs facilitate a wide range of studies—including cell tracking, high-throughput assays, and more—by enabling efficient and reliable labeling of your cells.
Available as either fully propagatable, sequence-verified plasmid DNA or ready-to-transduce pre-packaged lentivirus, the Lenti-Labeler
TM
constructs are designed for reliability, so you can get to valuable insights faster.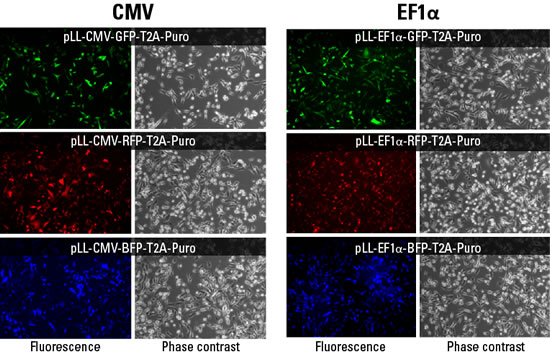 While the Lenti-Labeler constructs are compatible with most second and third generation packaging plasmid mixes, we recommend the use of SBI´s
pPACKH1
and
TransDux MAX
to acheive optimal virus titers and infection of target cells.
| Description | Cat# | Size | Price | | |
| --- | --- | --- | --- | --- | --- |
| pLL-CMV-BFP-T2A-Blast [Lenti-Labeler plasmid] | LL125PA-1-SBI | 10 ug | 725 € | DETAILS | Add to Cart |
| pLL-CMV-BFP-T2A-Blast [Lenti-Labeler virus] | LL125VA-1-GVO-SBI | >2x10^6 IFUs | 725 € | DETAILS | Add to Cart |
| pLL-CMV-BFP-T2A-Puro [Lenti-Labeler plasmid] | LL120PA-1-SBI | 10 ug | 725 € | DETAILS | Add to Cart |
| pLL-CMV-BFP-T2A-Puro [Lenti-Labeler virus] | LL120VA-1-GVO-SBI | >2x10^6 IFUs | 725 € | DETAILS | Add to Cart |
| pLL-CMV-GFP-T2A-Blast [Lenti-Labeler plasmid] | LL105PA-1-SBI | 10 ug | 725 € | DETAILS | Add to Cart |
| pLL-CMV-GFP-T2A-Blast [Lenti-Labeler virus] | LL105VA-1-GVO-SBI | >2x10^6 IFUs | 725 € | DETAILS | Add to Cart |
| pLL-CMV-GFP-T2A-Puro [Lenti-Labeler plasmid] | LL100PA-1-SBI | 10 ug | 725 € | DETAILS | Add to Cart |
| pLL-CMV-GFP-T2A-Puro [Lenti-Labeler virus] | LL100VA-1-GVO-SBI | >2x10^6 IFUs | 725 € | DETAILS | Add to Cart |
| pLL-CMV-Luciferase-T2A-Puro [Lenti-Labeler plasmid] | LL150PA-1-SBI | 10 ug | 725 € | DETAILS | Add to Cart |
| pLL-CMV-Luciferase-T2A-Puro [Lenti-Labeler virus] | LL150VA-1-GVO-SBI | >2x10^6 IFUs | 725 € | DETAILS | Add to Cart |
| pLL-CMV-rFLuc-T2A-GFP [Lenti-Labeler plasmid] | LL300PA-1-SBI | 10 ug | 749 € | DETAILS | Add to Cart |
| pLL-CMV-rFLuc-T2A-GFP [Lenti-Labeler virus] | LL300VA-1-GVO-SBI | >2x10^6 IFUs | 749 € | DETAILS | Add to Cart |
| pLL-CMV-rFLuc-T2A-GFP-mPGK-Puro [Lenti-Labeler plasmid] | LL310PA-1-SBI | 10 ug | 749 € | DETAILS | Add to Cart |
| pLL-CMV-rFLuc-T2A-GFP-mPGK-Puro [Lenti-Labeler virus] | LL310VA-1-GVO-SBI | >2x10^6 IFUs | 749 € | DETAILS | Add to Cart |
| pLL-CMV-rFLuc-T2A-mRFP-mPGK-Puro [Lenti-Labeler plasmid] | LL320PA-1-SBI | 10 ug | 749 € | DETAILS | Add to Cart |
| pLL-CMV-rFLuc-T2A-mRFP-mPGK-Puro [Lenti-Labeler virus] | LL320VA-1-GVO-SBI | >2x10^6 IFUs | 749 € | DETAILS | Add to Cart |
| pLL-CMV-RFP-T2A-Blast [Lenti-Labeler plasmid] | LL115PA-1-SBI | 10 ug | 725 € | DETAILS | Add to Cart |
| pLL-CMV-RFP-T2A-Blast [Lenti-Labeler virus] | LL115VA-1-GVO-SBI | >2x10^6 IFUs | 725 € | DETAILS | Add to Cart |
| pLL-CMV-RFP-T2A-Puro [Lenti-Labeler plasmid] | LL110PA-1-SBI | 10 ug | 725 € | DETAILS | Add to Cart |
| pLL-CMV-RFP-T2A-Puro [Lenti-Labeler virus] | LL110VA-1-GVO-SBI | >2x10^6 IFUs | 725 € | DETAILS | Add to Cart |
| pLL-EF1a-BFP-T2A-Blast [Lenti-Labeler plasmid] | LL225PA-1-SBI | 10 ug | 725 € | DETAILS | Add to Cart |
| pLL-EF1a-BFP-T2A-Blast [Lenti-Labeler virus] | LL225VA-1-GVO-SBI | >2x10^6 IFUs | 725 € | DETAILS | Add to Cart |
| pLL-EF1a-BFP-T2A-Puro [Lenti-Labeler plasmid] | LL220PA-1-SBI | 10 ug | 725 € | DETAILS | Add to Cart |
| pLL-EF1a-BFP-T2A-Puro [Lenti-Labeler virus] | LL220VA-1-GVO-SBI | >2x10^6 IFUs | 725 € | DETAILS | Add to Cart |
| pLL-EF1a-GFP-T2A-Blast [Lenti-Labeler plasmid] | LL205PA-1-SBI | 10 ug | 725 € | DETAILS | Add to Cart |
| pLL-EF1a-GFP-T2A-Blast [Lenti-Labeler virus] | LL205VA-1-GVO-SBI | >2x10^6 IFUs | 725 € | DETAILS | Add to Cart |
| pLL-EF1a-GFP-T2A-Puro [Lenti-Labeler plasmid] | LL200PA-1-SBI | 10 ug | 725 € | DETAILS | Add to Cart |
| pLL-EF1a-GFP-T2A-Puro [Lenti-Labeler virus] | LL200VA-1-GVO-SBI | >2x10^6 IFUs | 725 € | DETAILS | Add to Cart |
| pLL-EF1a-Luciferase-T2A-Puro [Lenti-Labeler plasmid] | LL250PA-1-SBI | 10 ug | 725 € | DETAILS | Add to Cart |
| pLL-EF1a-Luciferase-T2A-Puro [Lenti-Labeler virus] | LL250VA-1-GVO-SBI | >2x10^6 IFUs | 725 € | DETAILS | Add to Cart |
| pLL-EF1a-rFLuc-T2A-GFP-mPGK-Puro [Lenti-Labeler plasmid] | LL410PA-1-SBI | 10 ug | 749 € | DETAILS | Add to Cart |
| pLL-EF1a-rFLuc-T2A-GFP-mPGK-Puro [Lenti-Labeler virus] | LL410VA-1-GVO-SBI | >2x10^6 IFUs | 749 € | DETAILS | Add to Cart |
| pLL-EF1a-rFLuc-T2A-mRFP-mPGK-Puro [Lenti-Labeler plasmid] | LL420PA-1-SBI | 10 ug | 749 € | DETAILS | Add to Cart |
| pLL-EF1a-rFLuc-T2A-mRFP-mPGK-Puro [Lenti-Labeler virus] | LL420VA-1-GVO-SBI | >2x10^6 IFUs | 749 € | DETAILS | Add to Cart |
| pLL-EF1a-RFP-T2A-Blast [Lenti-Labeler plasmid] | LL215PA-1-SBI | 10 ug | 725 € | DETAILS | Add to Cart |
| pLL-EF1a-RFP-T2A-Blast [Lenti-Labeler virus] | LL215VA-1-GVO-SBI | >2x10^6 IFUs | 725 € | DETAILS | Add to Cart |
| pLL-EF1a-RFP-T2A-Puro [Lenti-Labeler plasmid] | LL210PA-1-SBI | 10 ug | 725 € | DETAILS | Add to Cart |
| pLL-EF1a-RFP-T2A-Puro [Lenti-Labeler virus] | LL210VA-1-GVO-SBI | >2x10^6 IFUs | 725 € | DETAILS | Add to Cart |