Mouse PreAdipocytes
3T3 L1 mouse cells (deriving from Mouse Swiss Albino embryo) are fibroblast like cells, which differentiate into adipocytes when growing confluent.
Passage 9 3T3-L1 pre-adipocytes from our partner Zen-Bio are guaranteed to differentiate into adipocytes when using Zen-Bio´s protocol and media system (see link below)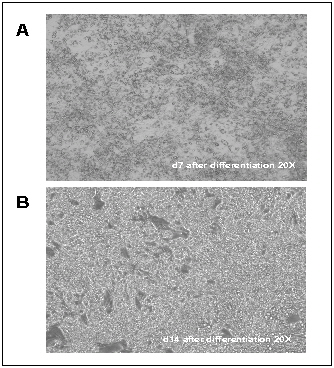 Lipid accumulation in 3T3 L1 cells cultured in Zen-Bio media:
3T3-L1 preadipocytes were seeded in 24 well plates and differentiated per Zen-Bio´s protocol.
Cells were then fed Zen-Bio´s AM-1-L1, with fresh media being added every other day.
Phase contrast images were taken on day 7 (d7; A) and day 14 (d14; B) of differentiation using an Olympus IX60 microscope equipped with a STOP digital camera (20X magnification).
---
Related Links
3T3-L1 PreAdipocyte Growth & Differentiation Media

---
PDF-Downloads
- Will open in new browser window
| Description | Cat# | Size | Price | | |
| --- | --- | --- | --- | --- | --- |
| 3T3-L1 preadipocytes T-25cm2 Flask | SP-L1-T25-ZB | 1 flask | 569 € | DETAILS | Add to Cart |
| Mouse 3T3-L1 Cell Line, Cryopreserved Preadipocytes | SP-L1-F-ZB | 5 x 10e5 cells | 442 € | DETAILS | Add to Cart |
| Mouse 3T3-L1 Cell Line, Cultured Preadipocytes, 24-well plate | SP-L1-24-ZB | 1 plate | 422 € | DETAILS | Add to Cart |
| Mouse 3T3-L1 Cell Line, Cultured Preadipocytes, 48-well plate | SP-L1-48-ZB | 1 plate | 422 € | DETAILS | Add to Cart |
| Mouse 3T3-L1 Cell Line, Cultured Preadipocytes, 96-well plate | SP-L1-96-ZB | 1 plate | 422 € | DETAILS | Add to Cart |