Ready-To-Use Hydrogel
VitroGel™ 3D - Empower 3D cell research with simplicity and versatility
VitroGel™ 3D: Your Ready-to-use synthetic hydrogel system for 3D cell culture and beyond
• Ready-to-use - one simple mixing step with your cells/media at room temperature
• Fast gelation - 3D cell culture in 20 minutes
• Cells distribute homogeneously in the hydrogel
• Cell morphology and behavior grown in VitroGel 3D hydrogel system is similar to their natural state
• Transparent - compatible to different imaging systems for cell observation and downstream analysis
• Permeable - oxygen, nutrition etc. can easily move in/out the hydrogel system: great for drug discovery studies
• Cell harvesting - cells can be easily harvested from the hydrogel by using standard centrifuging methods
• Injectable - great for in vivo studies
Want to bridge in vitro and in vivo studies? But tired of inconsistency, undesired growth factors, cold solution temperature, complicated preparing steps, lack of natural ECM mimic, and the high expense of current 3D cell culture systems?
VitroGel™ 3D
is an animal origin-free purely synthetic and cost-effective hydrogel system, which closely mimics the natural extracellular matrix (ECM) environment with a simple procedure step at room temperature.
Functional Hydrogel Guide
To better understand the cell-matrix bioactivity on different functional hydrogel a series of articles discussing hydrogels modified with different biological functional ligands and their effects in 3D cell culture is accessible: RGD modified hydrogel, collagen functional hydrogel, MMP modified biodegradable hydrogel and different versions of laminin functional hydrogels.
Guide to select from the different versions of VitroGel
For demonstration videos, see link below.
VitroGel™ 3D: Simply the best for 3D Cell Culture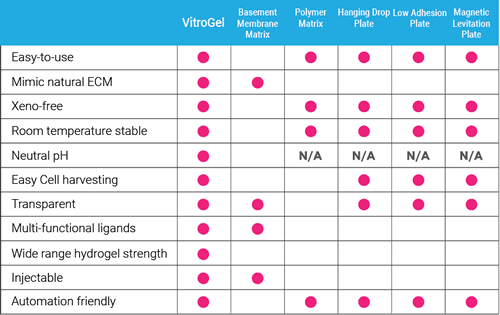 How does it work?
STAGE ONE
(forming a soft hydrogel)
The hydrogel formation starts when mixing the VitroGel solution with cell culture medium. Hydrogel molecules interact with ions (such as Ca
2+
or Na
+
) from the cell culture medium to become a matrix structure (hydrogel).
The process of hydrogel formation is slow when the ion concentration is low. At this stage, the hydrogel is soft and possesses a shear-thinning and rapid recovering mechanical property, which makes the hydrogel injectable for
in vivo
applications.
The slow hydrogel forming process and the injectable property of the soft hydrogel create a time window for easy hydrogel transfer from the mixing tube to the cell culture plate.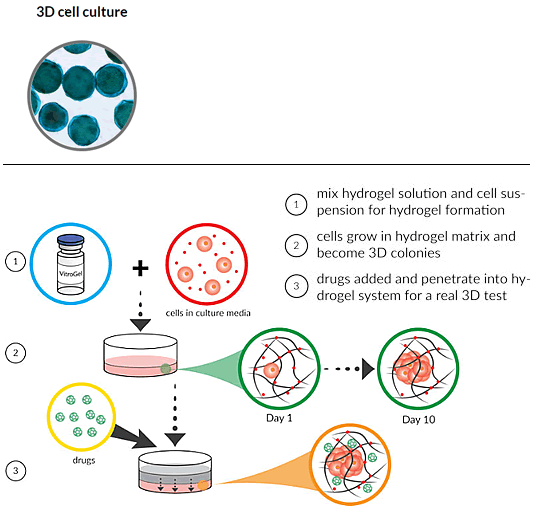 STAGE TWO
(forming a solid hydrogel)
After transferring the soft hydrogel formation to a cell culture plate, adding additional cell culture medium on top of the hydrogel would increase the ion concentration, allowing more ions to penetrate into the hydrogel matrix to facilitate further hydrogel cross linking forming a solid hydrogel.
The solid hydrogel possesses higher mechanical strength than the soft hydrogel and can be broken into smaller gel pieces.
After the hydrogel solidifies, there is a clear gel-liquid phase separation, which allows medium change by removing and adding medium on top of the hydrogel.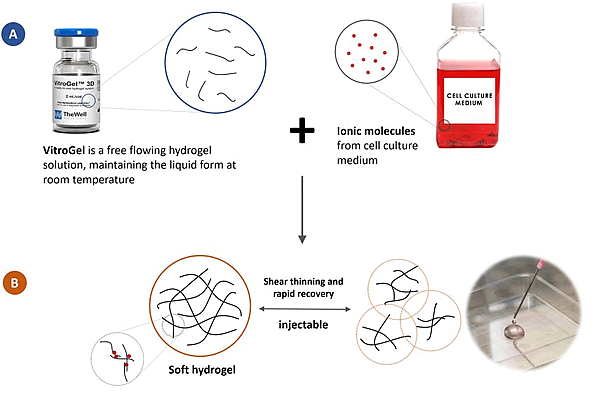 In Vitro 3D Cell Models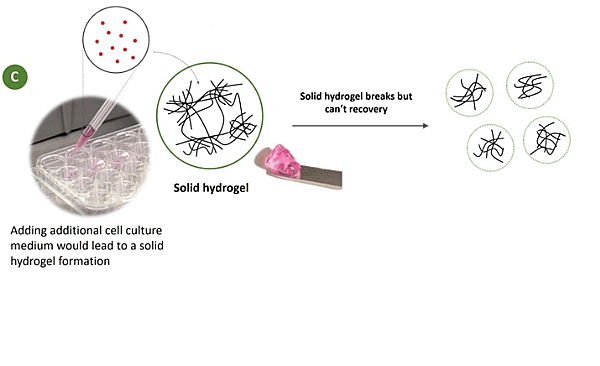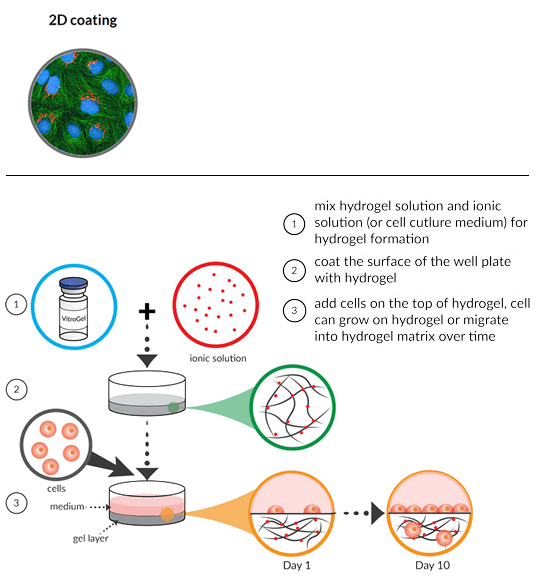 In Vivo Studies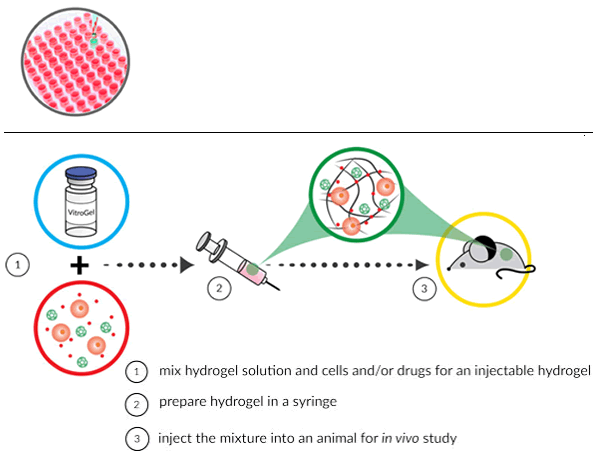 Our partner TheWell provides different versions of the hydrogel system:
VitroGel® 3D
- better for floating cell lines
VitroGel® 3D-RGD (RGD peptide high concentration modified)
- better for adhesion cell lines
VitroGel® 3D COL
- Collagen-mimetic peptde (GFOGER) modified
VitroGel® 3D MMP
- modified with biodegradable Matrix metalloproteinases (MMP)
VitroGel® 3D IKVAV
- IKVAV modified
VitroGel® 3D YIGSR
- YIGSR modified
VitroGel® 3D LDP1
- RGD+IKVAV+YIGSR modified
VitroGel® 3DLDP2
- RGD+YIGSR modified
VitroGel® 3D LDP3
- RGD+IKVAV modified
---
Related Links
Functional Hydrogel Guide
First Time User Notes
User Manual
Frequently Asked Questions
Use of VitroGel 3D: Demonstration Videos
Case Studies (includes list of cells and applications)