Biomimetic Hydrogels
• Biologically inert synthetic polymers
• Defined composition for standardized experiments
• Modifyable with bioactive molecules, e.g. peptides
• Wide range of ligand density (up to 5 mmol/l)
• Cell-degradable linker for cell spreading and migration
• User-degradable gel for cell rescue after 3-D cell cultivation
• Tunable gel stiffness
The research over the past 10-15 years has shown that cells cultured in vitro in three
dimensional systems (3-D) resemble the physiology of their counterparts in vivo much
better than cells cultured conventionally on flat surfaces of tissue culture plates. This is
reflected in differential gene expression and a difference in cell behaviour and
differentiation. As a consequence, 3-D cell culture is often the better choice for
investigating cell function.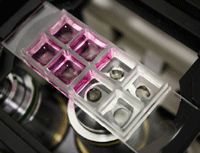 Hydrogels, consisting of synthetic and defined components can be modified to mimic the characteristics of natural extracellular matrices. These biomimetic hydrogels can provide valuable insight into the regulation of cell function and developmental processes in tissue- and organ-specific differentiation and morphogenesis, which depend in many ways on the extracellular environment.
3-D Life PVA Hydrogel
3-D Life
PVA Hydrogel is based on a two-component system consisting of
maleimide-functionalized polyvinyl alcohol (PVA) that forms a hydrogel by covalent
crosslinking with bis-(thio)polyethylene glycol (PEG) under physiological conditions.
Unlike many other technologies the hydrogel is inert towards cells unless modified with
biofactors to adapt extracellular environments to specific cell culture requirements.
For biomimetic modification, the
3-D Life
RGD Peptide containing an RGD motif
and a thiol on a N-terminal cysteine residue can be applied. The thiol is used to link the peptide to
3-D Life
polymers, which are functionalized with thiol-reactive groups (e.g. maleimides). The immobilized peptide can promote specific adhesion of cells carrying the integrin receptor.
Depending on the downstream assay, a degradable maleimide-functionalized dextran can be used for hydrogel generation enabling the recovery of the cells either grown on top or within the hydrogel. In addition to the PEG-linker, CD-Link which can be degraded by the cells' matrix metalloproteinases is available for hydrogel formation.
Hydrogel Formation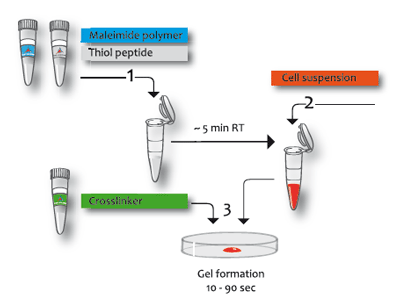 3-D Life Polymers and Crosslinkers for Hydrogel Generation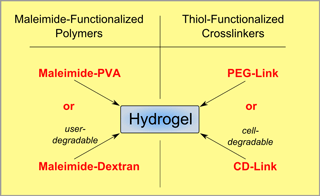 3-D Life PVA Hydrogel covalently modified with 3-D Life RGD
Peptide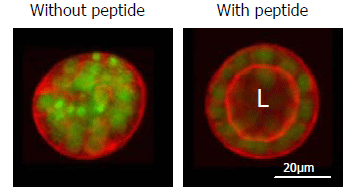 Epithelial cyst formation in 3-D Life Hydrogel.
Confocal laser scanning microscopy of MDCK cells cultured 9 days in
3-D Life
PVA
hydrogel covalently modified with RGD peptide or without peptide. The actin cytoskeleton was stained with phalloidin-TRITC (red) and nuclei with Syto-Green (green). L: Lumen.
3-D Life PVA Hydrogel crosslinked with 3-D Life CD-Link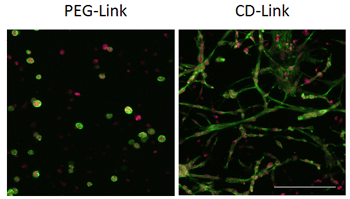 Fibroblast spreading in cell-degradable 3-D Life Hydrogel.
Confocal laser scanning microscopy of 3T3 fibroblasts cultured 14 days in
3-D
Life
PVA-Hydrogel modified with RGD peptide and crosslinked with either
3-D
Life
PEG-Link (left) or
3-D Life
CD-Link (right). Pictures show collapsed stacks of confocal frames representing a height of 300 um of the gel.
Red: nuclei; green: actin cytoskeleton. Scale bar: 200 um.
---
Related Links
---
PDF-Downloads
- Will open in new browser window
Fibroblast Spreading in Cell-Degradable 3-D Life Hydrogels
Epithelial Cyst Formation in 3-D Life Hydrogels
Co-culture of tumor and stroma cells in 3-D Life Hydrogels
Viscoelastic Parameters of 3-D Life Hydrogels

| Description | Cat# | Size | Price | | |
| --- | --- | --- | --- | --- | --- |
| 3-D Life ToGro Preconfigured Hydrogel Kit for Three-Dimensional Cell Culture | G94-1-CS | Kit for 2,4 ml Hydrogel | 240 € | DETAILS | Add to Cart |
| 3-D Life Dextran-PEG Hydrogel FG Kit for Three-Dimensional Cell Culture (Fast Gelling Hydrogels) | FG90-1-CS | Kit for 1 ml Hydrogel | 75 € | DETAILS | Add to Cart |
| 3-D Life Dextran-CD Hydrogel FG Kit for Three-Dimensional Cell Culture (Fast Gelling Hydrogels) | FG91-1-CS | Kit for 1 ml Hydrogel | 175 € | DETAILS | Add to Cart |
| 3-D Life PVA-PEG Hydrogel FG Kit for Three-Dimensional Cell Culture (Fast Gelling Hydrogels) | FG80-1-CS | Kit for 1 ml Hydrogel | 70 € | DETAILS | Add to Cart |
| 3-D Life PVA-CD Hydrogel FG Kit for Three-Dimensional Cell Culture (Fast Gelling Hydrogels) | FG81-1-CS | Kit for 1 ml Hydrogel | 170 € | DETAILS | Add to Cart |
| 3-D Life Dextran-PEG Hydrogel SG Kit for Three-Dimensional Cell Culture (Slow Gelling Hydrogels) | G92-1-CS | Kit for up to 2 ml Hydrogel | 75 € | DETAILS | Add to Cart |
| 3-D Life Dextran-CD Hydrogel SG Kit for Three-Dimensional Cell Culture (Slow Gelling Hydrogels) | G93-1-CS | Kit for up to 2 ml Hydrogel | 175 € | DETAILS | Add to Cart |
| 3-D Life PVA-PEG Hydrogel SG Kit for Three-Dimensional Cell Culture (Slow Gelling Hydrogels) | G82-1-CS | Kit for up to 2 ml Hydrogel | 70 € | DETAILS | Add to Cart |
| 3-D Life PVA-CD Hydrogel SG Kit for Three-Dimensional Cell Culture (Slow Gelling Hydrogels) | G83-1-CS | Kit for up to 2 ml Hydrogel | 170 € | DETAILS | Add to Cart |