Lentivirus-based Gene Expression
Stable, long-term expression of your target gene
In comparison to traditional retroviral delivery systems, lentivectors actively integrate into genomic DNA without requiring cell replication. They are the most effective vehicles for the delivery to and expression of a genetic element in almost any mammalian cell type - including non-dividing cells and model organisms.
As with standard plasmid vectors, it is possible to introduce lentivector expression constructs in plasmid form into the cells with low-to-medium efficiency using conventional transfection protocols. However, by packaging the lentivector construct into viral particles, you can obtain highly efficient transduction - even with the most difficult to transfect cells, such as primary, stem and differentiated cells.
The expression construct transduced in target cells is integrated into genomic DNA and provides stable, long-term expression of the target gene.
Tools Facilitating Lentiviral Gene Expression
Choose from an extended set of third generation cloning and expression lentivectors, tetracycline-inducible lentivectors or cumate-inducible lentivectors. To achieve highly efficient delivery and stable expression, the lentiviral constructs can be packaged into VSV-G pseudoviral particles using the respective packaging systems and packaging cell lines. Lentivirus concentration & purification kits provide a fast method to concentrate your virus and purify with better results in less time than ultracentrifugation. Quantitation of lentivirus is an important step to ensure efficient lentivirus expression. Sensitive assays to determine the physical virus titer are offered. Cloning and packaging of lentiviral cDNA, CRISPR and RNAi expression constructs are available as custom services.
Clone unstable sequences like retroviral elements with reliable results
Create CRISPR/Cas9 lentiviral gRNA constructs and libraries, e.g. GeCKO
Produce high titers of transduction-ready pseudoviral particles
Efficiently deliver and stably express your lentivector constructs
Concentrate and cryoprotect lentiviral particles in one step
Benefit from freezing lentiviral particles without titer loss
Lentivector Packaging and Transduction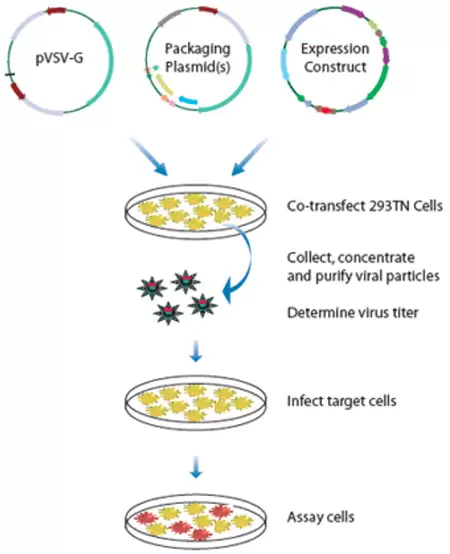 Lentivirus-based Tools for SARS-CoV-2 Research
BioCat offers SARS-CoV-2 Spike Mutant-Pseudotyped Lentivirus Products to accelerate critical research and enhance understanding of the biology of SARS-CoV-2 variants. They comprise packaging kits as well as ready-to-use pseudoviral particles and enable assays in a biosafety level 2 laboratory to study virus-receptor interaction and to measure how antibodies or other compounds affect viral binding and entry.
In addition we can also provide a Custom Lentivirus Pseudotyping Service. If you are interested in a Virus Receptor Cell Line Engineering Service please contact us.