ISOLATE II Nucleic Acid Isolation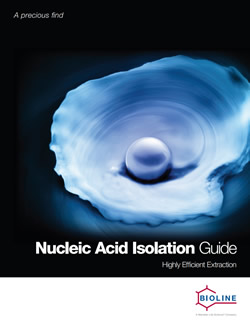 Download the ISOLATE II Guide with detailed product descriptions and performance data to help you choose the best product for your research.
ISOLATE II Kits for nucleic acid isolation are the perfect start for the analysis of your precious samples. The kits are designed for fast and efficient isolation of RNA and DNA from a wide range of biological materials, including animal tissue, cultured cells, buccal swabs, blood, bacterial cells, plant tissue as well as PCR products and agarose gels.
ISOLATE II Nucleic Acid Isolation Kits use silica-based technology, which selectively binds nucleic acids allowing the separation of contaminants to give high-purity DNA or RNA. The isolated nucleic acids are ready-to-use in downstream applications such as end-point PCR, real-time PCR, cloning, reverse transcription, cDNA synthesis, next generation sequencing and genotyping. For high-throughput applications we offer ultra-filtration technology in a convenient 96-well format. TRIsure and SureClean Plus, column-free products for RNA and DNA isolation, are also offered.
DNA Extraction Kits
RNA Extraction Kits