Dr. Xiaotian Zhang will be joining us live to talk about his recent work on hemoglobinopathies, applying Arima's HiC and Capture-HiC to examine the changes to 3D chromatin organization at the β-globin locus.
A 3D View of the Genome
Using CRISPR-Cas9, Dr. Zhang's team found that 3'HS1 deletion induces the γ-globin gene activation and alteration of chromosomal loops in the β-globin locus. Specifically, 3'HS1 deletion incorporates an insulated enhancer to activate the γ-globin gene.
A Target for Gene Therapy
Altering the CTCF binding profile across the locus can significantly change the expression of the ß-globin genes, suggesting that genetic editing of this binding site can have therapeutic implications to treat hemoglobinopathies.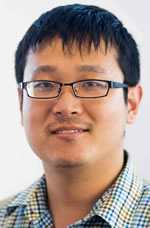 PRESENTER
Dr. Xiaotian Zhang
Research Investigator
University of Michigan