What if you didn't have to wait days to count bacteria?
Join us to understand how the QUANTOM Tx™ can efficiently count microbial cells in 30 seconds and facilitate your experimental workflow.
The QUANTOM Tx™ Microbial Cell Counter is an image-based, automated cell counter that can detect individual cells. Its novel bacteria-optimized cell detection software can count individual bacterial cells in even the tightest clusters.
For more info, see QUANTOM Tx™ or contact us.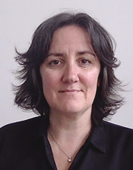 PRESENTER
Karine Labour, MSc
Logos Biosystems