Promoter Reporter Constructs with RenSP Luciferase as Reporter
The LightSwitch GoClone Promoter Reporter Collection includes transfection-ready luciferase reporter constructs utilizing the novel RenSP luciferase technology for over 18,000 human promoters and highly optimized LightSwitch reagents. Measure the functional response of promoters to stimulus in nearly any cell-based system. Plus, advances in gene assay reagent and transfection technology eliminates the need for co-transfection in most studies.
Measure promoter activity to
• Understand the mechanism by which a gene is induced or repressed
• Characterize the functional consequences of transcription factor binding
• Screen full regulatory networks with SwitchGear's Pathway Screening Panels
• Measure the effect of sequence variants on promoter function

The Power of the LightSwitch Luciferase Assay System
•Quantitative: Novel RenSP luciferase technology allows you to measure promoter activity with industry-leading sensitivity and dynamic range
Our partner SwitchGear has created an optimized Renilla luminescent reporter gene, called RenSP, by increasing its overall enzymatic activity (light output) and adding a protein destabilization domain to decrease the half-life of the RenSP protein. Starting with a base sequence of the native Renilla gene, SwitchGear functionally screened thousands of synthetic gene sequence variants that included a variety of predicted improvements, and also removed transcription factor binding sites from the gene sequence that might confound expression measurements. As a result, SwitchGear created the RenSP luciferase that is significantly brighter than any other humanized version of Renilla luciferase.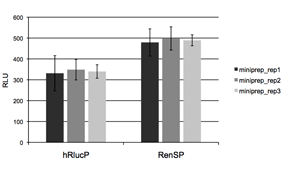 • Simple, quick, complete solution: Perform your experiments today through simple transfection of our luciferase reporter constructs using LightSwitch optimized reagents. No cloning, DNA preparation, or reagent optimization is needed. No need for internal transfection control for most studies
• Comprehensive and validated: Choose from SwitchGear's catalog of 18000 sequence-verified and transfection-ready promoter target constructs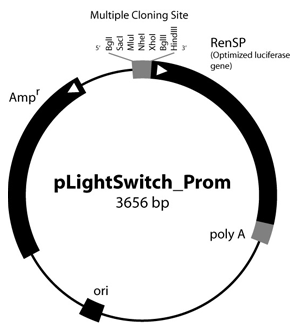 Promoter Insert Sequencing Primers:
Forward: TCCATCAAAACAAAACGAAACAA
Reverse: AGTCGAGCACGTTCATCTGCTT
The empty vector is provided free of charge when purchasing GoClone promoter reporter constructs and mentioning code EMPTY_PROM
1-3kb human promoter fragments are cloned into the MCS in front of the RenSP luciferase gene for measuring promoter activity
• Functionally insightful: Learn about the actual effects of transcription factor binding to verify computational predictions and supplement microarray or sequencing data
• Cost-effective: Screen for promoter activation and repression under a multitude of conditions efficiently
Available Products
LightSwitch GoClone Promoter Reporter Constructs:
Choose by gene(s) of interest from 18.000 cloned ready-to-use human promoters
Search for your GoClone Construct
LightSwitch Assay Reagents:
Luciferase Assay Reagents for one-step addition directly to cultured cells, and optimized specifically for RenSP Destabilized Luciferase, exclusively used in all LightSwitch GoClone clones for maximum sensitivity, brightness, and dynamic range.
LightSwitch Transfection Optimization Kit:
The key reagents needed for optimizing transfection conditions for your cell line or condition of interest
LightSwitch GoClone Positive and Negative /Background Controls:
A series of control constructs to optimize experimental conditions and to normalize for non-specific effects associated with a treatment or change in condition
LightSwitch GoClone Validated Biomarker Promoter Sets:
Promoter Reporter Construct Pathway Sets selected by motif analysis, and experimentally validated as strongly reacting targets by pathway-specific inductions creating pathway activity profiles. Negative/background controls included in the sets.
LightSwitch GoClone Promoter Profiling Plates:
88 pathway related Promoter Reporter Constructs selected by motif analysis, and experimentally validated by pathway-specific inductions creating complete pathway activity profiles. In order to build a pathway profiling panel, SwitchGear indentified a set of promoters that are often regulated as part of the same signaling pathway yet tend to vary in response to different stimuli.
Four negative/background controls and four housekeeping gene promoter controls are also included in the plates.
For further product details please see individual products.
Synthetic TF Response Element Reporter Vectors are also available, see link below.
---
Related Links
Synthetic TF Response Element GoClone Reporter Vectors
pLightSwitch_Prom Cloning Vector Sequence & Annotation File

---
PDF-Downloads
- Will open in new browser window
LightSwitch: Platform for Promoter & 3'UTR Reporter Assays
Do I need a Co-Transfection Control?
Promoter Reporter Assays to examine pathways-Hypoxia Study
Gene Model Construction & Transcription Start Prediction

Description
Cat#
Size
Price
LightSwitch GoClone Promoter Reporter Construct
S7xxxxx-SW
5 ug transfection-ready DNA
475 €
DETAILS
Add to Cart
LightSwitch Assay Reagents for use with all GoClone Promoter and 3'UTR Reporter Plasmids
LS010-SW
100 assays
150 €
DETAILS
Add to Cart
LightSwitch Assay Reagents for use with all GoClone Promoter and 3'UTR Reporter Plasmids
LS100-SW
1000 assays
745 €
DETAILS
Add to Cart
LightSwitch Transfection Optimization Kit (incl. Negative and Positive GoClone Control Plasmid DNA, 200 ul FuGENE HD Reagent, LightSwitch Assay Reagents for 100 assays)
TFXOPT-SW
1 kit
510 €
DETAILS
Add to Cart
LightSwitch GoClone Empty Promoter Reporter Construct as Negative Control or for Cloning your own Promoter Region (EMPTY_PROM)
S790005-SW
5 ug transfection-ready DNA
250 €
DETAILS
Add to Cart
LightSwitch GoClone Positive Control Promoter Construct for Housekeeping Gene ACTB (ACTB_PROM)
S717678-SW
5 ug transfection-ready DNA
250 €
DETAILS
Add to Cart
LightSwitch GoClone Positive Control Promoter Construct for Housekeeping Gene GAPDH (GAPDH_PROM)
S721624-SW
5 ug transfection-ready DNA
250 €
DETAILS
Add to Cart
LightSwitch GoClone Positive Control Promoter Construct for Housekeeping Gene LDHA (LDHA_PROM)
S721613-SW
5 ug transfection-ready DNA
250 €
DETAILS
Add to Cart
LightSwitch GoClone Positive Control Promoter Construct for Housekeeping Gene RPL10 (RPL10_PROM)
S708908-SW
5 ug transfection-ready DNA
250 €
DETAILS
Add to Cart
LightSwitch GoClone Negative Control Random Sequence Promoter Reporter Construct (Random Genomic DNA from chr1+) (R02_PROM)
S790002-SW
5 ug transfection-ready DNA
250 €
DETAILS
Add to Cart
LightSwitch GoClone Negative Control Random Sequence Promoter Reporter Construct (Random Genomic DNA from chr6+) (R03_PROM)
S790003-SW
5 ug transfection-ready DNA
250 €
DETAILS
Add to Cart
LightSwitch GoClone Negative Control Random Sequence Promoter Reporter Construct (Random Genomic DNA from chr11+) (R01_PROM)
S790001-SW
5 ug transfection-ready DNA
250 €
DETAILS
Add to Cart
LightSwitch GoClone Negative Control Random Sequence Promoter Reporter Construct (Random Genomic DNA from chr16+) (R04_PROM)
S790004-SW
5 ug transfection-ready DNA
250 €
DETAILS
Add to Cart