LightSwitch GoClone Empty 3'UTR Reporter Construct as Normalization or Transfection Control or for Cloning your own 3'UTR Region (EMPTY_3UTR)

| | |
| --- | --- |
| Cat#: | S890005-SW |
| Quantity: | 5 ug transfection-ready DNA |
| Price: | 250 € |
| Supplier: | SwitchGear Genomics |
Data Sheet
User Manual
Provided free of charge when purchasing GoClone 3'UTR reporter constructs and mentioning code EMPTY_3UTR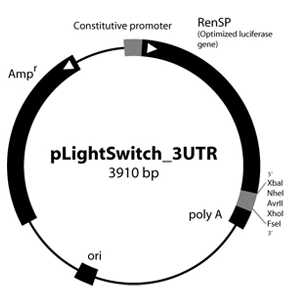 3'UTR Insert Sequencing Primers:
Forward: GGGAAGTACATCAAGAGCTTCGT
Reverse: CCCCCTGAACCTGAAACATAAA
For sequence and annotation file see link below.


The empty 3'UTR vector contains no 3´UTR nor a control insert, only the luciferase gene (RenSP) and its constitutive promoter.
It may serve as normalization control, as positive transfection control (because the constitutive promoter is highly active in most cell types), or for creating your own 3´UTR constructs.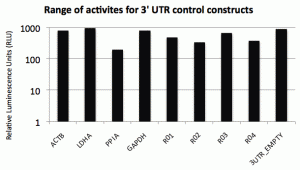 Example data for SwitchGear 3'UTR control vectors. Here 50ng of each vector was transfected with FuGene6 (Roche) into HT1080 cells. Absolute and relative activity will vary depending on cell line, experimental conditions, and transfection reagents. Values shown in log scale.


Product Specifications:

5 ug purified plasmid DNA
Concentration 30ng/ul
Quality >1.75 260/280 ratio, sequence verified


LightSwitch GoClones should be used with LightSwitch Assay Reagents for maximum sensitivity, brightness, and dynamic range

Related Links
pLightSwitch_3UTR Cloning Vector Sequence & Annotation File
LightSwitch Go Clone 3 UTR Reporter Constructs and Controls
LightSwitch Luciferase Assay Reagents

PDF-Downloads
- Will open in new browser window
Introduction to controls & normalization for 3'UTR GoClones
High-throughput Transfection Protocol for GoClone Assays
Protocol for K562 Suspension Cells